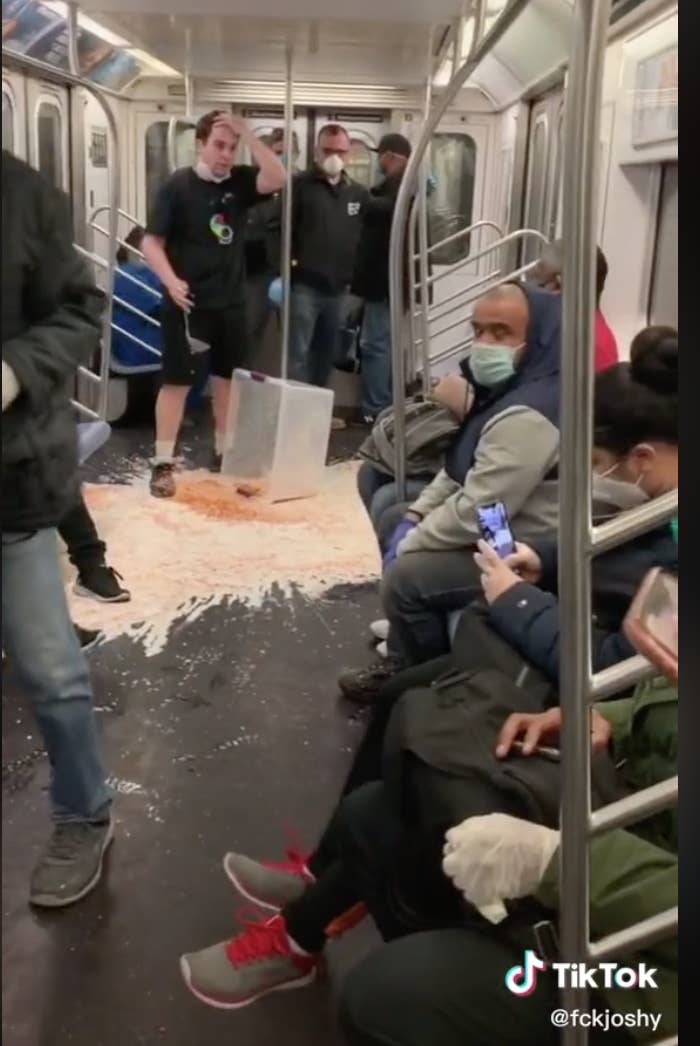 We at BuzzFeed News are proud to bring you a range of stories, from the serious to the lighthearted. To help keep it all free, become a member and sign up for our newsletter, Outbreak Today.
New York City officials have blasted a TikTok star with over 3.3 million followers as "despicable" after he pulled a messy prank on a subway car amid the coronavirus pandemic.
On Tuesday, prankster Josh Popkin uploaded two videos, which have since racked up over 3 million views each. In the first, he fills a plastic tub with Fruity Pebbles and milk and pretends to accidentally spill the contents all over a subway car crowded with people wearing face masks.
"I accidentally dropped a whole tub of cereal on the subway today," Popkin narrates as passengers run away from the mess. "I was like, oh my god, this is the worst day of my life! Not my Fruity Pebbles! Everyone started moving away and filming me."
He finishes the video by complaining that no one would help him clean up his mess.
"Someone was like, 'I cannot believe this is happening,'" Popkin narrates. "I was like, I can't believe this is happening again."

Critics on Twitter pointed out that an already overtaxed cleaning staff was left to take care of the mess Popkin had created with his viral video.
Some were even calling for Popkin's arrest. Police told the New York Daily News they were investigating the incident.
On Thursday, the MTA, which runs the city's subways, condemned the video on Twitter.
"A new low: Pulling a prank on essential workers in the middle of a global pandemic," agency officials wrote in a tweet that has since garnered over 90,000 likes. "And making essential workers clean up your mess. Despicable."

Keeping the subways clean with skeletal cleaning crews has proven to be a significant challenge for the MTA during the coronavirus pandemic. The agency has stopped 24-hour subway service for the first time in over 115 years in an effort to sanitize all cars.

Up until the beginning of April, Popkin was being represented by Dulcedo Management, whose website had described him as a 23-year-old "up and coming stand-up comedian and content creator" with "a cult-like fanbase" made up of men and boys aged 13 to 25. Dulcedo director Benjamin Carter told BuzzFeed News that although they parted ways with Popkin last month, "We also are not fans of the content that was posted in the subway nor do we think it is the positivity needed during these times."

While this is the first of his videos to blow up beyond that fanbase, Popkin has posted several TikToks where he "pranks" essential workers during the pandemic including a door attendant, a UPS deliverer, and a bodega cashier.

As of Thursday, the videos remain on TikTok. Neither Popkin nor TikTok responded to requests for comment from BuzzFeed News.
UPDATE
This story has been updated with comment from Dulcedo director Benjamin Carter, clarifying that they parted ways with Popkin last month.