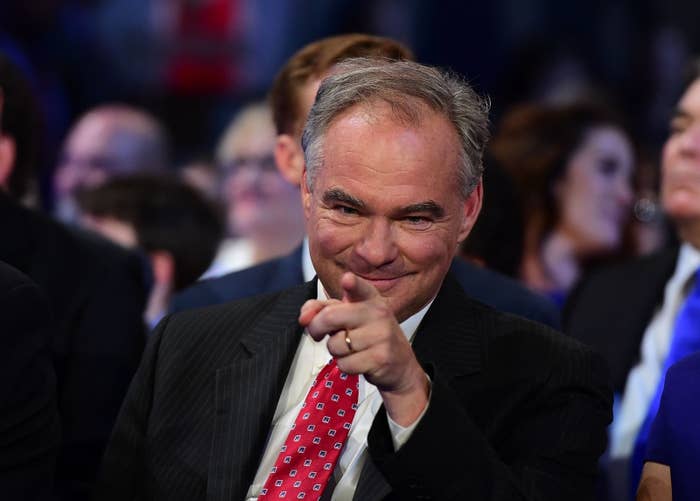 On a long flight last winter from Washington to San Francisco, Sen. Tim Kaine noticed the man seated next to him wouldn't stop looking at him.
"All the flight long he kept looking over, like he was trying to figure it out," Kaine said. As they landed, the man realized who Kaine was. "We land and he goes, 'Flying coach with us, huh?' And I said, 'I've always flown in coach with you, except for 105 days,'" Kaine said, smiling. "And yep, I'm back in coach with you."
The 59-year-old Democratic senator stepped into the national spotlight one year ago this week when Hillary Clinton chose him — a veteran of the Virginia political scene — as her running mate for the 2016 presidential election.
But following a devastating election result for Democrats, Kaine is hesitant to weigh in on the future of a party facing a battle between a resurgent, anti-Trump left, and calls from moderates to refocus on blue-collar voters in flyover states that went Republican in 2016.
When Democrats on Monday gathered in rural Virginia to release a new platform — one they believe will help them retake Congress in 2018, and, perhaps, the White House in 2020 — Kaine, the party's most recent vice presidential candidate and a local senator, wasn't there.
In any other circumstance, Kaine would be the party's heir apparent. He's a relatively young, accomplished senator who's undertaken years of work on serious policy issues, including foreign policy — a major contrast with the current president — not to mention a hard-fought term as chair of the Democratic National Committee, filled with message-crafting and fundraising.
But just six months after Donald Trump — the man Kaine spent a campaign railing against — took office, Kaine isn't interested in leading the opposition.
"I don't need to set a strategy for the entire party," Kaine told BuzzFeed News in a sit-down interview earlier this month. "I mean, I've just got to be a good senator from Virginia."
On a warm, sunny afternoon in late June, Kaine stood at a podium in an area known to Hill types as "the swamp" — a nickname given to the outdoor area long before Trump made "drain the swamp" a national rallying cry for the right. The space is partially shaded by a cluster of trees on the northern edge of the sprawling lawn that faces the Capitol building. Though flanked by Latino colleagues Bob Menendez and Catherine Cortez Masto, it was Kaine, an Irish Catholic from the Midwest, who was the center of attention at the press conference on how Senate Republicans' health care bill would affect Latinos.

Kaine, wearing a black suit, argued against the bill animatedly, switching from English to Spanish with ease — a skill he acquired volunteering in Honduras after attending Harvard Law School.
"Is that Tim Kaine? I got a selfie with him," an older woman wearing a pink "I stand with Planned Parenthood" shirt excitedly told two young women on the event's sidelines, showing them the photo on her smartphone.
In Virginia, most people were familiar with Kaine, a former mayor and governor, long before he joined the 2016 ticket. The married father of three has been attending the same mostly black church in Richmond for more than three decades. He even goes to the same neighborhood dry cleaner, where he's been chatting up the staff for years, calling his frequent trips "kind of a social thing, actually."
So Kaine's new-found recognition as the vice presidential nominee wasn't a big deal back home, he said, and it's stayed that way as the national spotlight has moved on. "And that's kind of how I like it," he added, seated on a couch in his Capitol Hill office the morning after the press conference. "Everybody in Richmond calls me Tim. Nobody calls me senator."
Music was playing softly in his office, a pale-yellow room with a marble fireplace and dark wood accents. Kaine eagerly explained that he uses Pandora Radio, a streaming service which allows him to pick an artist — in this case the Byrds — to set the theme of his playlist.
"Now, if I'm in DC, every cab driver knows me, because cabbies are so political," he said as Neil Young's classic "Old Man" played quietly in the background — an acoustic tune in which a 24-year-old Young compares himself to his elder ranch caretaker, lamenting his loneliness despite his newly acquired fame. "If I travel anywhere, some people recognize me, or they're like, 'I think I'm supposed to know you. Do you do the weather, like on Good Morning America?'"
Though he likes the folk-rock of the sixties and seventies, one of Kaine's favorite bands is the Replacements, an American punk/alternative group that peaked in the mid-'80s. He also plays the harmonica; a talent he happily displayed during the 2016 campaign. Kaine lacked the name recognition of some of the other major election players, but his musical performances, love for the protest songs of the late boomer generation, and photos as a twentysomething — that ignited the internet's thirst — contributed to his burgeoning image as a liberal activist turned cool dad.
Despite spending months traveling all over the country to campaign — and the disappointing results — Kaine said he "did something emotionally smart and physically stupid" when it was all over in November: He took virtually no time off.

"I took a three-day weekend after the election," he said. "But I felt like, you know, for emotional reasons, the best thing to do is to just go right back to work."
When Kaine returned to the Senate, it was, in many ways, like the campaign had never happened. During his first week back on the Hill, Kaine teamed up with Florida Sen. Marco Rubio, a Republican presidential contender who ran aggressively against Clinton, to introduce a bill to fight anti-Semitism in Europe.
"When I got put on the ticket, Republican senators didn't trash me and I didn't burn any bridges, so when I came back 105 days later — I mean, I've walked back into good relationships," he said.
Kaine, a former chair of the DNC who is up for Senate reelection next year, claims the resistance movement, which emerged within the Democratic party after the election and seeks to oppose the entirety of Trump's agenda, doesn't really figure in his mind. Kaine often works on legislation with Republican colleagues and, unlike some of his left-leaning colleagues who have been mentioned as 2020 contenders, he's voted to confirm about half of Trump's cabinet nominees.
"I come out of a political culture where I feel like my voters are telling me, 'work together,'" Kaine said. "I really feel that. I'm not sure all of my colleagues hear that from their voters. I'm not sure that's what their electorate's telling them, but that's what my electorate's telling me."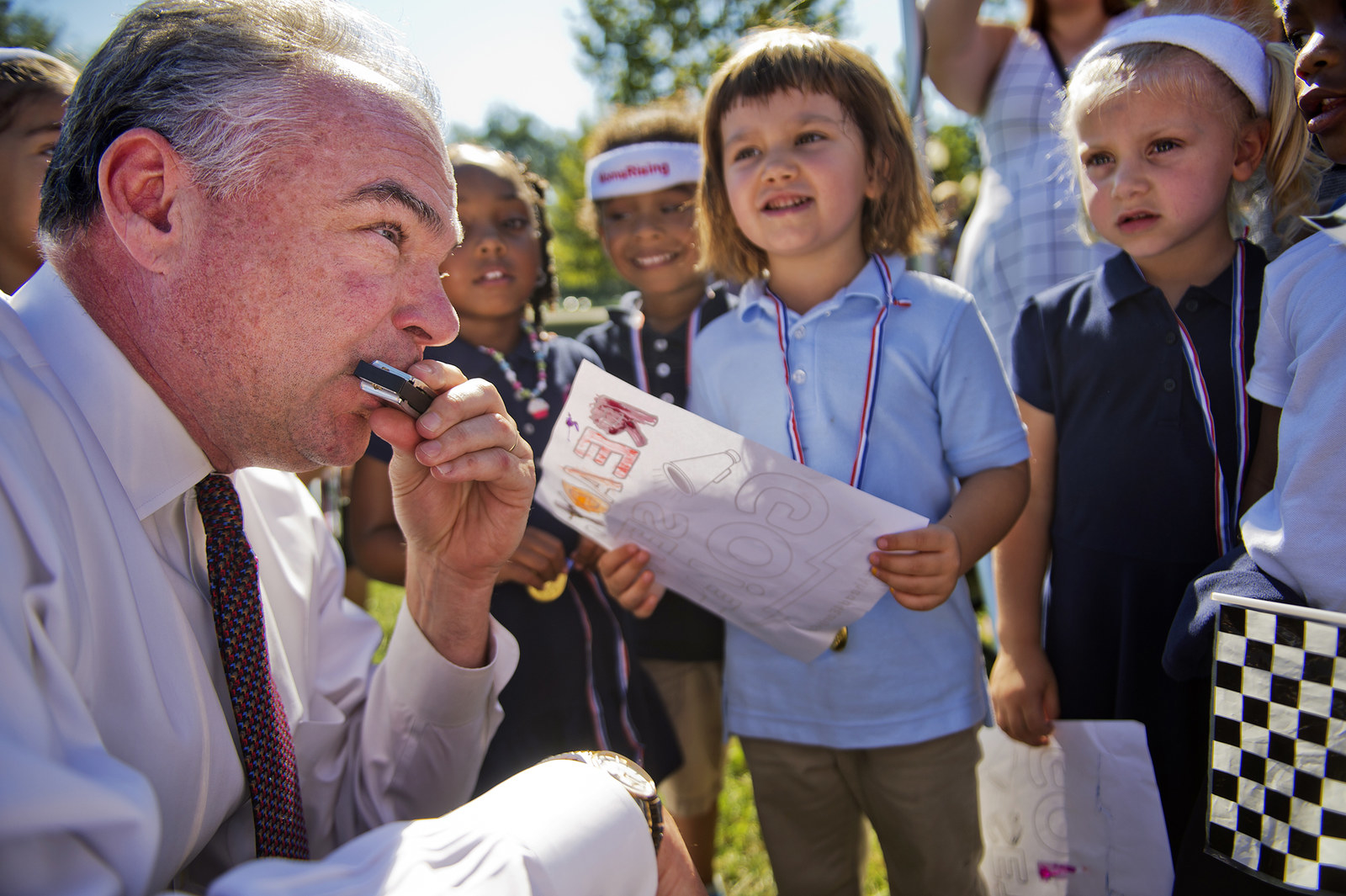 Kaine says the election didn't really change him, and, for the most part, he has walked back into the role he had before it began, when most Americans outside Virginia had no idea who he was. He's resumed work on many of the same issues, and seeks the spotlight less frequently than some of his colleagues who have also figured on the national stage, including Rubio, Ted Cruz, and Bernie Sanders.

Kaine has occasionally made his voice heard from the sidelines, however. He has penned a few opinion pieces for national publications since the election, including a May op-ed for USA Today in which he encouraged Democrats to adopt "Better Skills, Better Jobs, Better Wages" as their message, citing success with similar messaging in Virginia.
But Kaine's office says he "isn't setting the strategy for the Democrats nationally," nor is he eyeing a presidential run of his own in the future. And on Monday, with Kaine noticeably absent, Democrats announced that their message heading into the 2018 midterm elections would be something very similar to what Kaine had proposed: "A Better Deal: Better Jobs, Better Wages, Better Future."
Kaine told BuzzFeed News on Monday night that Senate Minority Leader Chuck Schumer assembled a group of Democrats to talk about the new branding after their annual retreat in late January. Kaine was involved in discussions in February and March, and after that, he said, leadership took the reins. "I'm so happy that the Dems are embracing an economic message that I think is crisp and clear," he said.
But as Kaine avoids taking a leadership role in how the party adapts to the Trump era, there is one major difference for him in the Senate: a new role he calls a "dream come true." After the campaign ended, Schumer asked him to serve on the Health, Education, Labor and Pensions Committee — known more commonly as the HELP Committee. The committee assignment comes at a key time, as Republicans try to deliver on their seven-year promise to repeal and replace Obamacare.
"We're not going to make it easy for them to take health care away from 23 million people," he said, referring to a Congressional Budget Office estimate of the effects of one draft of the Senate GOP's health care bill.
Kaine said he's tried to use the time since the election to "really crash-course" in health care policy by visiting clinics and other health care providers across the state, trips that could also serve as early campaigning for his own reelection bid next year.
Kaine readily admits Democrats don't have the numbers in Congress to halt the Obamacare repeal effort, but he said he's still reached out to GOP colleagues, trying to convince them "that it's a really bad idea," and offering them "an off-ramp off a very bad highway."
"Many of them feel like they kind of have to let the Republican-only effort sort of run its course," Kaine said, declining to identify the Republicans in question, "but I've had enough discussions with Republican colleagues to know that they kind of hope we're going to get to the bipartisan dialogue."

Kaine describes his strategy for choosing which issues to work on with Republicans as a pragmatic one. "I think the thing to do is to advance where you can, defend everything you must," he said. "If I think something's good for the country or for Virginia, I want to work together on it."
One of the issues on which Kaine, whose state is home to a sizable military presence, has worked extensively with Republican colleagues is the war on terror. For years, Kaine — who also serves on the Armed Services and Foreign Relations committees — has pushed for Congress to update and replace the 2001 Authorization for the Use of Military Force, which Congress passed in the days after 9/11 to allow the US to go to war with the perpetrators of the terrorist attacks. But critics, including Kaine, say Congress needs to update the AUMF to adapt it to the current fight against ISIS and other terror groups.
"You have been sometimes a voice in the wilderness, but you've also been absolutely correct," Republican Sen. John McCain, chair of the Armed Services Committee, told Kaine at a hearing in January.
Congressional war authorization is far from a hot topic issue at this point, but Kaine returned from the campaign trail and quickly teamed up with GOP Sen. Jeff Flake of Arizona in May to introduce legislation that would repeal Congress's old authorizations and replace them with a new, five-year AUMF. It's Kaine's third proposal of this kind, but he believes this one finally "hits the sweet spot" by providing "more of a template for military force against a non-state actor than an ISIS-specific authorization."
Despite past failures, Kaine is adamant that Congress can pass a new authorization this time around, and says fellow members are becoming increasingly concerned about multiple administrations' reliance on a 16-year-old war authorization. Part of that, he says, is "because of who the administration is and not being sure what their strategy is, and that they're a little mercurial." The Senate Foreign Relations Committee held an initial public hearing on the AUMF in June, and has scheduled a closed briefing with Secretary of State Rex Tillerson and Defense Secretary James Mattis on this issue for next week.
"I think if we get to it with the 19 of us around the table," Kaine said earnestly of the committee as "Suite: Judy Blue Eyes" by Crosby, Stills & Nash played softly in his office, "I think we can find a path forward."
As the sun was rising the morning after the health care press conference, Kaine was back on the lawn facing the Senate to attend a Catholic Mass service. If there's one thing Kaine, who's been known to unexpectedly appear at events in Virginia playing the harmonica, didn't like about the presidential campaign, it was the wall of security constantly hovering between him and voters. "As wonderful as the security people were," he said, "you chafe under it."

"It's nice to just walk up in blue jeans and a polo shirt to the mass at 6 o'clock this morning without a big — without anybody with me," he said. "It's just nice to live like a regular person."
Kaine says he's happy to cede the spotlight anyway.

"I like to get up on stages and play music, and I like giving speeches on the floor and stuff like that," he said, "but I'm also perfectly comfortable letting somebody else do that."