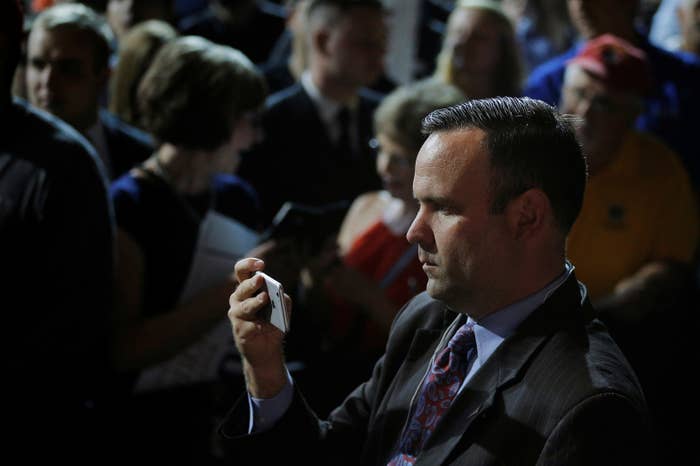 His new White House job is all about communicating on social media, but Dan Scavino has been known to block a lot of people on Twitter — even those who say they've never interacted with him.

President-elect Donald Trump announced he had named Scavino an assistant to the president and social media director on Thursday. Trump's statement said Scavino will work on the White House communications team along with Sean Spicer, Hope Hicks, and Jason Miller.

"Sean, Hope, Jason and Dan have been key members of my team during the campaign and transition," Trump is quoted as saying in the statement. "I am excited they will be leading the team that will communicate my agenda that will Make America Great Again."
There's no public list that shows every account Scavino has blocked. But the dozens, if not hundreds of Twitter users — including many journalists — who claim to have been blocked by Scavino since he joined Trump's campaign in 2015 will likely have to look beyond the social media director's account to find White House announcements.
"I was blocked by him, and I have no idea why," Politico Magazine editor-in-chief Blake Hounshell told BuzzFeed News in an email. "It's possible I criticized him once? But I can't recall. As far as I know, he's the only Trump person to block me — others have retweeted me in the past."
A writer for Breitbart News, an alt-right new site that has traditionally supported Trump, says Scavino has had him blocked for months. "Literally no idea why," Lee Stranahan said Thursday.
"I noticed it months ago and I've mentioned it a few times," Stranahan said in an email to BuzzFeed News. "I just mentioned it because he's social media director, hence irony."
Adam Serwer, senior editor at The Atlantic and a former BuzzFeed employee, said on Twitter that Scavino blocked him because he once pointed out the difference between two Jewish observances.

Andrew Kaczynski, a former BuzzFeed reporter who now works for CNN, said Scavino blocked him after he wrote a story that was critical of him.
Though it's well-known that public figures often receive hateful messages on social media and have to resort to blocking anonymous trolls, many Twitter users say Scavino blocked them for no apparent reason.
Even some Trump supporters claim they've been blocked by the incoming president's new social media director.

Scavino once tweeted about blocking a Republican strategist who had denounced Trump during the campaign, but hasn't otherwise explained why he blocks so many accounts.
Scavino did not immediately return a request for comment.