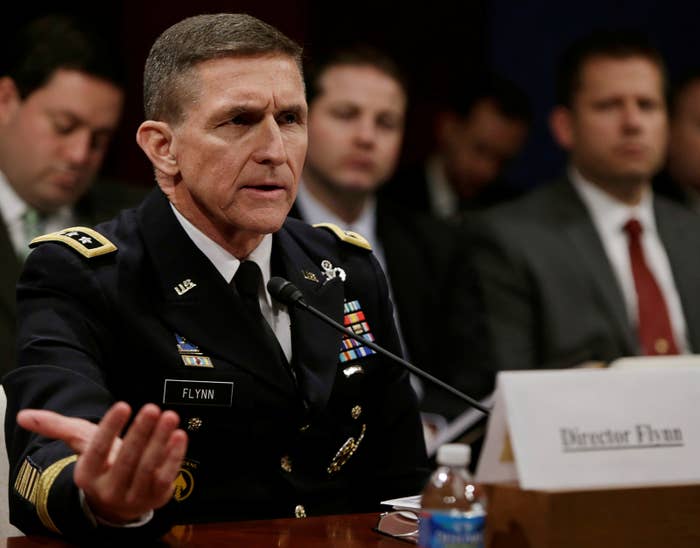 The Defense Department's Inspector General is investigating whether former national security adviser Michael Flynn broke the law by failing to properly disclose payments he received from Russia.

According to a letter dated April 11 and released on Thursday by Democrats on the House Oversight Committee, the Inspector General "has initiated an investigation to determine whether Lieutenant General (LTG) Flynn, U.S. Army (Retired) failed to obtain required approval prior to receiving any emolument from a foreign government."
The Pentagon confirmed to BuzzFeed News that its inspector general began investigating whether Flynn violated the Constitution's Emoluments Clause (which, in part, prohibits federal officers from accepting gifts from foreign states) on April 4.

Flynn, the former head of the Defense Intelligence Agency, was fired from his post as White House national security adviser by President Donald Trump just 24 days into the presidency, after it was revealed that he failed to disclose his contact with the Russian ambassador to Vice President Mike Pence.

Since then, House Democrats have released documents showing that Flynn was paid nearly $68,000 by Russia-linked entities for speaking gigs after he retired from the DIA, including approximately $45,000 from RT, the state-owned media company previously known as Russia Today. A spokesperson for Flynn has said he properly informed the DIA of the payments.
But the DIA said it did not find any record of Flynn asking for permission to receive foreign payments nor any record that he reported receiving them, according to another recently declassified letter released Thursday by Rep. Elijah Cummings, the ranking Democrat on the House Oversight committee.
Cummings also released a letter from October 2014 in which the DIA warned Flynn about seeking proper approval before accepting payments from a foreign government.

On Thursday afternoon, Flynn's lawyer tweeted a statement accusing Cummings of mischaracterizing the April 7, 2017, letter from the DIA and arguing that the Defense Department "was fully aware" of the trip Flynn took to Moscow for the RT event.
Lawyer Robert Kelner says the letter "actually confirms, in a terse section that is partly redacted, that General Flynn provided information and documents on a thumb drive to the Department of Defense concerning the RT speaking event."
The letter released by Cummings references a thumb drive Flynn provided the department, but further details are redacted.
In his statement, Kelner asks the Oversight committee and DIA "to release the full, unredacted letter," as well as other documents Flynn gave the DIA.
Cummings' decision to release the documents has also ruffled the feathers of committee chair Rep. Jason Chaffetz. "Though we've walked hand in hand with the Democrats during this investigation, this morning they broke with long standing protocol and decided to release these documents without consulting us," a spokesperson for Chaffetz said in an email to BuzzFeed News.
Chaffetz sent his own letter on Thursday to the Army secretary asking him to determine whether Flynn broke the law and, if so, to get Flynn to return the money he took from foreign states to the US government, in accordance with Defense Department policy.
Earlier this week, Cummings and Chaffetz said it appeared that Flynn had not properly disclosed Russian payments he received.
"Personally, I see no information or no data to support the notion that General Flynn complied with the law, and that is, he was supposed to seek permission and receive permission from both the secretary of state and the secretary of the Army prior to traveling to Russia to not only accept that payment but to engage in that activity," Chaffetz said, following a briefing with the DIA Tuesday. "I see no evidence that he actually did that."

Nancy Youssef contributed to this story.