In long-awaited hearings before congressional committees investigating foreign interference during the 2016 election, representatives from three major US tech companies attempted to defend their policies and practices following revelations that Kremlin-linked entities exploited the platforms to attempt to help then-candidate Donald Trump.
Though the Intelligence Community in January released an assessment in which it said Russia had deployed a wide-scale campaign to influence the US election in the favor of Trump, examples of ads, pages, and posts revealed Wednesday by congressional investigators illustrate how the influence campaign extended beyond the now-president, attempting more generally to sow public distrust, confusion, and division.

And the examples, some of which had yet to be made public, showed how easily — and inexpensively — foreign actors could abuse social media platforms to potentially reach hundreds of millions of people.
"Your actions need to catch up with your responsibility," Sen. Richard Burr, the chair of the Senate Intelligence Committee, told representatives from Facebook, Twitter, and Google on Wednesday.
Burr shared an example of two Russia-linked Facebook pages — "Heart of Texas" and "United Muslims of America" — that not only spread divisive messages, but advertised conflicting political events at the same time and location in Houston.
At the time, more than 250,000 accounts "liked" Heart of Texas, while United Muslims of America had more than 300,000 followers.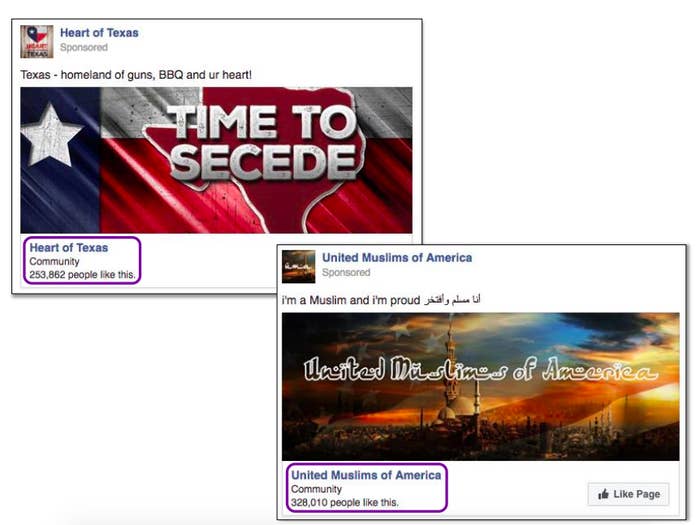 Heart of Texas planned an event called "Stop Islamization of Texas" for May 21, 2016, at noon. United Muslims of America scheduled an event called "Save Islamic Knowledge" at the exact same time and place.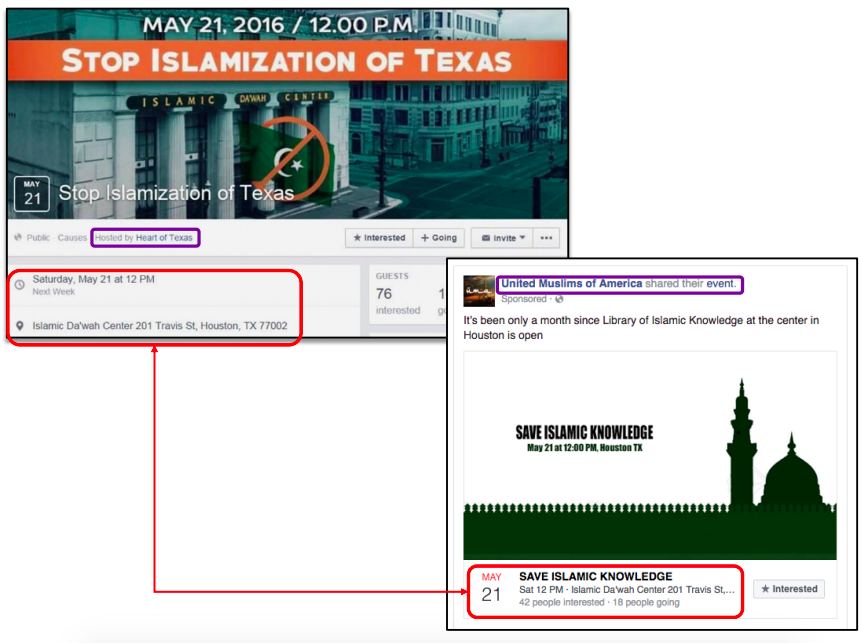 And here are photos from the events. Burr noted it only cost the Russia-linked pages about $200 to promote these events.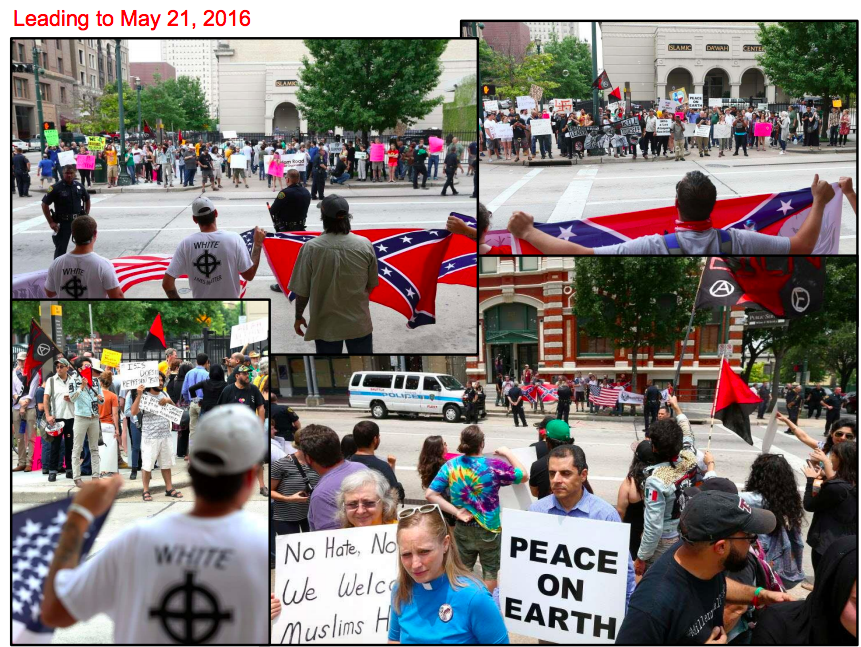 All three of the companies have acknowledged in recent months that Russian entities — notably, a Kremlin-linked troll farm called the Internet Research Agency — used their platforms to try to interfere in last year's elections and beyond. The companies have since provided information to the congressional investigators about the Russia-linked activity they found on their platforms.

Facebook said in early September, when it revealed that it had shut down 470 Russia-linked accounts that had spent around $150,000, that the "vast majority of ads run by these accounts didn't specifically reference the US presidential election, voting or a particular candidate." Rather, Facebook said, "the ads and accounts appeared to focus on amplifying divisive social and political messages across the ideological spectrum — touching on topics from LGBT matters to race issues to immigration to gun rights."
The House Intelligence Committee, which also held a hearing with social media companies on Wednesday, released a larger sampling of the ads that further illustrated the way in which Russia sought to inflame divisions in American society.
Moreover, Burr — slamming some of the media coverage of the ads — noted that it wasn't just swing states like Michigan and Wisconsin that Russia targeted with social media postings. "What you haven't heard is that almost five times more ads were targeted at Maryland than Wisconsin [...] or that the key election state of Pennsylvania had fewer ads targeted at it than Washington, DC," Burr said, noting that Maryland and DC voted heavily Democrat.

"Their whole intent was to create chaos among American society," Burr told BuzzFeed News after the hearing. "If that's pitting blacks against whites, or men against women, or pro-guns against anti-guns, they were willing to do that, because the Russian philosophy since the Cold War has been, 'if it hurts America, then it helps us.' They don't have to see real value that they can quantify."
Some of the ads did mention candidates, however; especially Democratic candidate Hillary Clinton, whom the Intelligence Community assessed was disliked by Russian president Vladimir Putin for her tougher stance toward Russia.

Sen. Mark Warner, the vice chair of the Senate Intelligence Committee, shared examples of a Russia-linked Facebook page that lured in American users through their Christian faith with advertisements and then pitted Clinton against Jesus.
Warner has previously explained how the Russia-linked pages, accounts, and ads worked in concert to promote one another and increase their visibility — for relatively little money.

Sen. Susan Collins of Maine shared examples of Russia-linked pages attempting to exacerbate racial tensions in her home state. One Facebook page called "Williams & Kalvin" said Maine Gov. Paul LePage had "called up white people to kill Blacks!" Meanwhile, another page called "Being Patriotic" said "Liberals now are acting like terrorists," citing reports of LePage getting death threats after making racially charged comments.
At a similar hearing with the three tech companies the day prior, Sen. Chris Coons shared these Russian-linked Facebook ads both attacking Clinton and supporting Trump that appeared during the 2016 primaries.
At the same hearing in a subcommittee of the Senate Judiciary Committee, Connecticut Sen. Richard Blumenthal shared a photoshopped image of actor Aziz Ansari with a photoshopped sign offering fake voting information that circulated on Twitter before the election.
Sean Edgett, general counsel for Twitter, said the company removed that tweet and others like it because they constituted "illegal voter suppression." Edgett argued that tweets calling out the misleading ones, like the tweet featuring Ansari, received more attention than those pedaling fake information. But Edgett couldn't say how many Americans had tried to vote with the hashtag provided in the fake tweet.

Blumenthal added that he has 20 to 40 examples of similar tweets, with purposely misleading voting information that Twitter provided to the committee.
Warner, along with Sens. Amy Klobuchar and John McCain, has introduced legislation to make online political advertising more transparent. Facing the threat of regulation, Facebook and Twitter have already announced changes to political advertisement on their sites, as well as additional measures to remove fake accounts.