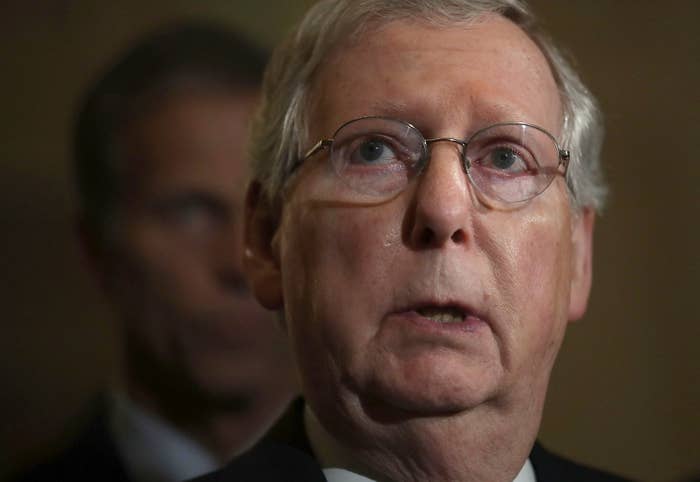 WASHINGTON — After weeks of negotiation, Senate Majority Leader Mitch McConnell filed the long-awaited text of the continuing resolution, which would fund the government at existing levels until Dec. 9.
The bill includes $1.1 billion to battle the spread of the Zika virus, $500 million for flood-ravaged states such as Louisiana, and veterans affairs funding. It's also free of controversial riders that have held up Zika funding and doesn't include things like Ted Cruz's provision to block the transfer of an internet domain management system.
"There have been broad requests for a clean continuing resolution," McConnell told the Senate. "So that's what I've just offered. It's the result of many, many hours of bipartisan work across the aisle."
The problem? Democrats say they've never seen the bill and won't vote for it, leaving Congress with only a little over week to figure something out or risk a government shutdown.
Sen. Barbara Mikulski accused McConnell of filing a "Republican-only bill."
"We Democrats cannot vote for that substitute, and urge others to vote against it," she said.
"What is wrong with the bill before us?" she asked. "Well, one, it fails to help the people of Flint, Michigan." She said the city's 100,000 residents are still without safe water.
Senate Democrats have argued that it would be unfair to include funding in the CR for Louisiana and not Flint.
A spokesperson for Senate Minority Leader Harry Reid said Democrats are also unhappy because McConnell didn't show them the bill before filing it — after Democrats voted with Republicans this week to move the CR forward.
"Senator McConnell repaid our good faith by trying to jam us with a bill we haven't seen and blocking amendment votes," Adam Jentleson, Reid's deputy chief of staff, wrote in an email to reporters.
McConnell said senators will have four days to study the bill before it goes to a vote on Tuesday. The House will then need to pass it before current funding expires on Sept. 30.
Speaker Paul Ryan played down the possibility for any pushback in the House next week.
"I'm really not that worried because our members know we're going to have a no-drama moment around here," he said. "A low-drama moment, I should say, because there's never no drama. We're going to have low drama and our members want that."