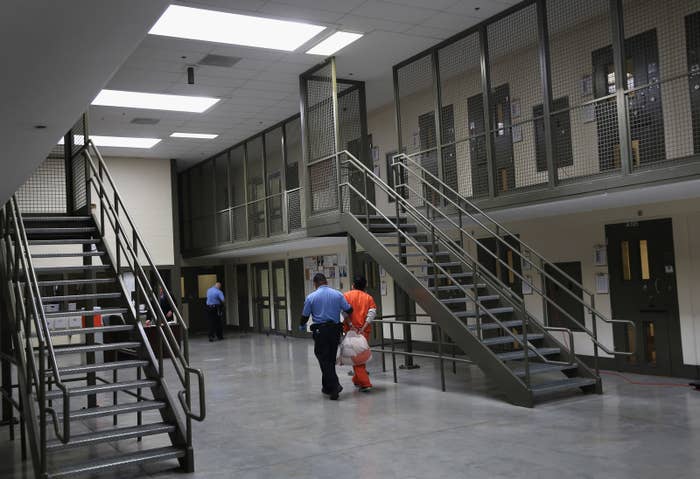 The US government is laying the groundwork to expand the use of private, for-profit prisons to house an anticipated influx of undocumented immigrants as a result of new Attorney General Jeff Sessions' crackdown on immigration.

The Bureau of Prisons has already started the process for acquiring at least one new private prison to house immigration offenders. In a pre-solicitation notice posted in April, the bureau announced it would soon be taking bids for a new private institution "for up to 9,540 beds."
"The population will be low security adult male inmates that are primarily criminal aliens with ordinarily 90 months or less remaining to serve on their sentences," the notice says, adding that the contract "will have a potential term of 10 years." The BOP expects to issue the formal call for bids on or around May 24, with an application deadline of July 24, the notice says.
There are already more than 21,000 inmates in private federal prisons, which have been cited as less safe than government-run institutions and lacking in essential services, such as health care — prompting a pledge from the Department of Justice last year to curb their use. Sessions, once one of the Senate's most conservative members and vocal advocates for stricter law enforcement policies, has rescinded the Obama-era policy and ordered stricter enforcement of immigration laws. As a result, the federal government is once again turning to private prisons to sustain an overburdened federal prison system.
"We're extremely concerned," says Jesselyn McCurdy, deputy director of the ACLU's legislative office in Washington. "We have seen how people have been mistreated, abused, and in many cases, not been given proper medical care and died as a result of being in private prisons."
Dr. Thomas Kane, acting director of the Federal Bureau of Prisons, told the House Judiciary committee five days after the BOP issued its pre-solicitation that it has historically housed "criminal aliens" who are classified as lower security risks in private institutions.
"Given Attorney General Sessions' strong focus on a priority for the investigation and prosecution of immigration offenses, we do expect an increase in additional immigration offenders over the weeks and months ahead," Kane told the committee.
"We will monitor those population trends very closely and, to the extent that increases in immigration offenders at the low security level occur, we will [...] maximize the use of Federal Bureau of Prisons institutions at a low security level and to the extent needed, contract for additional capacity from the private sector," Kane said.
BOP spokesperson Tovia Knight, asked to confirm the pre-solicitation notice is a direct result of Sessions' new policy, said the notice "is in anticipation of population increases due to new law enforcement initiatives."
She also said the notice is for "a minimum of 1,800 private beds," but that "it is too early to project the magnitude" of the Trump administration's new policies.
New data from US Immigration and Customs Enforcement provides insight into the effect thus far of those policies. ICE reported on Wednesday that it had arrested 41,318 people on immigration offenses during President Donald Trump's first 100 days in office — a nearly 38% increase over the same period in 2016. Though ICE said the majority of those arrested had criminal records, the greatest increase came in arrests of individuals without criminal records.
The Department of Justice, which oversees the Bureau of Prisons, declined to comment on this story. A spokesperson for Republicans on the House Judiciary committee also declined to comment.
Sessions' decision to allow the government to continue contracting for private institutions, as BuzzFeed News previously reported, was good news for the nation's largest private prison companies, which saw their stocks instantly rise. Two of those companies donated a combined $500,000 to Trump's inauguration, in addition to making significant campaign contributions, USA Today reported,
Some lawmakers, however, are already sounding the alarm on the bureau's plans to contract for more private prison space. Rep. John Conyers, the ranking Democrat on the House Judiciary Committee, told BuzzFeed News in an emailed statement that he is "opposed to any plans of the Justice Department and its Bureau of Prisons to expand the use of private, contract prisons."
"In addition to their role in our crisis of overincarceration, these prisons are notoriously poorly run," Conyers said, citing an August 2016 report by the Inspector General that found that, among other issues, private prisons were less safe than government-run institutions and didn't provide adequate health care.
In one example provided in the report, an inmate died after he reported trouble breathing and medical staff, instead of treating him, told him "to place a sick call, which would put him on a list of inmates waiting to be seen by medical personnel instead of being treated immediately."
Asked about the report, Knight said the BOP has stationed employees at private prisons to "ensure compliance with [the bureau's] standards and contract requirements."
"[A]nd we employ an ongoing audit process that allows us to examine critical benchmarks in custody and care and take any needed steps for corrective action if a problem is identified," she said.
E.O. Young, national president of the Council of Prison Locals, which represents more than 30,000 federal prison employees, says the "work law enforcement professionals perform in BOP is inherently governmental and should not be for profit.
"It is well documented the malfeasance occurring in for-profit private facilities," Young said in an email to BuzzFeed News.
McCurdy says that regardless of whether an inmate is a US citizen, the government still has "an obligation to both treat them humanely and provide certain basic services."
"When you're talking about private prisons, who operate on a profit motive, what we have seen over time and time again is even the basic services that a person needs [...] are not provided," she said.
"The corners are cut."