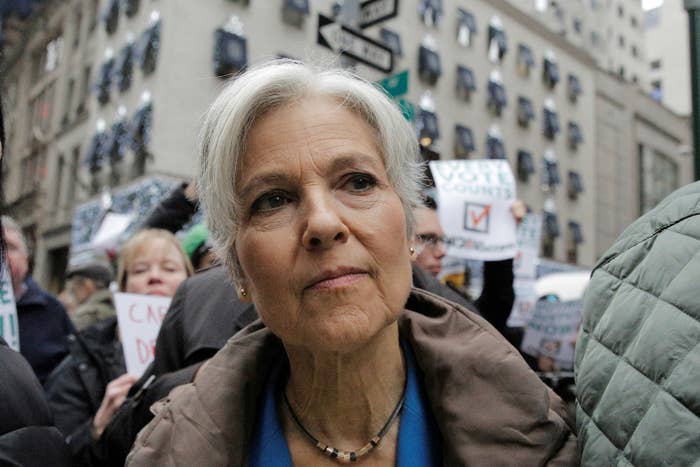 The top congressional committee investigating Russian interference in the 2016 presidential election has set its sights on the Green Party and its nominee, Jill Stein.
Dennis Trainor Jr., who worked for the Stein campaign from January to August of 2015, says Stein contacted him on Friday saying the Senate Intelligence Committee had requested that the campaign comply with a document search.
Trainor, who served as the campaign's communications director and acting manager during that time, told BuzzFeed News that he was informed of the committee's request because during his time on the campaign, his personal cell phone was "a primary point of contact" for those looking to reach Stein or the campaign. That included producers from RT News, the Russian state-funded media company that booked Stein for several appearances, Trainor said.
"Then I was told by Jill just to wait for further instructions," Trainor said, adding that he was told the campaign would contact him in the next week with details, presumably from the Senate Intelligence Committee, of how to execute the document search, including precise search terms. That has not happened yet, Trainor said.
Trainor, who has worked on and off for Stein since formally leaving the campaign in 2015, said he is inclined to cooperate with the committee's request but wants to first seek legal counsel. He said he believes Stein plans to post the documents on her own website "in an effort to show complete transparency and kind of wage her own war against ... what I imagine she thinks is an overblown investigation into collusion."
Stein, herself, confirmed the Intelligence Committee's request in a tweeted statement just after midnight on Tuesday in which she said she "is cooperating by sharing all communications relevant to the committee's mission" and would "release a more comprehensive statement about the investigation in the near future."
Stein also addressed her presence at a 2015 dinner hosted by RT in Moscow, in which she sat at the same table as Russian President Vladimir Putin and Michael Flynn, who served as President Donald Trump's first White House national security adviser until he was ousted just 24 days into the job. Flynn recently pleaded guilty to lying to the FBI about his contacts with the Russian ambassador and agreed to cooperate with special counsel Robert Mueller, who is conducting a criminal investigation into potential collusion between the Trump campaign and Russia.
"Our campaign has observed the highest standards of transparency and integrity in our interactions with foreign nationals as well as Americans," Stein's statement said. "Our communications with Russian individuals regarding an invitation to speak on international relations at the RT 10th anniversary media conference will confirm what we stated publicly at that time and since: that we did not accept any payment or even reimbursement for the trip, and that we made the trip with the goal of reaching an international audience and Russian officials with a message of Middle East peace, diplomacy, and cooperation against the urgent threat of climate change, consistent with long-standing Green principles and policies."
Stein said the Green Party supports "legitimate inquiry into any illegal activity in our elections" but warned against "the politicization, sensationalism and collapse of journalistic standards that has plagued media coverage of the investigation."
When asked Monday what the committee was looking for from the Stein campaign, North Carolina Sen. Richard Burr, the committee's chairman, responded, "collusion with the Russians."
Both Burr and Virginia Sen. Mark Warner, the vice chair of the committee, on Tuesday referenced Stein's presence at the 2015 dinner hosted by RT. While cautioning that the committee doesn't "confirm or deny any witnesses," Warner said, "I will point out that Ms. Stein was at that somewhat infamous dinner with Gen. Flynn and Vladimir Putin, and also has been a long term defender of Mr. Assange and Wikileaks which clearly was involved in dumping some disparaging information."
Asked what the committee was looking into with regards to Stein, Burr also mentioned the Moscow dinner. "We should look at Mike Flynn and not look at her?" Burr told BuzzFeed News. "She became the candidate. She was the one that actually initiated a recount campaign. Where'd that money come from? Millions of dollars."
"We want to look to see if there's any Russian connections to anything that happened in any campaigns," Burr added. "That's what we were chartered to do."
Trainor said he expects the Senate Intelligence Committee will want to know more about the dinner, but that he wasn't employed by the campaign at that time and therefore wouldn't have any documents related to the event.
Burr said that the committee is "just starting" its work investigating two campaigns in addition to that of Trump, but did not elaborate on Monday. On Tuesday, Burr again declined to elaborate, but suggested that the committee was focused on those that participated in the general election, not the presidential primaries. When asked if Sen. Bernie Sanders' presidential campaign was one of the two, Burr said: "Bernie Sanders wasn't in the general election."
Later Tuesday, Burr suggested to BuzzFeed News that the two campaigns were those of Stein and Democratic candidate Hillary Clinton, but declined to confirm outright that the second was Clinton's and expressed disbelief at the notion that his comments had caused any confusion.
When asked directly if the campaigns were those of Stein and Clinton, Burr asked, "Is that that hard to connect?" He then added: "How many were there? How many general election [campaigns] were there?"
When reminded of the campaign of Libertarian nominee Gary Johnson, Burr said, "Oh God, ok. I can tell you, it wasn't Gary Johnson."
It's unclear whether Burr was referring this week to a new, broader line of inquiry as it might relate to Clinton, or the committee's previous work. He declined to expound on the details of the committee's potential interest in the Clinton campaign.
Burr said the intent of the committee's investigation from the beginning has been "to look at the possible connections of any campaign and Russians. Now maybe everybody interpreted that to limit it to the Trump administration. That was never the intent."
Both the Senate and House Intelligence committees have in recent months looked into elements of the Clinton campaign as it investigates the funding of an unverified dossier compiled by former British spy Christopher Steele, which was first published by BuzzFeed News in January after security officials had briefed President Barack Obama and then-president-elect Donald Trump about it.
Republicans on the House Intelligence committee have taken a greater interest in probing a Clinton connection to the dossier. Clinton campaign chairman John Podesta and former Democratic National Committee chair Debbie Wasserman Schultz have appeared before both committees, with CNN reporting that both denied having knowledge of the Clinton campaign funding the dossier, which was reportedly first funded by a Republican opponent of Trump.
Stein has not previously been a major focus during the Russia investigations on Capitol Hill, but her name has surfaced occasionally. The Senate Judiciary mentioned her in a letter to Donald Trump Jr. in July, requesting copies of "all communications to, from, or copied" to the president's son that related to Stein and a long list of other, more prominent figures in the investigations.
Trainor said he would be surprised if Stein ever communicated with Trump Jr., who participated in an interview with the Senate Intelligence Committee behind closed doors for more than nine hours last Wednesday. "Don Jr. has been incredibly cooperative with the committee," Burr said the following day.
Trainor said he believes the committee is primarily interested in Stein's appearances on RT, "vilifying anyone who's ever appeared on or talked with anyone on the RT network."
A January assessment from the Intelligence Community on Russian election meddling called RT a "propaganda outlet." And the Justice Department recently ordered RT to register as an agent of the Russian government.
Trainor, who said he has made appearances on RT himself, contests that characterization. "There's a lot of smoke around RT and not a lot of fire," he said. Trainor also believes the Intelligence Community assessment refers to his own documentary about Occupy Wall Street, though not by name, in a section about RT's alleged attempts to "fuel discontent" in the US — something he called a "body blow." He said the documentary, American Autumn, fits the description of the film cited in the assessment and was airing on RT at the time.
The Senate Intelligence Committee's investigation is now entering the homestretch, with its leaders hoping to wrap up interviews with witnesses early in the new year and release a report before the primaries for the 2018 midterm elections begin.
UPDATE
This story was updated with comment from Senate Intelligence Committee chairman Richard Burr.
UPDATE
This story was updated with further comment from Burr and Senate Intelligence Committee vice chair Mark Warner.
UPDATE
This story was updated with additional comment from the Senate Intelligence Committee and from Jill Stein.