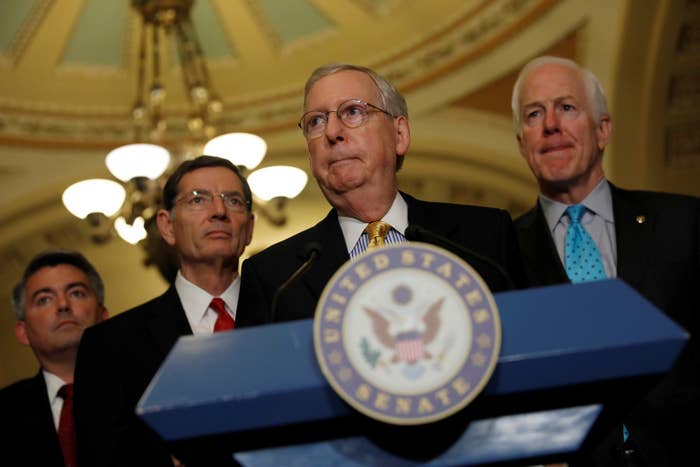 Five Republican senators say they won't support their party's draft bill to repeal and replace the Affordable Care Act as currently written, putting the legislation at risk of failure and jeopardizing the GOP's longtime promise to get rid of Obamacare.

On Friday, Nevada Senator Dean Heller announced he would vote no on the GOP health bill in its current form, citing its reversal of the Obamacare expansion of Medicaid.
"I cannot support a bill that takes insurance away from tens of millions of Americans and hundreds of thousands of Nevadans," Heller said at a press conference with Republican Nevada Governor Brian Sandoval, who also opposes the bill.

Heller faces a difficult reelection campaign next year in a state that voted for Hillary Clinton in the presidential race. Before the Medicaid expansion, Nevada had an uninsured rate of 23%. The expansion extended health care to over 200,000 people in the state and cut the rate of uninsured Navadans in half.
"It's going to be very difficult to get me to a yes," Heller said.
Heller's announcement comes a day after Sens. Rand Paul, Ted Cruz, Ron Johnson, and Mike Lee announced that they would vote against the bill unless major changes are made to it — just hours after Republican leadership revealed a 142-page draft of the bill Thursday.
"Currently, for a variety of reasons, we are not ready to vote for this bill, but we are open to negotiation and obtaining more information before it is brought to the floor," the senators wrote in a joint statement. "There are provisions in this draft that represent an improvement to our current healthcare system but it does not appear this draft as written will accomplish the most important promise that we made to Americans: to repeal Obamacare and lower their healthcare costs."
Paul told reporters moments later that the current Senate bill kept in place too many provisions of Obamacare for him to support it. "There's a lot in here that doesn't look like repeal ... This is not ripping it out root and branch," he said.
Lee and Cruz were originally part of the Senate's 13-member health care working group that began drafting the bill. But that process was largely taken over by Senate Majority Leader Mitch McConnell and his staff in the final stages, senators said. And Lee complained in a Facebook video on Wednesday that he hadn't even seen the draft bill.
Paul told reporters on Thursday that the bill "just doesn't sound conservative."
"When we look at the spending in the first year or two, we think that the Republican plan might spend more than Obamacare," Paul said. "So, really, it is about the details. ... We also are acknowledging that the death spiral of Obamacare will continue. They don't fix the death spiral, they subsidize it."
Cruz told reporters that the bill will need "substantial improvements to lower premiums. I have said from the beginning that there is an agreement to be reached, and I believe we can get there, we can get to yes. This current draft is only a draft. It's a starting point. This draft isn't there yet."
Paul said that the senators put out their statement now to show their leadership that they don't have the votes they need, and to encourage them to reach out to the conservative group to negotiate.
That plan seemed to be working. "The four members who are expressing that view at the moment, they need to let us know what it is that they need changed or fixed or improved upon to get them to yes," Sen. John Thune, a member of GOP leadership, told reporters on Thursday before Heller made his opposition known. "I think everybody wants to get to yes."
Several more moderate Republicans have raised issues with some aspects of the bill. Sens. Susan Collins and Lisa Murkowski have long opposed defunding Planned Parenthood, which is included in the Senate bill — though neither has yet said how that provision will affect their votes.

Collins told reporters Thursday that while she sees "some positive features" in the bill, she continues to have "a lot of concerns." Collins cited, specifically, the bill's rollback of Obamacare's Medicaid expansion, incentives for young people to register for health insurance, funding for managing the opioid crisis, and, most emphatically, stripping funding from Planned Parenthood.
"It makes no sense to single out Planned Parenthood from all of the Medicaid provider and say that it can't be a Medicaid provider," Collins said. "There's already a ban on using federal funding for abortion so there's absolutely no need for that."
Collins said, however, that she is not yet a no on the bill and that she is waiting for the Congressional Budget Office to score the bill.
Any changes to the draft bill designed to appease the conservative members leaning toward a no vote could further alienate moderates, and vice-versa, leaving leadership walking a tight rope to get this bill through.
Senate Republicans will need to get 50 of their 52 members to vote for the bill, and a tie-breaker from Vice President Mike Pence, to pass their health care plan. Then, they will need to reconcile their differences with the House before sending a bill to repeal and replace Obamacare to President Donald Trump's desk.
The bill is expected to go to a vote on the Senate floor sometime next week.
Asked if he thought their issues could be fixed within a week, Paul said: "We'll see. ... I think the bill can be made better, and all four of us are saying that we can vote for it, but there's got to be a negotiation."
Lissandra Villa and Ema O'Connor contributed to this story.