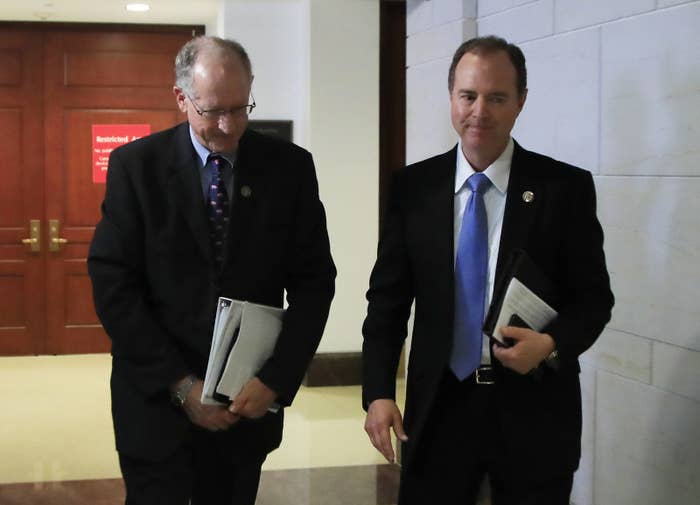 Republicans on the House Intelligence Committee have released a heavily redacted version of their final report on the investigation into Russian interference in the 2016 election. Democrats have released a separate document detailing their views on the probe.
In their more than 250-page report, Republicans say they've found "no evidence that the Trump campaign colluded, coordinated, or conspired with the Russian government," but that they "did find poor judgment and ill-considered actions" by the presidential campaigns of both Donald Trump and Hillary Clinton.
Friday's report expounds on the findings of a one-page summary that Republicans released in March after they announced that they were ending the probe, which began in January 2017 and had been plagued by partisan bickering. Democrats on the committee blasted the move to shut down the investigation, with ranking member Rep. Adam Schiff calling it a "tragic milestone for this Congress."
Trump tweeted about the report shortly after it was released Friday, "Wow! A total Witch Hunt! MUST END NOW!"
In the tweet, Trump quoted from the report's conclusion that the committee found "no evidence" of collusion with Russia, but did not include the part of the quote that accuses his campaign of bad judgment. The report specifically cites the Trump campaign's "periodic praise for and communications with WikiLeaks — a hostile foreign organization," as well as the Trump Tower meeting, during which top campaign officials met with a Russian lawyer who "falsely purported to have damaging information on the Clinton campaign."
The Clinton campaign, the report concludes, exhibited "poor judgment" in "using a series of cutouts and intermediaries to obscure their roles" to pay for opposition research "obtained from Russian sources" — which later became the Steele dossier. The dossier, which alleged several years of Trump-Kremlin links, was first published by BuzzFeed News in January 2017, after security officials had briefed then-president Barack Obama and Trump about it.
Republicans on the committee say they are unhappy with the number of redactions intelligence agencies placed in their report. "Given the substantial public interest at stake, the Committee is publishing the redacted version we've received," committee chair Devin Nunes said in a statement Friday. "However, we object to the excessive and unjustified number of redactions, many of which do not relate to classified information. The Committee will convey our objections to the appropriate agencies and looks forward to publishing a less redacted version in the near future."
Schiff on Friday released a lengthy statement criticizing Republicans' handling of the probe, accusing them of choosing "not to seriously investigate — or even see, when in plain sight — evidence of collusion between the Trump campaign and Russia, instead adopting the role of defense counsel for key investigation witnesses."
The Republican report found, among other things, that Russia hacked US political institutions in 2015 and 2016; the stolen documents were circulated by "Russian-state actors and third-party intermediaries," such as Guccifer 2.0 and WikiLeaks; the Kremlin used RT, a state-funded media company, "to advance its malign influence campaign" during the presidential race; and that "Russian intelligence leveraged social media in an attempt to sow social discord and to undermine the U.S. electoral process."
But the report also states that "[w]hen asked directly, none of the interviewed witnesses provided evidence of collusion, coordination, or conspiracy between the Trump campaign and the Russian government." It also says that there is "no evidence that Trump associates were involved in the theft or publication of Clinton campaign–related emails, although Trump associates had numerous ill-advised contacts with Wikileaks."
The Republican report does include a repudiation of the Trump campaign's failure to fully vet Paul Manafort — who is facing several charges in special counsel Robert Mueller's Russia investigation — before allowing him to become its chair, however. "Special Counsel Mueller's indictment of Manafort illustrates the necessity for U.S. presidential campaigns to better investigate individuals who serve in senior positions within the campaign," the report says. "If the accusations against Manafort are true, he should have never served as a senior official with a campaign for the U.S. presidency, much less campaign chairman or manager."
Moreover, the report says that the US government reaction to Russian election interference "was slow and inconsistent," citing the FBI's "largely inadequate" notification to victims that they had been hacked and poor communication between the Department of Homeland Security and state officials about attempted cyberattacks. "The Executive Branch's post-election response was insufficient," the report adds.
Though Republicans approved of most of the intelligence community's January 2017 report on Russian election meddling, they take issue with the part that states that Russian President Vladimir Putin "developed a clear preference for President-elect Trump," arguing that the intelligence community "did not employ proper analytic tradecraft."
But Democrats, in their document, say they've "found no evidence that calls into question the quality and reliability of the [Intelligence Community Assessment]'s underlying reporting and key judgments, including the assessment about President Putin's desire to help candidate Trump."
Republicans also issued findings related to leaks to the press about the FBI's Russia investigation, saying that the number of leaks "increased dramatically after the election day," and arguing that "[c]ontinued leaks of classified information have damaged national security and potentially endangered lives."
The report makes several recommendations, including more funding from Congress to states for election cybersecurity, more counterintelligence briefings for presidential campaigns, repealing the Logan Act, and tougher punishments for leaking classified information.
California Rep. Eric Swalwell, another Democrat on the committee, called the Republican report "an incomplete, inaccurate report of what the Russians did and who they worked with, solely intended to cover up evidence damaging to President Donald Trump."
"This report concludes that there was no collusion, but the Republicans never allowed the investigation to look for collusion," Swalwell said in a statement. "They refused to use subpoena power to obtain documents and testimony we needed to protect our democracy and tell the American people how we were attacked. Instead, they ran a 'take them at their word' investigation that showed no willingness to test witness testimony against their cell phone, bank, and travel records. They also have refused to deliver on their promise of releasing transcripts of the testimony we heard, so that the public can judge for itself."
Schiff said that Democrats will attempt to continue the investigation, pointing to their interview this week of Cambridge Analytica whistleblower Christopher Wylie and revealing that they had "received new documents from another important witness."
"We will continue our investigation using every means at our disposal; to do otherwise would ignore our responsibility to conduct meaningful oversight and insure [sic] that the Russians do not possess leverage over the President of the United States," Schiff said.
You can read the Republican report here and Democrats' views here.