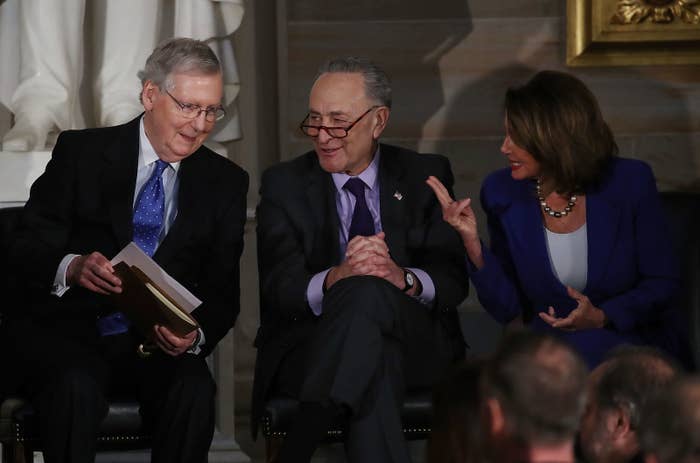 President Trump signed a bill Monday night to end a three-day government shutdown after members of Congress reached a deal to keep the federal government funded until Feb. 8.

A promise from Senate Majority Leader Mitch McConnell to allow a Senate vote on a major immigration proposal next month finally broke the logjam after a shutdown that began at midnight Friday.

The Senate approved of the spending bill, which also provides six years of funding for the Children's Health Insurance Program, on a vote of 81–18 just before 4:30 p.m. Monday. The House soon followed suit, voting 266–150 to reopen the government for three weeks. Trump signed the bill Monday night, allowing the government to officially reopen.
The House had passed a monthlong bill to keep the government open last week, but Senate Democrats and four Republicans opposed the bill Friday night, leading to the shutdown.
"The American people never wanted this to happen. Republicans in the Congress did not want this to happen. And we did everything in our power to make sure this didn't happen. The House passed a clean bill," House Majority Leader Kevin McCarthy said before the vote Monday night, blaming the shutdown on Senate Democrats.
"So I must ask: What was gained here at the expense of the American people? What was gained at the expense of our nation's reputation as a great and deliberative republic? Every policy in the House's original bill, the Senate passed today. Every single policy is the same," McCarthy added.
Ultimately the difference came down to McConnell's commitment to take up a bill to save the Deferred Action for Childhood Arrivals program in the weeks to come. Just ahead of a key procedural vote to keep the bill alive in the Senate on Monday, Schumer said that promise had earned McConnell the majority of Democratic votes, giving Congress a way out of the shutdown. Trump has set DACA to expire in March.

"It's a way forward," Schumer said of DACA, which protects nearly 700,000 young undocumented immigrants brought to the US as children from deportation. "There is a real pathway to get a bill on the floor and through the Senate."
Ultimately, 16 Democrats in the Senate voted against the final bill, saying McConnell's promise on its own was not sufficient for them to support reopening the government. Republican Sens. Rand Paul and Mike Lee joined them in voting no.
In the House, 144 Democrats — roughly three-quarters of the party's members — voted against the final three-week bill. They were joined by six Republican members.
"I'm not going to beat up on my friends on the Senate side. You know, all of us are faced with excruciating ethical and political choices every day because of the erratic nature of the Trump administration and the hard-right politics of the GOP caucus," said Maryland Rep. Jamie Raskin, a Democrat, who voted no on the deal.

Schumer warned McConnell on the Senate floor earlier Monday that if he doesn't hold up his end of the deal, he will be betraying both Democrats and some of his own members.

"In a few hours, the government will reopen," Schumer concluded just after 12 p.m. Monday, adding that Congress has a long list of issues to deal with after the government reopens.
Several Senate Democrats had emerged from a caucus meeting Monday morning expressing optimism that the bill would pass, citing McConnell's agreement to hold a vote on a bipartisan DACA bill — even if the White House opposes it.
The agreement represents a major break for McConnell, who last week abandoned plans to move ahead with a DACA bill offered by Republican Sen. Lindsey Graham and Democratic Minority Whip Dick Durbin saying that Congress would be "spinning our wheels" to vote on something the White House had criticized.

"That's not what we had before," Virginia Sen. Mark Warner told reporters as he left the meeting, saying McConnell's commitment meant he and others would now support the bill.

West Virginia Sen. Joe Manchin, one of five Democrats to vote with most Republicans to keep the government open on Friday, left the meeting Monday saying it was "very positive" and predicting the government would reopen shortly.
Of course, members will be back in this same position in just three weeks and will need to pass another bill to prevent a shutdown.
Just before Monday night's vote in the House to reopen the government, Minority Leader Nancy Pelosi said that while it was "good for them" that Senate Democrats had received an agreement from McConnell on DACA, the House still needs to pass a bill that will keep the government open for longer than a few weeks at a time.
"Our members will make their decision about how they wish to vote, but understand this: This isn't just about the DREAMers. This is about who we are as a nation in terms of honoring our — what we care about most in our country and how we put that into a budget," Pelosi said, citing funding to fight the opioid epidemic, to offer care for veterans, and other examples.
Asked if he believes the government could shut down again on Feb. 8, Democratic Sen. Richard Blumenthal told reporters, "I'm not doing predictions."
But Durbin said Monday he didn't believe that it would come to that. "Oh, I hope that we never have to do that again. I have more confidence now that we can get 60 votes for a measure than I did before this," he said.
Addressing questions about whether McConnell would stick to his word on DACA, Republican Sen. Bob Corker said, "He's going to do it. He said he's going to do it. I've never gotten any sense that he's not going to do it."

Corker added that it would be an "affront" to a larger number of his colleagues if McConnell didn't keep his promise.
But not everyone was optimistic about McConnell's promise. "I don't believe he made any commitment whatsoever and I think it would be foolhardy to believe that he made a commitment," said California Sen. Kamala Harris, one of 16 Democrats who voted against moving the bill forward in a procedural vote Monday afternoon.

In the House, Speaker Paul Ryan has not yet publicly made the same commitment as McConnell did Monday. Republicans in the House stood by their position of not negotiating on immigration while the government was shut down.

"Leader McConnell gave Schumer the wiggle room to save some amount of face and get out of it without making any commitments that would bind the House in any way to having legislation on the president's desk," Republican Rep. Chris Collins said Monday night. "I hope we do get [immigration] legislation on the president's desk, but Leader McConnell didn't guarantee that."

Ryan did, however, promise members of the far-right House Freedom Caucus that he would hold a vote on a much more conservative immigration bill that would provide fewer protections for DACA recipients than the bipartisan Senate bill does. The conservative proposal, sponsored by Rep. Bob Goodlatte, stands little chance of passing the Senate.

The House was supposed to be on recess this week, but members remained on call for possible votes after the government shut down on Friday night. Members spent the weekend at loose ends, occasionally huddling in party conferences on the Hill, waiting on the Senate to act. House Republicans left a short conference meeting Monday morning with nothing new to report on the shutdown.
There were conflicting opinions in the Senate Monday afternoon on the value of the three-day shutdown. Republican Sen. John Thune, a member of leadership, said the deal ultimately accepted by Democrats was essentially what was available to them on Friday night. Asked if he thought Democrats caved, Thune said, "I probably shouldn't say that, but I think they pretty much took the deal that was available to them."
Newly elected Sen. Doug Jones, an Alabama Democrat, was one of five Democrats to vote to keep the government open Friday night, and voted to advance the bill to reopen it Monday as well. "I feel like I've been hazed as a freshman," he told reporters on his way out of the chamber.

Republican Rep. Peter King said the shutdown over the weekend "made no sense."
"I oppose Republican shutdowns, I opposed the Democratic shutdown," King said. "To me shutdowns don't work; it's the wrong tactic to use, and this one certainly proved nothing."
But Sen. Lisa Murkowski, also a Republican, took a very different view. She said the significance of the weekend shutdown was that it brought new numbers of Democrats and Republicans together to work on a bipartisan DACA deal. "We are in a much, much different space than we were on Friday," she said. "In terms of how people are talking to one another, in terms of people's willingness to work together to find some solution here, it is a world apart."
Murkowski and other members of a bipartisan group of senators who met several times over the weekend spoke to reporters after the vote, thanking one another for working together toward reopening the government.
"Ultimately, it was up to our leaders, but I believe that we played a critical role in helping them get to yes," said Maine Sen. Susan Collins, whose office, Sen. Lindsay Graham said, "is Switzerland."
Collins told reporters that during the meetings she told members they could only speak if they were holding a Native American talking stick she had been gifted by Democratic Sen. Heidi Heitkamp. CNN first reported on Collins' use of the stick to keep members in line.
"It's very helpful in controlling the discussion because as you can imagine with that many senators in a room, they all want to to talk at once. I know it shocks you to learn that," Collins told reporters. "So I would pass it to people. As people would signal me that they wanted to speak I would give them the stick and they were allowed to speak and then I would take the stick from them and give it to the next person. Sometimes people passed it person to person, but generally I tried to control the stick."

Smiling widely and expressing enthusiasm at the prospect of civility and bipartisanship returning to the upper chamber, members of the so-called Common Sense Caucus said they plan to return to work immediately on a solution for DREAMers, a long-term budget, and more.

"Now the real work begins," Murkowski said.

The group said they plan to use the Graham–Durbin DACA bill as a starting point for the legislation they hope to eventually bring to the Senate floor.
"The DACA population's going to have an answer to their hopes and dreams by Feb. 8, I hope," Graham said.
If not, he said, the Senate will then begin the process of debating legislation on the floor.
"At the end of the day, this isn't a debating society; it's about trying to get something done," said Virginia Sen. Tim Kaine. "What the DREAMers have said to me is we want a vote, we want a vote on a clean DREAM Act. There's going to be a vote on a clean DREAM Act — and that was not something that they would tell us Friday night."
Kaine said the group of 30 or so members will take up the DACA issue "with urgency" and that he's confident the outcome will be positive.
This is a developing story. Check back for updates and follow BuzzFeed News on Twitter.