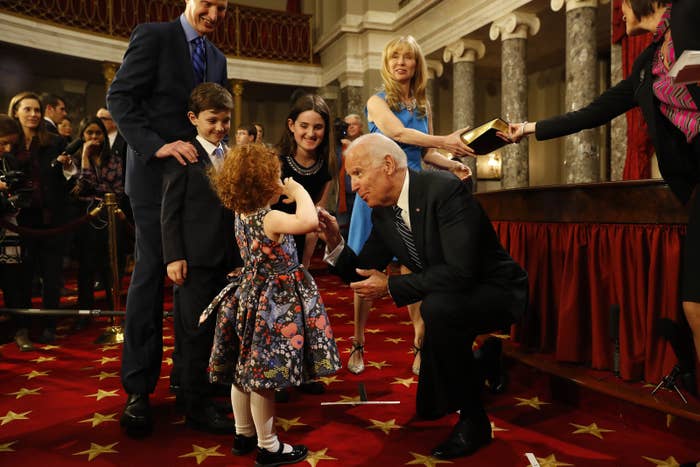 WASHINGTON — Some call it creepy, others legendary. Either way, Vice President Joe Biden's tradition of sweet-talking the families of senators during Senate swearing-in ceremonies was alive and well Tuesday.
Biden was on Capitol Hill on Tuesday as he presided, for the final time, over the informal, family photo-op swearing-in ceremony that follows the official ceremony on the Senate floor.
Biden has been pulling moves on senators' mothers, wives, and daughters during the ceremonies for years. His typical lines include telling the women they have "a smile that lights up the room" and telling their husbands they have good taste. He's also fond of giving younger women advice: "No serious guys until you're 30."

Those lines were in full force on Tuesday. "Mom, I want to know what you're drinkin'!" Biden said to Joanna Cortez, mother of rookie Sen. Catherine Cortez Masto as she approached him in the old Senate chamber. Biden said she looked like she should be the senator's sister, not mother.
"You're beautiful," Biden told Annette Shelby, wife of Sen Richard Shelby, before embracing her.
When it was Sen. Richard Blumenthal's turn to approach with his wife, Biden joked: "Cynthia you can come — not sure about the other guy." The three eventually had a more serious conversation about the Blumenthals' son's deployment with the Navy Seals.
One of the highlights from Tuesday was when he kissed Barbara Grassley, Sen. Chuck Grassley's wife, on the lips. She later told BuzzFeed News that Biden kissed her because she spoke about the recent death of his son, Beau, who died in 2015 of brain cancer.
"I just feel so bad for him, and at the end there I just looked at him, because I know they're still grieving their son, and I just looked at him and said, you know, you never expect to bury your children," Grassley said. "And I gave him that last hug because it's hard."
Biden's attention was not reserved exclusively for the women in the senators' families. The vice-president doted on the kids, too. Among them were Sen. Tammy Duckworth's young daughter, whom he spoke to about her sparkly shoes, and a baby from Sen. Richard Burr's family, who rejected Biden when he tried to kiss the child.
Biden's personality was noted by Sen. John Thune. "He's just such a colorful guy," Thune told BuzzFeed News. "He's been around here for a long time, he's a revered member of the Senate, and I think there's just so much personality that he brings to any occasion."

Before moving on to his current office, the vice president served in the Senate on behalf of Delaware for 36 years, where he established a relationship with many of the senators he has sworn back into Congress since.

"He's just a guy who's very passionate and dedicated to public service and, you know, has committed his entire life to trying to make a difference," Thune said. "We disagree on a lot of things, but I appreciate him and the way in which he approaches the job, the fun he has with it. And it's always fun to have him here when we're doing this."
The ceremony with family in the Old Senate Chamber followed the formal ceremony on the Senate floor, where Biden swore-in the 34 senators — some returning, some new — who were elected in the 2016 campaign.
The mood was jovial as the senators faced Biden in groups of four with hands raised to recite the Oath of Office, promising to defend the US Constitution and faithfully discharge their duties, "So help me God."

Onlooking senators gave each group a standing ovation as they finished. Republican Sen. Bob Corker smiled as he shook hands with Democratic colleagues, while Sens. Ted Cruz and Mike Lee chatted in the back of the chamber.
Biden capped off the informal ceremony by speaking about his own experience as a senator, and plans for the future. "I do miss it," he said. "I loved being a senator."
He said that after he leaves office, he plans on taking up offers from universities who have said they will provide him "an awful lot of staff" to establish a domestic and foreign policy group.