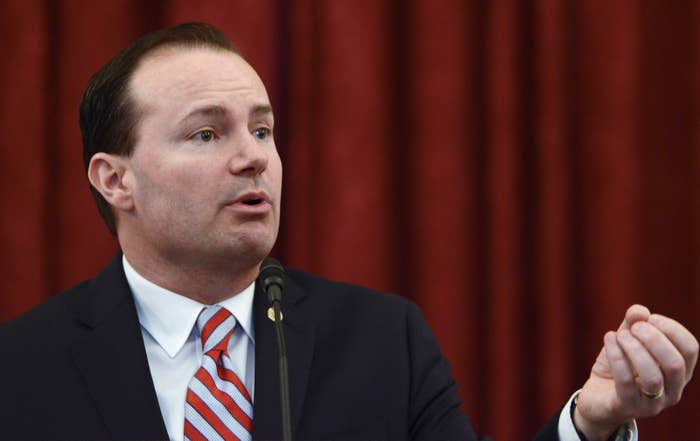 WASHINGTON — Before the election, advocates for criminal justice reform were ready for their moment. There was bipartisan support in both chambers of Congress for it. Speaker Paul Ryan indicated that he wanted to pass it.
Legislation to reduce mandatory minimum sentences for non-violent offenders and that attempts to repair an overburdened prison population that disproportionately incarcerates minorities seemed like a sure thing.

But now aides to members involved in Congress' bipartisan criminal justice reform legislation believe that the effort could essentially die with the election of Donald Trump, who ran an outspoken campaign on restoring law and order.
"It's dead," said one Senate Republican aide close to the criminal justice reform effort. "It's not something Trump wants and leadership has no incentive to anger him over it."
A senior Democratic aide in the Senate said criminal justice reform is "totally dead," at least for the lame duck period. "Beyond that I don't really know."
During the election campaign, Trump repeatedly said the country needed to "bring back law and order" to curb inner city violence. He suggested restoring controversial stop-and-frisk policies, but has otherwise yet to articulate the details of any plan.
At a BuzzFeed Brews event in September, Senators Cory Booker and Mike Lee — two of the Senate's most vocal advocates for criminal justice reform legislation — said they believed that it would pass both chambers overwhelmingly, and Lee argued that it hadn't passed because Majority Leader Mitch McConnell had not put it to a vote.
Others on Capitol Hill are more optimistic about the legislation's future. "The path forward is more complicated, but I wouldn't say, you know, we're without hope here," said another Senate Democratic aide involved in the push for criminal justice reform. He noted that the legislation has bipartisan support in both the House and Senate, and noted that Ryan has said he wants to move it forward.
"The biggest wild card right now is the new administration," he said. "While there was certainly a lot of rhetoric on the campaign trail […] which is certainly cause for caution and pessimism, it still remains to be seen where exactly the new administration is going to come down on any number of issues, criminal justice reform and sentencing reform included."
Ryan's office did not comment when asked whether criminal justice reform was still a priority for House Republicans. A spokesperson for House Majority Leader Kevin McCarthy said leadership is "still doing member education" on the legislation.

McConnell has said the issue is "very divisive" and that some Republicans still strongly oppose the proposed legislation. He's also said that, going forward, there isn't enough time to work on it in the lame duck because Congress needs to pass another temporary funding bill.

But McConnell told reporters last week that the bill could still come up in the future. "I have some very conservative members who are in favor of it and who are opposed to it," he said. "So it didn't look to me like a good agenda item for us at this point. But I wouldn't want to rule it out for next Congress."
Many have pitched, and continue to pitch, passing criminal justice reform as something that could signal unity between Republicans and Democrats — something Trump has urged since winning the election.

"This legislation is a good example of bipartisan legislation that brings senators from both parties together," said Ben Marter, a spokesperson for Sen. Dick Durbin, one of the co-sponsors of the current legislation. Marter said Durbin is looking forward to talking with Republican Sen. Chuck Grassley and the bill's other co-sponsors about next steps.
In the closing weeks of the Obama administration, however, advocates are hoping that he take advantage of the unilateral, constitutional option he has at his disposal to help address some sentences: clemency.

Meanwhile, advocacy groups are already trying to make a case to the incoming administration for reform. The Coalition for Public Safety released a statement Monday saying it's ready to work with Trump and that across the country, "polling shows the American public wants smart reform."
The NAACP is also quoted in the press release, calling upon Trump "to embrace a modern vision of smart justice reform rather than an outdated philosophy of law and order."
"Across the country, we have seen governors and legislatures in red and blue states save lives and dollars by undertaking sentencing reform that leads to fairer treatment, tax dollars saved, smaller prison populations, and safer communities," NAACP president Cornell William Brooks is quoted as saying.