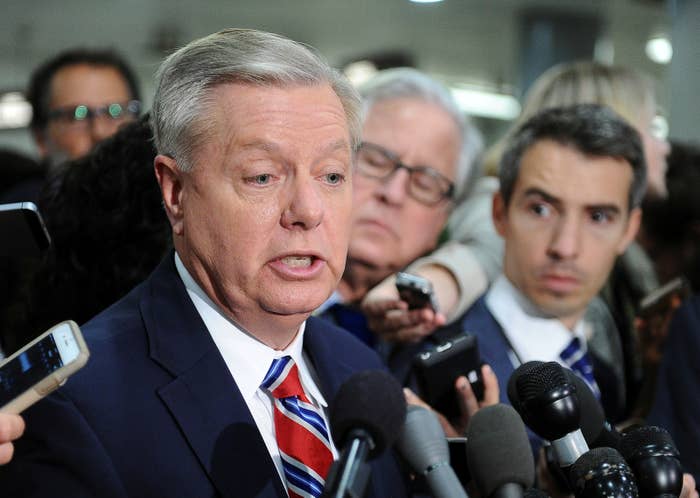 Some senators say they're worried the Justice Department's appointment of a special counsel to oversee the Russia investigation could effectively halt congressional probes into the matter.

"Congress's ability to conduct investigations of all things Russia has been severely limited," said South Carolina Sen. Lindsey Graham, the chair of a Judiciary subcommittee that has looked into Russia's 2016 election meddling, on Thursday.
Earlier in the day, Graham told reporters that committees would now see their access to witnesses and documents restricted, because potential witnesses involved in the FBI investigation could refuse to testify or provide information to avoid incriminating themselves.
Following a nearly two-hour, all-senators briefing with Deputy Attorney General Rod Rosenstein, Graham said the appointment of special counsel means Congress is "pretty well knocked out of the game, and that's probably the way it should be."
Rosenstein briefed senators privately Thursday about President Donald Trump's firing of former FBI Director James Comey and the appointment of former FBI director Richard Mueller as special counsel.
Texas Sen. John Cornyn, the number-two Republican in the Senate and a member of its Intelligence committee, said after the briefing that he told Rosenstein he was worried about the committees stepping on the FBI's toes.
"We don't want to do anything to get in the way, but it seems to me with all of the various oversight investigations occurring [...] that that is a trainwreck waiting to happen," he said.
The Senate Intelligence committee has taken the lead on the congressional Russia investigation, while other committees, such as Graham's subcommittee and the Senate Judiciary, House Intelligence, and House Oversight committees, have also requested documents and held hearings on the issue.
Comey announced in March that the FBI was also investigating Russian hacking during the 2016 election, including potential collusion between the Trump campaign and the Kremlin.
Cornyn said Rosenstein asked for "a single point of contact so that we can coordinate and facilitate this."
"We need to coordinate with Director Mueller [on] how we seek witnesses, how we seek documents," Cornyn said.
Cornyn and other members on the Senate Intelligence committee agreed that congressional committees shouldn't hit the brakes on their investigations; rather, they should take steps to make sure they don't interfere with the FBI's probe.
And the leaders of the Senate Intelligence committee insisted that they were not slowing down. Asked if the appointment of a special counsel would delay the investigation, committee Chair Sen. Richard Burr said, "No, I see it as a very positive thing."
GOP Rep. Mike Conaway, who is leading the House Intelligence committee's Russia investigation, said Mueller's appointment would not affect their investigation either.
Virginia Sen. Mark Warner, the top Democrat on the Senate Intelligence committee, said he "made a very strong comment" to Rosenstein Thursday about the committee and the Justice Department having "different purposes and different standards."
"We are looking at counterintelligence. In many ways, obviously, the Justice Department looks more at criminal, and they have a much different standard," Warner told reporters after the briefing. He said the committee could find that there was collusion that falls short of what the Justice Department would consider illegal. "So in many ways, our purview is broader," he said.
But Warner acknowledged that questions remain as to how Mueller's appointment will affect the committee's access to witnesses and documents. He says he and Burr are planning to meet with Mueller early next week to talk about how to proceed.