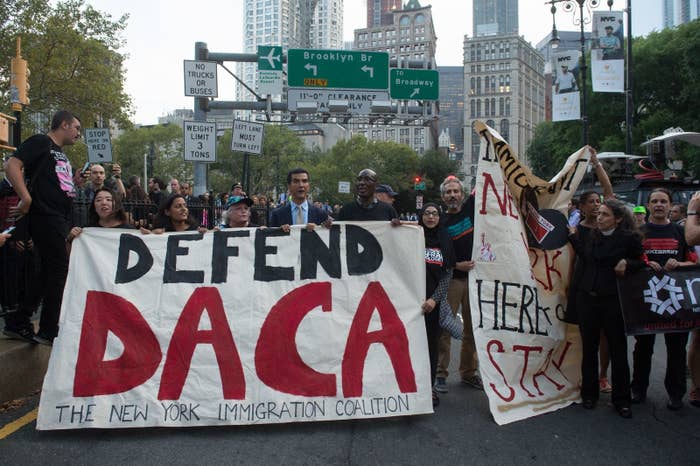 In 2010, moderate Senate Democrats killed a bill that would have helped protect the children of undocumented immigrants from deportation; legislation that would have prevented President Donald Trump from unilaterally putting their status in jeopardy on Tuesday. But seven years later, the politics have changed drastically, and red-state Democrats are going to bat for those immigrants.
Democratic senators from states Trump won, many of whom are up for reelection next year and have expressed a willingness to work with him on issues like trade and tax reform, came out swinging against the president on Tuesday in response to his administration's announcement that it would be ending the Deferred Action for Childhood Arrivals program.
Created in 2012 by then-president Barack Obama, DACA allows children of undocumented immigrants to apply for protection from deportation for two years at a time. Obama ordered the creation of the program after attempts by Congress to pass significant immigration legislation, including the 2010 DREAM Act, failed.
At the time, enough moderate Democratic senators were wary of the DREAM Act — which would have offered a path to citizenship for the children of undocumented immigrants who met certain criteria — to ultimately kill the bill in the then–Democratic-controlled Senate.
But on Tuesday, the vast majority of the chamber's moderate Democrats voiced full-throated opposition to Trump's decision to end the program in six months, leaving the future of approximately 800,000 DACA recipients in limbo at best.
Montana Sen. Jon Tester, the only sitting Democrat who voted against the DREAM Act in 2010, said in a statement Tuesday that "breaking a promise to these children — who are here through no fault of their own — is not the solution," and called for Congress to "provide a way forward for innocent kids." Tester is up for reelection next year in a state that Trump won by more than 20 percentage points.
Asked Tuesday about his seeming change of opinion since 2010, Tester said, "I think that there's an opportunity here to do some good work with comprehensive immigration reform. I don't support what [Trump] did. I think it's ill-informed, I think it rips families apart, and it's not what this country stands for."
West Virginia Sen. Joe Manchin, also up for reelection in 2018 in a state that voted overwhelmingly for Trump, said in 2010 that he didn't support the DREAM Act either (but missed the vote, which took place just before Christmas). Manchin's office did not respond to a request for comment Tuesday on Trump's decision to end DACA.
Missouri Sen. Claire McCaskill voted in favor of the DREAM Act in 2010, but also faces a tough reelection battle next year in another state that Trump won by almost 20 points. Still, McCaskill issued a scathing statement Tuesday saying that deporting DACA recipients "is as dumb as it is counterproductive" and that more than "90 percent of them are in school or working and many have proudly served our country in uniform."
Indiana Sen. Joe Donnelly wasn't elected until 2012, two years after the DREAM Act vote, but he, too, faces reelection next year in a state that Trump won and has tried to work with the president on some issues (including casting one of just three Democratic yes votes to confirm Trump's Supreme Court pick). But on Tuesday, Donnelly criticized Trump's decision on DACA and said that Congress should pass a bipartisan bill to give "clarity and stability" to DACA recipients.

"Upending existing protections for for the nearly 10,000 young people in Indiana who have been living here for most of their lives isn't the path we should take," Donnelly said in a statement.
One former strategist who has worked for red-state Democrats in the Senate noted that "this issue has evolved a lot" in just the last seven years. "What we're seeing today that's very different is that the business community has almost roundly come out in support of these DACA recipients and against the new policy, which gives moderate Democrats a lot of cover."
The former strategist, speaking on background, said that when the Senate voted in 2010, today's DACA recipients were still children and "it was harder to illustrate the economic impact of sending them back."
"There is no way five Democratic senators would vote against a clean DREAM Act" now, said one current Senate aide who works for a moderate Democratic senator — maybe one or two, if any at all, but "certainly not five."
"I think you saw a lot of decent, responsible people enter the program and contribute to society in overwhelmingly positive ways," the aide said, "and [recipients] became a case study in why that group should have legal protections to begin with."
It was also more difficult to tell personal stories about their contributions to society, the strategist said, pointing to recent stories of DACA recipients in Texas helping save lives after Hurricane Harvey, including two DREAMers who died in the process. "They'll be talking about both the economic impact of this decision but also the human impact," the strategist said of moderate Democrats.
Indeed, North Dakota Sen. Heidi Heitkamp — who will be joining Trump on Air Force One on his trip to her home state on Wednesday to talk about tax reform — penned a lengthy Facebook post about Tuesday's DACA announcement, highlighting both the moral and economic impacts of rescinding DACA. (Heitkamp, like Donnelly, was elected in 2012 after the DREAM Act vote.)
"Studies show that taking away this program would hurt the United States' economy, leading to a loss of $460.3 billion from the national Gross Domestic Product over the next decade," Heitkamp wrote. "In North Dakota, removing these workers from the state would lead to $8.6 million in losses annually to the GDP. Additionally, removing workers from this program would reduce Social Security and Medicare tax contributions nationally by $24.6 billion over a decade, half of which would have been paid by employers."
The Senate has a handful of proposals it may consider over the next six months that deal with DACA, including a renewed, bipartisan DREAM Act that is now being proposed by Sens. Dick Durbin and Lindsey Graham. That bill would provide permanent residency to children of undocumented immigrants who meet a list of criteria, including serving in the military or pursuing postsecondary education, among other things.