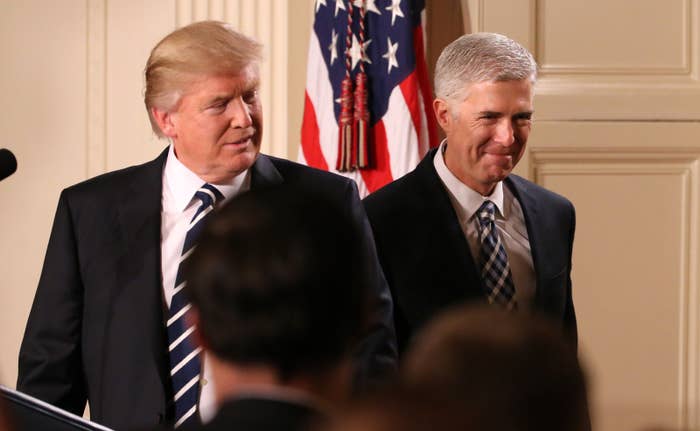 WASHINGTON — Though Democratic leaders in the U.S. Senate have already begun laying the groundwork to oppose President Donald Trump's Supreme Court nominee, a handful of Democratic members aren't ruling out supporting Judge Neil Gorsuch's nomination.

After Trump revealed Tuesday night that he had chosen Gorsuch as the candidate to replace the late Justice Antonin Scalia, Senate Minority Leader Chuck Schumer released a statement saying that Gorsuch would need "to prove himself to be within the legal mainstream." Schumer said he has "very serious doubts about Judge Gorsuch's ability to meet this standard."
Oregon Sen. Jeff Merkley went one step further, calling for an outright filibuster on Gorsuch's nomination, as payback for Republican delays on President Obama's nominee Merrick Garland, calling Gorusch "an illegitimate and extreme nominee." Merkley has called the current vacancy "a stolen seat," telling Politico that Democrats will "use every lever in [their] power" to halt the nomination of anyone who isn't Garland.
But not all Democrats are employing the same language. Some senators, mostly moderates who come from red-leaning states, are at least open to the nominee, saying they want to hear more from him. Republicans hold 52 seats in the Senate, so they would need the support of at least eight Democrats to confirm Gorsuch.
Senate Majority Leader Mitch McConnell could deploy the so-called "nuclear option" — changing the Senate rules to drop the number of votes needed from 60 to 51 — to get Gorsuch confirmed with Republican votes alone. President Donald Trump encouraged McConnell to do so on Wednesday, if he meets opposition from Democrats. But with cooperation from some moderate members, McConnell will not need to go nuclear.
West Virginia Sen. Joe Manchin, arguably the most moderate Senate Democrat, said he would have a better idea of whether he'll support Gorsuch after meeting with him Wednesday.
"I'm going to vote the way I think I — my feelings of what I can go home and explain once I meet with the gentleman, and make sure I know what he's about and how he feels on issues," Manchin said.
Manchin, who is up for reelection in 2018, said he believes Gorsuch could get the necessary eight Democratic votes or more, and said it simply depends on how well the Supreme Court nominee fares when he meets privately with senators.
"I believe if you meet with him, there's always eight," Manchin said. "I always believe there's eight, 10, 12, 15 [Democratic senators who are] moderate, responsible, in the middle; basically not going to be ideologically pushed to one side or the other."
Montana Sen. Jon Tester, a Democrat who, like Manchin, is also facing reelection in a state that voted for Trump, said he was unsure whether Gorsuch could get the necessary 60 votes. But Tester also kept the door open to supporting the nominee.
"I haven't done my due diligence yet," he said.
Tester acknowledged that his constituents back home are split on Gorsuch. "There's certain people that want me to vote yes and certain people want me to vote no," he told reporters on Capitol Hill. "So you know, we'll do our due diligence."
Sen. Mark Warner of Virginia echoed Tester's comments, saying "it's way too early" to declare whether he'll vote for Gorsuch or not. "I want to do my own due diligence," he said.
"We're getting some [calls from constituents]," he said. "But more for [Trump's nominee for education secretary, Betsy] DeVos and obviously there's a huge concern for the refugee issue."
Delaware Sen. Chris Coons said he has to balance the liberal base who want him to block the nominee with the moderates in his state.
"I don't represent just progressives. I don't represent just progressive Delaware. I represent Delaware," he said, adding that he plans to be part of "deliberate and thoughtful" hearings.
Neither Warner, nor Coons, is up for reelection next year. But Virginia Sen. Tim Kaine, who will be on the ballot in 2018, has also not declared whether he'll oppose Gorsuch, saying in a statement Tuesday that he intends to "carefully scrutinize his temperament and record, particularly on civil rights and other Constitutional guarantees."
Republicans managed to hold the Supreme Court seat vacant for a year without giving Obama's nominee a hearing or a vote, but Democrats do not control the Senate and won't have as many tools at their disposal to delay, or stop, Gorsuch's nomination.
Coons said that despite the way Republicans handled Garland, Gorsuch still deserves consideration. "If all we do is to continue exact a pound of flesh," he said, "we will eventually strip our republic bare to the bone."
Manchin said he understands where senators such as Merkley are coming from, "but that's not me."
"They're mad because of the way they were treated. I understand it. That's human nature," Manchin said, adding that McConnell's handling of Garland was a "travesty."
"Now, we're better than that," he said.