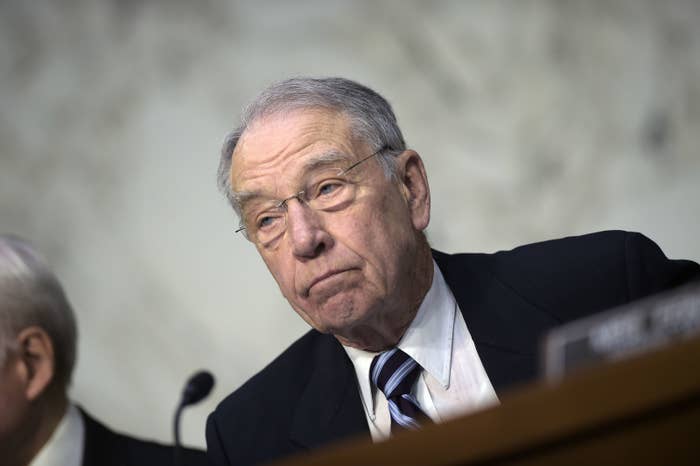 WASHINGTON — Some Republican senators are urging caution in outright dismissing President Donald Trump's wiretapping allegation against former president Barack Obama, saying there could still be evidence to support the president's claim — despite both the FBI and NSA publicly saying they had no evidence to indicate any wiretapping occurred.
On Monday, FBI Director James Comey said he has "no information that supports" Trump's tweets accusing Obama of wiretapping Trump Tower during the 2016 presidential election. NSA Director Mike Rogers, who was testifying alongside Comey at a public committee hearing on Russian election interference, concurred.

Though a handful of Republican senators are calling on Trump to retract the accusation following Monday's revelation from the FBI and NSA, more are arguing that the issue has not been put to rest.

"I don't know whether that's the final analysis," Sen. Chuck Grassley said Tuesday. "There's still some sort of feeling that there could be some sort of other eavesdropping some way other than what the FBI would have been involved with or investigating.
"What the FBI said [is] they didn't have any evidence, and I believe the FBI, but I don't think that's the end of it," he said.

Trump made the allegation on Twitter in early March, calling Obama a "Bad (or sick) guy!" The White House has since failed to provide evidence to support the claim.

Sen. Thom Tillis said he's "waiting for the full body of evidence" to comment on whether Trump should apologize. He said he wants to see whether there is information from other intelligence agencies to support the wiretapping claims. "We jump too fast to conclusions around here," he said.
Sen. Roy Blunt, a member of the Senate Intelligence committee — which is currently investigating Russian interference during the presidential election — said he was unsure what Trump "meant by what he tweeted" and that he would let the president decide whether he should retract.
"And in terms of what we'll know about that, we'll know more than we knew yesterday before we're done," Blunt said.
Sen. Richard Shelby also cautioned against rushing to judgement, noting that Comey and Rogers can only speak for their respective agencies. "You never know what's out there," he said.

Sen. Rand Paul argued "there's evidence that the intelligence agencies have been listening to Trump officials," citing the case of Michael Flynn, Trump's former national security adviser who was forced to resign after media reports revealed he had not disclosed contacts with the Russian ambassador.
"Mike Flynn was obviously spied upon, somebody released his transcript to the media," Paul said — though he acknowledged that Flynn's case did not prove Trump Tower had been wiretapped.
However, Sen. Jeff Flake told BuzzFeed News on Tuesday that he believes Trump should apologize for the wiretapping allegations. The Arizona senator went even further the day before, telling Phoenix-based KTAR News 92.3 FM that he "never believed it from beginning" and that Trump should apologize so Republicans can "move on."

"It's been confirmed by every intelligence arm that we have. That would have been a big, big deal had that happened," Flake said during the interview. "I was quite confident that it didn't. And now there's simply no evidence that that occurred."
Sen. John McCain — who previously criticized Trump for making the "unprecedented" allegations without providing evidence — said that unless the president has proof, "he should retract his comment."
Asked whether Trump should apologize, McCain said: "That's up to him."
South Carolina Sen. Lindsey Graham — who has requested information from the FBI on potential surveillance of Trump — echoed McCain, saying it will be "up to [Trump]" whether the he apologizes.
"I wouldn't have made such allegations if I had no basis for it," Graham said. "If he has some reason to disbelieve the NSA and the FBI director, I think he needs to tell the nation, but that would be up to him."
The White House continues to defend Trump's accusations. On Monday, Press Secretary Sean Spicer played down Comey's testimony, saying the investigation hasn't been completed.
In addition to Monday's testimony from Comey and Rogers, the Senate Intelligence committee has said there is no evidence Trump Tower was the subject of US government surveillance during the election. House Intelligence committee chairman Devin Nunes has also said there is no evidence of the alleged wiretapping.

Senate Majority Leader Mitch McConnell dodged a question on Tuesday about whether the unsubstantiated wiretapping allegations have hurt Trump's credibility.
"You can ask the White House a question like that, but I had heard prior to yesterday no indication that this had occurred and had said so publicly," McConnell told reporters on Capitol Hill.

McCain avoided a similar question. "That's a judgement other people will make," he said.