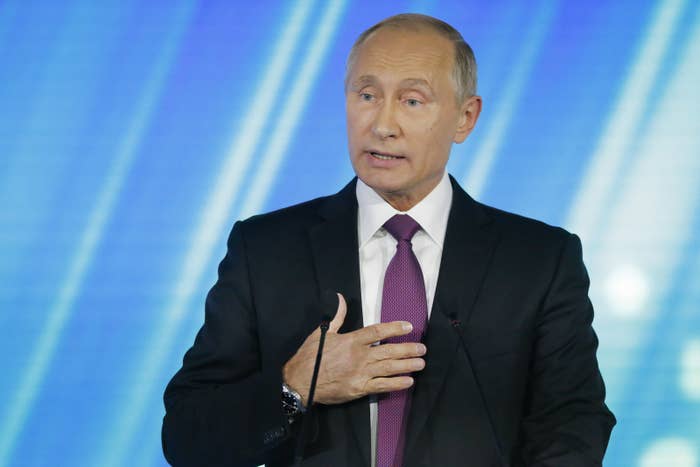 The top congressional committee investigating Russian election interference has set its sights on a lesser-known foreign policy adviser to President Donald Trump's campaign who reportedly tried to arrange at least one meeting with the Russian government.

Sen. Richard Burr, chairman of the Senate Intelligence Committee, told BuzzFeed News on Thursday that former Trump adviser George Papadopoulos "is definitely a person of interest" because of his role on Trump's foreign policy team.
Sen. Mark Warner, the committee's vice chairman, said Thursday evening he agreed with Burr that Papadopoulos "is a person of interest," adding that they "hope to have the opportunity to interview him."
In August, the Washington Post reported that just days after Trump announced the composition of his foreign policy team, Papadopoulos sent an email titled "Meeting with Russian Leadership - Including Putin" to seven officials on the Trump campaign. Papadopoulos offered to arrange "a meeting between us and the Russian leadership to discuss US-Russia ties under President Trump," which was met with resistance and concern from the Trump team, the Post reported.
Papadopolous reportedly continued to send similar requests to campaign officials in the months that followed. The Post said the emails were contained in thousands of pages of documents the Trump campaign provided congressional committees this summer.
Asked when the committee might interview Papadopoulos, Warner said: "He is not often in the country."
A spokesperson for special counsel Robert Mueller, who is conducting a criminal probe into potential collusion, declined to comment in response to questions about whether Papadopoulos is a person of interest in that investigation as well.
Papadopoulos, a young energy consultant and researcher who graduated from DePaul University in 2009, joined Trump's campaign as an adviser in March 2016. A LinkedIn page for Papadopoulos says he remained in that role until January of this year. Now, he is listed as an "Oil, gas and policy consultant" and as a member of the Cyprus-based International Presidential Business Advisory Council.
Papadopoulos did not immediately respond to a request for comment.
Little was known about Papadopoulos when Trump revealed his name and those of his other foreign policy advisers to the Washington Post in March. The Post reported at the time that many energy experts in Washington, London, and New York hadn't heard of Papadopoulos.
If interviewed, Papadopoulos would be one of more than 100 people — including key Trump associates — with which the Senate Intelligence Committee has spoken as part of its investigation so far. The committee has cast a wide net as it evaluates the intelligence community's January assessment of Russian interference during the 2016 presidential race and chases down other issues — such as potential collusion between the Trump campaign and the Russian government — that have arisen since congressional probes began in January.

Burr told reporters earlier this month that committee staff had scheduled 25 interviews for the remainder of October. The committee will interview Michael Cohen, Trump's longtime personal lawyer, in an open hearing that was originally slated for next week, but has been postponed. The panel is also expected to hold public interviews with other high-profile Trump associates in the weeks to come.

UPDATE
This story was updated with the news that the Senate Intelligence Committee has postponed its public hearing with Trump attorney Michael Cohen.