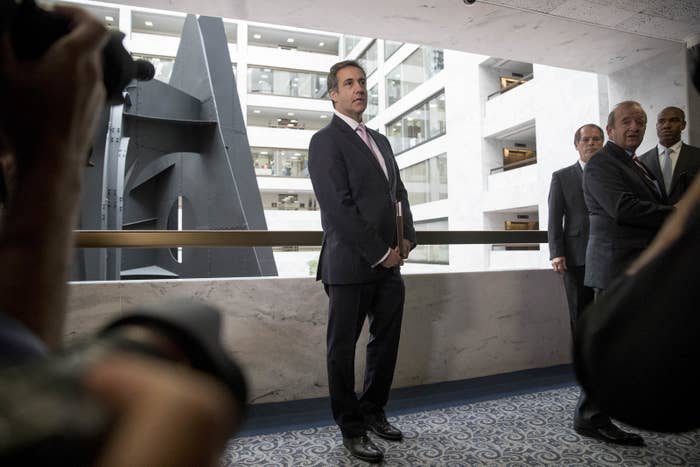 The Senate Intelligence Committee said it canceled an interview with Michael Cohen, President Donald Trump's longtime personal lawyer, on Tuesday because he released his opening remarks to the media before meeting with the committee, violating a request from the committee to avoid public comment on the matter.
As a result, the committee plans to hold another meeting with Cohen — this time in public, Committee Chairman Richard Burr and Vice Chairman Mark Warner said in a statement Tuesday. Later in the day, Burr and Warner said that they had "invited" Cohen to testify in public on Oct. 25.
"We were disappointed that Mr. Cohen decided to pre-empt today's interview by releasing a public statement prior to his engagement with Committee staff, in spite of the Committee's requests that he refrain from public comment," Burr and Warner said in a joint statement. "As a result, we declined to move forward with today's interview and will reschedule Mr. Cohen's appearance before the Committee in open session at a date in the near future."
"The Committee expects witnesses in this investigation to work in good faith with the Senate," the senators added.
Cohen arrived on Capitol Hill Tuesday morning to speak with staff from the Senate Intelligence Committee — which has taken the lead on congressional probes into Russian election interference — but told reporters as he left that the committee had asked to postpone the interview.
Asked about Cohen's comments shortly after, Burr said only: "Talk to him."
California Sen. Dianne Feinstein, another member of the committee, said at the time that she didn't know exactly why the committee had cancelled the interview with Cohen but hypothesized that it was related to his statement finding its way into the press. "It's confusing because the press had it before our committee, and it's never been before our committee," she said.
Numerous media outlets reported on the contents of Cohen's prepared statement for the committee on Tuesday morning, which were posted on his lawyer's website.
In his statement, Cohen categorically denied allegations about him contained within an unverified dossier first published by BuzzFeed News in January after security officials had briefed President Barack Obama and Trump, who was then president-elect, about it. Cohen said the dossier, compiled by former British spy Christopher Steele, was "riddled with total falsehoods and intentionally salacious accusations."
Cohen also said in the statement that he "had nothing to do with any Russian involvement in our electoral process" and that he "never saw anything — not even a hint of anything — that demonstrated [Trump's] involvement in Russian interference in our election or any form of Russian collusion."
Staff from the Senate Intelligence Committee have spent recent months interviewing dozens of witnesses as part of the Russia investigation. Senators will interview witnesses, which could include Trump allies and members of his administration, likely beginning next month, with some interviews potentially taking place in public.
"It's my hope we'll have some public hearings in October," Burr told reporters Monday night.

UPDATE
This story was updated with the news that the Senate Intelligence Committee had invited Cohen to testify in public on Oct. 25.