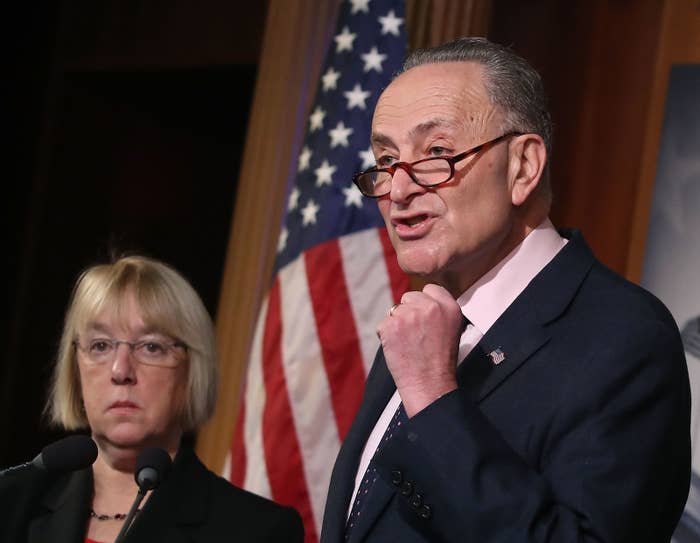 WASHINGTON — Senate Democrats are calling upon an ethics watchdog — the same one House Republicans tried to gut earlier this week — to investigate President-elect Donald Trump's health secretary candidate for potential insider trading.
Senate Minority Leader Chuck Schumer said during a press conference Thursday morning that Democrats want the Office of Congressional Ethics to investigate claims that Rep. Tom Price's traded stocks while he "championed" legislation that could have affected the stocks' prices.
"Congressman Price had the influence and was actively involved in pushing health care policies while simultaneously making dozens of trades in companies that would be impacted by those policies," Schumer said. "He did this repeatedly and in such large numbers, he's likely to have made tens of thousands on one of these trades alone."

Price's office did not immediately return a request for comment.
Citing an article in the Wall Street Journal from before the holidays, Schumer said Price had "reportedly traded more than $300,000 in shares of roughly 40 health care and pharmaceutical companies while simultaneously pushing and advocating for legislation on the federal level that could potentially impact these companies' stock prices."

Schumer said the Wall Street Journal reported that last Congress, Price "sponsored nine and co-sponsored 35 health-related bills in the House." He also said Price's access to information on these issues was "second-to-none," primarily because he chaired the budget committee.
The government watchdog group Public Citizen sent a letter dated Jan. 4 to both the Office of Congressional Ethics — which is a complaint-based office — and the US Securities and Exchange Commission requesting an investigation into Price, as well as Rep. Chris Collins, "for possible violations of insider trading and conflicts of interest laws and regulations."
"Extensive stock trading activity in industries that Price and Collins oversee as congressmen, and unusually good timing and financial benefits of those stock trades, raise red flags about the potential use of insider information," Craig Holman, a lobbyist for Public Citizen, said in a press release from the group.
"The public information available falls short of hard evidence of insider trading, but the patterns of trading activity certainly warrant further investigation to determine if it occurred," Holman said.
Trump transition team spokesman Phil Blando called Thursday's Democratic press conference a "stunt" aimed to "deflect attention away from Obamacare's dismal record," adding that Democrats had made similar trades as well.

"Hypocrisy is apparently alive and well this morning in Washington," Blando said in a statement to BuzzFeed News. "The same questions being raised today by Senator Schumer about Dr. Price should be directed to Senators Carper, Warner, and Whitehouse, who own and have traded hundreds of thousands of dollars in pharmaceutical and health insurance company stocks. The reality is that Dr. Price's 20-year career as an orthopedic surgeon and a fiscal conservative make him uniquely qualified to lead HHS."
Before Thursday's press conference began, Senate Republicans issued a press release containing a list of endorsements of Price from senators and members of the health care community. One of the endorsements came from Sen. Orrin Hatch, chairman of the finance committee, which will review Price's nomination.
"Congressman Price has been selected for this crucial HHS [Health and Human Services] post because of his experience as a respected physician and deep understanding of the health law and its flaws," Hatch was quoted as saying in November press release.
Schumer, who was flanked by Sens. Patty Murray and Ron Wyden during the press conference, said Democrats want answers from either Price or the Office of Congressional Ethics on his stock-trading activities before any confirmation hearings begin.
Murray, who serves on the Senate health committee, said Democrats want to know who Price met with and when, whether the trades were initiated by Price or a broker, what non-public info he had at the time of the transactions, and how much he profited.

Many hearings for Trump's cabinet picks are scheduled to start as early as next week. Price's confirmation hearing is tentatively scheduled for Jan. 18. "We do not believe any of these hearings should be rushed through," Schumer said.
"I am in the process of negotiating with Senator [Mitch] McConnell, but we have certain areas of leverage," Schumer said. "We hope we don't have to use them."
On Monday night, House Republicans on the Rules Committee tried to absorb the Office of Congressional Ethics into the House committee on ethics, a move that would have severely limited the office's independence and ability to communicate its findings. The move was widely decried and even received criticism from Trump, prompting Republicans to axe it.