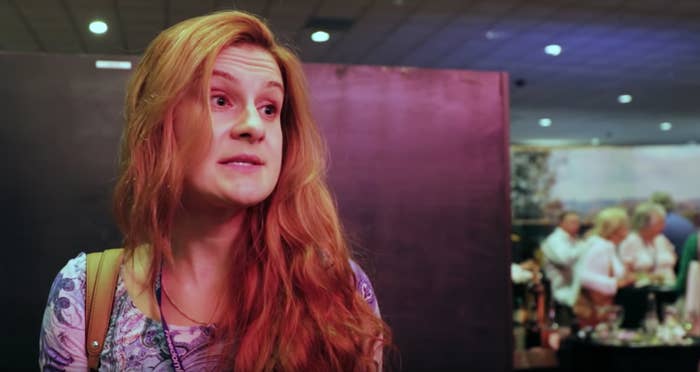 The top congressional committee investigating Russian election interference had been probing the finances of a 29-year-old Russian gun rights activist before she was arrested and charged by the US on Sunday with being an agent of the Kremlin and attempting to influence US politics.
Federal authorities charged Maria Butina with working "as an agent of a foreign government, specifically the Russian Federation," without notifying the US government as the law requires. Butina had helped try to set up a secret meeting between then-presidential candidate Donald Trump and Russian President Vladimir Putin during the 2016 election.
Butina is being held without bond pending a hearing Wednesday. The case is not a part of special counsel Robert Mueller's investigation, but was brought by the US Attorney's Office for the District of Columbia and the Justice Department.
Butina, a graduate student in Washington, DC, is accused of attempting to set up a backchannel line of communication between the Russian government and US politicians "to penetrate the US national decision-making apparatus to advance the agenda of the Russian Federation," according to an FBI counterintelligence agent's 17-page affidavit filed in US District Court in Washington on Monday.
The Justice Department said Monday that from "as early as 2015 and continuing through at least February 2017, Butina worked at the direction of a high-level official in the Russian government who was previously a member of the legislature of the Russian Federation and later became a top official at the Russian Central Bank. This Russian official was sanctioned by the U.S. Department of the Treasury, Office of Foreign Assets Control in April 2018."
The unnamed person in the affidavit matches the description of Alexander Torshin, Butina's former boss. Torshin, a lifetime member of the National Rifle Association, was hit with sanctions by the Treasury Department in April.
The Senate Intelligence Committee, which has taken the lead on congressional Russia investigations, took an interest in Butina and Torshin last year, requesting information on the pair from the Treasury Department. Butina, who founded a gun rights group called Right to Bear Arms, also has longtime links to the NRA. In January, McClatchy reported that the FBI was investigating whether Torshin illegally channeled money to the NRA to help Trump.
In a letter sent to a top Treasury official on Aug. 11, 2017, the committee requested details of any financial transactions dating back five years related to Butina and Torshin that banks deemed to be "suspicious" or "derogatory." Additionally, the committee sought the same type of records on Paul Erickson, the Republican operative who also tried to get Torshin a meeting with Trump. Though BuzzFeed News has previously reported on the letters' existence, Butina, Torshin, and Erickson's names were not reported at the time.
In February 2016, Erickson and Butina, who would later attend Trump's inauguration together, formed Bridges, LLC, a South Dakota-based company that Butina used to raise money for her graduate studies. The Intelligence Committee also asked Treasury for suspicious financial records on that company as well as Investing With Dignity, a company Erickson formed in 2010 at the same address in South Dakota.
The committee's letter was sent to Sigal Mandelker, the undersecretary for terrorism and financial intelligence. The letter was signed by North Carolina Sen. Richard Burr, the committee chair, and Virginia Sen. Mark Warner, the top Democrat on the committee, and marked "committee sensitive." Burr and Warner instructed Mandelker to send any suspicious financial records on Butina, Trump, Erickson, and 33 other people suspected of being connected to Russia's interference in the presidential election directly to the committee "without any pre-review by outside entities, including the Office of Special Counsel."
It's unclear which documents the committee has received from Treasury. In a follow-up letter sent to Mandelker on Dec. 7, the committee said it had not received a response to its request for documents four months earlier.
A spokesperson for Burr declined to comment Monday. But Burr, in previous interviews with BuzzFeed News, has downplayed any potential friction with Treasury over document production and said that the committee receives documents from the department on a rolling basis. Asked in late April if the committee had received a response to its request for financial information on Butina and Torshin, Burr said, "We continue to get items that fall under our original request from the Treasury Department, and I don't see any reason to believe that that's going to change, so it's a continual process — as they find something that pertains to our original request, we get them."
A spokesperson for Warner declined to comment.
Several months ago, Butina "voluntarily and privately testified" before the committee "for 8 hours and produced thousands of documents," according to her lawyer. "Ms. Butina has been cooperating with various government entities for months regarding public allegations related to her contacts with various American and Russian individuals," attorney Robert Driscoll said in a statement Monday.
Members of other committees investigating Russian election interference have also taken an interest in Butina, Torshin, and Erickson. In December, Democrats on the Senate Judiciary Committee asked Butina for an interview and documents "to determine whether she used the National Rifle Association to establish back-channel communications or funnel Russian money to the Trump campaign at the behest of Alexander Torshin, a prominent Russian banker connected to Vladimir Putin," California Sen. Dianne Feinstein, the ranking member on the committee, said in a statement Monday. "She refused to comply, citing the lack of support from our Republican colleagues."
Democrats on the House Intelligence Committee wanted to interview Butina as well, but said Republicans — who shut down the committee's Russia probe in March — would not agree to do so.
The White House did not immediately respond to a request for comment.
The charges against Butina come on the same day that President Donald Trump met privately with Putin in Helsinki, Finland. Hours after their meeting, Trump told reporters Putin made an "extremely strong and powerful" denial that Russia interfered in the 2016 presidential election. Trump added that Mueller's investigation "is a disaster for our country."
"There was no collusion at all," Trump said.