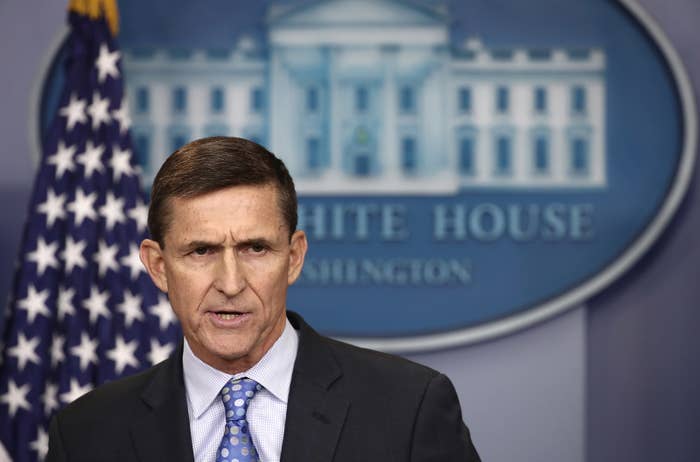 Former acting attorney general Sally Yates revealed Monday that the Justice Department feared former White House national security adviser Michael Flynn could be blackmailed by Russia for misleading the vice president and other officials about his contact with Russian individuals.

Yates, who was testifying at a Senate Judiciary subcommittee hearing on Russian meddling in the 2016 presidential election, said she first warned the White House of the Department of Justice's concerns on Jan. 26.
Yates, testifying under oath before the Judiciary subcommittee on crime and terrorism, said she called White House Counsel Don McGahn on Jan. 26 to request an urgent meeting. Yates said she, a DOJ national security official, and McGahn met later that day in his office, a secure room, at the White House.
Yates told McGahn that it appeared that Flynn had lied to Vice President Mike Pence and other White House officials about his contacts with the Russian ambassador. Pence had previously told the media that Flynn had not had any significant contact with Russia, including related to sanctions against the country, but a subsequent Washington Post story citing nine officials refuted Pence's comments.
Yates told senators Monday that the DOJ knew that Pence's characterization was wrong and that the department felt that the vice president and other White House officials "were entitled to know that the information they were conveying to the American people" was false.
"We were concerned that the American people had been misled," Yates said.
McGahn, Yates said, asked her why the DOJ cared that one White House official had misled another.
"The Russians also knew about what Gen. Flynn had done," she said, adding that she told McGahn that DOJ believed that the Russians could use that information to blackmail him.
"To state the obvious, you don't want your national security adviser compromised with the Russians," Yates said.

Flynn stayed on as national security adviser for the administration for 18 days after Yates first brought those concerns to the White House counsel's office. Flynn was eventually fired by President Donald Trump, just 24 days into the presidency, for misleading Pence.
Yates said that during their interactions, McGahn asked her if the White House should fire Flynn. "It was not our call," Yates says she told McGahn, adding that they were providing the information so the White House could "take action."
Yates also said Flynn had been interviewed by the FBI two days prior to her meeting with McGahn. The White House counsel asked Yates how the FBI interview had gone, Yates said, but she declined to answer.
Yates — who declined to answer several questions Monday that she said were classified — told senators that she and her colleague "took [McGahn] through" Flynn's "underlying conduct" and that McGahn had been given permission to view the "underlying evidence" behind the DOJ's concerns about Flynn. But, Yates said, she doesn't know whether anyone from the White House viewed the evidence, because she was fired by Trump on Jan. 30 for refusing to defend the administration's first travel ban.
Hours before Yates testified before the Senate committee, Trump appeared to accuse her of leaking information about Flynn to the press.
White House Press Secretary Sean Spicer said at a briefing Monday that Trump's tweet about Yates "speaks for itself."

But at the hearing, both Yates and former director of national intelligence James Clapper testified under oath that they had never given classified information of any kind to the media. Both also testified that they had not spoken to the press anonymously on any subject "related to Mr. Trump, his associates or Russia's attempt to meddle in the election" — nor had they authorized any of their colleagues to do so.
Earlier Monday, in response to questions about Flynn, Spicer blamed the Obama administration for allowing Flynn, the former head of the Defense Intelligence Agency, to retain a top-secret security clearance after he was fired in 2014.

Former Obama officials fired back, anonymously telling the press that the former president had warned Trump against hiring Flynn as national security adviser.
Flynn is also under investigation by the Pentagon inspector general for allegedly not reporting nearly $68,000 he received after leaving the DIA for speaking gigs sponsored by foreign entities, including one in Moscow at an event attended by Russian President Vladimir Putin.