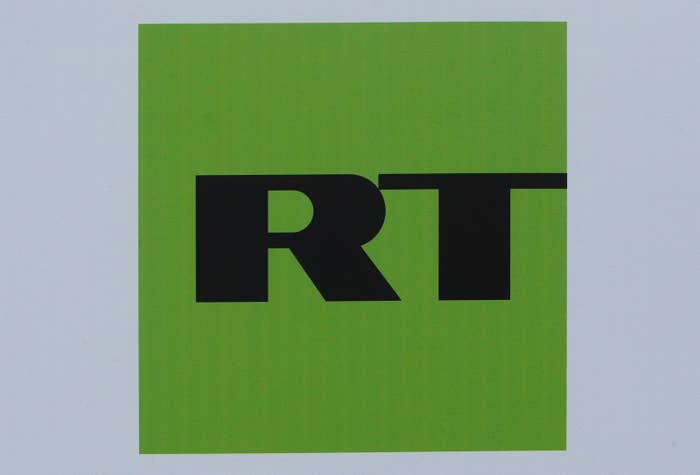 RT, the Russian broadcaster identified in January by the US intelligence community as a Kremlin propaganda arm, registered as an agent of the Russian government on Monday, the US Department of Justice said.
Dana Boente, the acting assistant attorney general for national security, said in a statement that Washington-based T&R Productions, LLC, "registered today with the Department of Justice under the Foreign Agents Registration Act (FARA) as an agent for ANO TV-Novosti, the Russian government entity responsible for the worldwide broadcasts of the RT Network (RT)."
"The National Security Division's FARA Registration Unit is reviewing T&R's filings for sufficiency," the statement added.
In its January 2017 assessment of Russian interference in last year's election, the intelligence community said RT was part of the Kremlin's influence campaign.
RT, which is funded by the Russian government, said in September that the Justice Department had asked it to register as a foreign agent.
"The war the US establishment wages with our journalists is dedicated to all the starry-eyed idealists who still believe in freedom of speech. Those who invented it, have buried it," RT editor-in-chief Margarita Simonyan was quoted as saying at the time.
RT subsequently said it would pull advertisements in Washington that appeared to reference the intelligence community's assessment and Hillary Clinton's election loss.

Monday's Justice Department statement notes that FARA registration "does not inhibit freedom of expression, does not restrict the content of information disseminated, does not restrict an agent's lobbying or publication of information or advocacy and applies neutrally to all foreign countries."
FARA, which Congress passed in 1938 to combat Nazi propaganda, is meant "to ensure that the American public and our lawmakers know the source of information that is provided at the behest of a foreign principal, where that information may be intended to influence U.S. public opinion, policy and laws," the DOJ said in its statement. "The law does not restrict registrants from operating, however."
Numerous lawmakers have called on RT to register as a foreign agent since the election.
FARA, a previously lesser-known and infrequently used law, has recently come to the forefront of controversies involving former key associates of President Donald Trump. In late October, the office of special counsel Robert Mueller — which is investigating whether the Trump campaign colluded with the Russia government — announced it was charging Paul Manafort, Trump's one-time campaign manager, and Rick Gates, Manafort's longtime business partner, for failing to register as agents of the government of Ukraine.
Michael Flynn, Trump's former national security adviser who was fired just 24 days into the presidency after misleading the Vice President Mike Pence about his contacts with Russian officials, has also run into FARA-related issues. In March, Flynn belatedly registered as a foreign agent, revealing that he was paid more than $500,000 to promote Turkish interests — all while serving as an adviser to Trump during the presidential race.
RT also has become embroiled in Congress' investigation into Russian use of social media platforms. In early November, BuzzFeed News revealed that in a June 2016 email Twitter offered RT up to 15% of its election ad inventory in return for a $3 million payment. RT rejected the offer.
In October, as pressure mounted over Russia-purchased ads on US social media platforms, Twitter announced that RT would no longer be allowed to advertise.