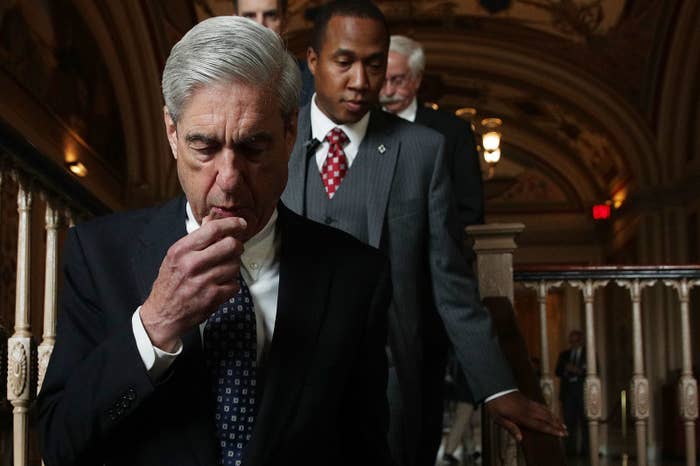 A bipartisan group of senators has introduced a bill to shield special counsel Robert Mueller and his investigation into Russian election meddling from potential political interference as President Donald Trump publicly fumes about the probe.
Republican Sens. Thom Tillis and Lindsey Graham, as well as Democratic Sens. Chris Coons and Cory Booker, introduced a bill Wednesday that would help protect Mueller from being fired without "good cause." The legislation would allow any fired special counsel to challenge his or her dismissal in court. The senators previously introduced two separate bills, and Wednesday's bill effectively merges them.
The Senate Judiciary Committee would need to vote on the bill before it could go to the Senate floor for a final vote. Iowa Sen. Chuck Grassley, the chair of the committee, initially asked to place the bill on Thursday's committee agenda, but ranking Democrat Sen. Dianne Feinstein asked to hold off on considering the legislation until next week, to make sure amendments are first reviewed.
"It's vital that Special Counsel Mueller be allowed to continue his investigation without interference, and passing a bipartisan bill to ensure he can't be fired without cause is essential," Feinstein said in a statement Wednesday night, adding that she's specifically concerned about a Republican amendment to the bill.
Trump has reportedly sought to dismiss Mueller on at least two occasions; once as recently as December, when Mueller was reportedly taking aim at Trump's finances — something the president has said he considers crossing a red line.

The bill, titled the Special Counsel Independence and Integrity Act, would ensure that special counsels can only be fired in writing by a Senate-confirmed attorney general, or, if the attorney general is recused from the investigation, the next highest-ranking, Senate-confirmed official at the Department of Justice who isn't recused. In the case of the Russia investigation, that person would be Deputy Attorney General Rod Rosenstein, who is overseeing Mueller's probe because of Attorney General Jeff Sessions' recusal.
"A special counsel … may be removed only for misconduct, dereliction of duty, incapacity, conflict of interest, or other good cause, including violation of policies of the Department of Justice," the bill states.
The bill stipulates that if fired, the special counsel could, within 10 days of his or her dismissal, file for judicial review. If a court found that the firing was not for good cause, then the special counsel would stay on the job.
"Special counsels must act within boundaries, but they must also be protected," Graham said in a statement. "Our bill allows judicial review of any decision to terminate a special counsel to make sure it's done for the reasons cited in the regulation rather than political motivation."
This week, Trump has been particularly irate about the investigation after the FBI searched the office of Michael Cohen, his longtime personal attorney. On Monday, Trump criticized Mueller, Sessions, and Rosenstein while speaking to reporters, and suggested he might fire the special counsel. "A TOTAL WITCH HUNT!!!" Trump tweeted Tuesday.
The comments led Senate Republicans to issue stern warnings to the president about the type of backlash he might face from Congress if he fired Mueller, though many said they didn't believe they needed to pass legislation to proactively protect the special counsel.
Tillis told reporters Wednesday that the bill was not drafted in response to Trump's recent comments. "We've been having ongoing discussions for the last nine months," he said. "This is not something precipitous, this is something we've been working on."
The bill faces a steep uphill battle: Even if Senate Majority Leader Mitch McConnell agreed to bring the bill to the floor and it eventually passed the Senate, then the House, it likely faces a veto from the president, whose powers the bill would essentially limit.
Asked about the bill Wednesday, White House press secretary Sarah Sanders said only "We don't have an administrative policy on that right now."
To push the legislation through, Congress would need a veto-proof supermajority of two-thirds in both the House and the Senate. Given the number of Republicans in both chambers, that is a tall order.

Moreover, support for such a bill remains tepid among Republican ranks. GOP senators overwhelmingly say they do not believe Trump will fire Mueller, and some have warned that Congress getting involved could make the situation worse by raising tensions.
"I think it's a mistake at this stage of the game," South Dakota Sen. Mike Rounds said of the bill. "I just think the president so far has talked a lot about [firing Mueller] but so far he has not seen fit to try it."
Democrats enthusiastically support protecting Mueller. Senate Minority Leader Chuck Schumer has repeatedly called on McConnell to bring such legislation to the floor of the Senate. California Sen. Dianne Feinstein, the ranking member of the Judiciary Committee, said she supports the bill but also expressed concern that it could be neutered through amendments on the Senate floor.

What's not clear is how Congress would react if Trump does fire Mueller or Rosenstein before protections are put in place. Democratic Sen. Richard Blumenthal conceded that Democrats do not have a solid plan of action, but predicted the consequences would be enormous.

"Neither the Democrats nor a lot of people in this country have a specific game plan," he said. "What's most important about what would follow a Mueller firing is the American people would rise up."
Some Republicans have also come out with dire warnings. Grassley has said it would be "suicide" for Trump to fire Mueller, while Graham has said it would be "the beginning of the end" of the Trump presidency. So far Republicans are refusing to speak aloud the word being implied — impeachment — but they are ratcheting up their warnings nonetheless.
"I think it would end his presidency as he knows it," said Tennessee Sen. Bob Corker, when asked what would happen if Trump fired Mueller. "I don't think he understands how vehemently people would respond."