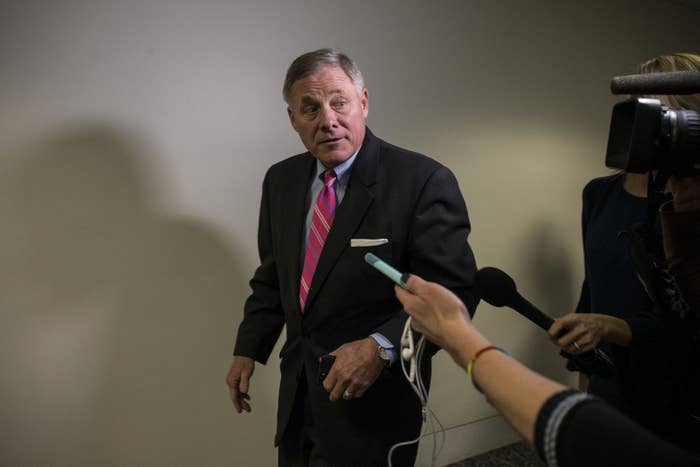 WASHINGTON — Republican senators have taken the unusual step of publicly criticizing their colleague who is running the chamber's Russia investigation following reports that his committee had subpoenaed the president's eldest son.
Republicans in the upper chamber have overwhelmingly expressed public support for Sen. Richard Burr, the North Carolina Republican who leads the Senate Intelligence Committee, during the two years the panel has carried out Congress's sole bipartisan investigation into Russian election interference. But that changed this week after it became public that the committee had subpoenaed Donald Trump Jr. to compel him to testify before the panel a second time.
The news came just a day after Senate Majority Leader Mitch McConnell took to the chamber floor to declare that, since special counsel Robert Mueller finished his criminal investigation without establishing that the Trump campaign had conspired with Russia, the "case [is] closed."
"I agree with Leader McConnell: this case is closed," Republican Sen. Thom Tillis — Burr's colleague from North Carolina — tweeted Thursday in response to news that the Intelligence Committee had subpoenaed Trump Jr. "The Mueller Report cleared @DonaldJTrumpJr and he's already spent 27 hours testifying before Congress. Dems have made it clear this is all about politics. It's time to move on & start focusing on issues that matter to Americans."
Texas Sen. John Cornyn, a Republican member of Burr's committee, said the decision to subpoena the president's son "smacks of politics" and that he would talk to Burr about what work is left to do to finish the probe.
"My understanding is Mr. Trump Jr. has cooperated extensively with the committee," Cornyn told reporters Thursday. "I can understand his frustration at being asked to come back after having cooperated for such a long period of time, and seeing now that the Mueller report is concluded, sort of wondering what the purpose of this is. I'm going to talk to the chairman and the committee members about what we need to do to wrap up our investigation. At some point, this is not about finding facts, this smacks of politics, and I think we have an important job to do to try to keep the Intelligence Committee out of politics."
A spokesperson for Cornyn on Friday argued that his "smacks of politics" comment applied more broadly to congressional investigations, not specifically to the Trump Jr. subpoena. Later in the interview, Cornyn also claimed he "didn't say" that Burr's decision was a political one, according to a transcript provided by Cornyn's office. "The committee's been doing important work that's been done on a bipartisan basis, and it really is about finding out what the facts are and what we need to do to prevent foreign interference in the future," Cornyn said.
Sen. Rand Paul, a Republican from Kentucky, criticized Burr directly. "Apparently the Republican chair of the Senate Intel Committee didn't get the memo from the Majority Leader that this case was closed…," Paul tweeted Wednesday.
The president, who tweeted in February that Burr was a "highly respected" senator after the Intelligence Committee chair declared that the investigation had yet to unearth evidence of collusion between the Trump campaign and Russia, said Thursday he was "very surprised" by news of the subpoena. "I saw Richard Burr saying there was no collusion two or three weeks ago," Trump told reporters. "My son's a very good person, works very hard; the last thing he needs is Washington, DC."
Burr faced criticism from the House as well, with Republican leader Kevin McCarthy tweeting that Trump Jr. "has already spent dozens of hours testifying in front of Congressional committees. Endless investigations—by either party—won't change the fact that there was NO collusion. It's time to move on. It's time to focus on ISSUES, not investigations."
Trump Jr. first testified in private before staff on the Senate Intelligence Committee for nine hours in December 2017. The committee wants to question him further about his involvement in the now infamous Trump Tower meeting with Russians and negotiations to build a Trump property in Moscow during the 2016 campaign, the New York Times reported.
Trump Jr.'s lawyer Alan Futerfas did not respond to a request for comment.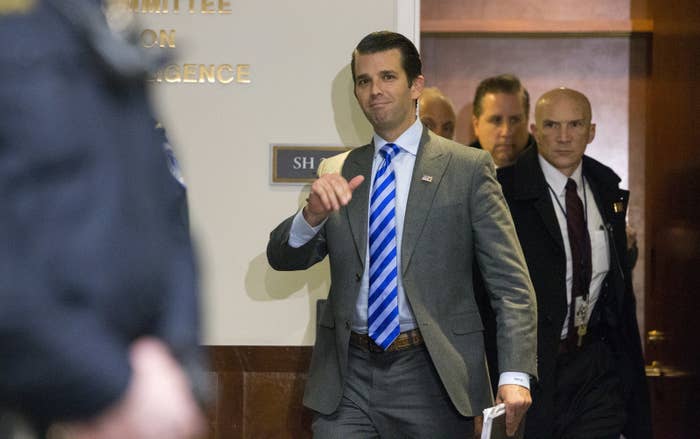 It's unclear what Trump Jr. told investigators the first time around, but in a public transcript of a separate interview with the Senate Judiciary Committee, Trump Jr. claimed he was only "peripherally aware" of the Trump Tower Moscow negotiations. Since then, however, former Trump fixer Michael Cohen has testified that he briefed Trump Jr. and his sister Ivanka Trump around 10 times on the deal.
Burr has declined to comment on the decision to subpoena Trump Jr., but a committee spokesperson said Wednesday that "[t]hroughout the investigation, the committee has reserved the right to recall witnesses for additional testimony as needed, as every witness and witness counsel has been made aware."
The process to subpoena Trump Jr. was a slow one, of which committee members were kept informed, a separate source briefed on committee discussions told BuzzFeed News. Moreover, Trump Jr.'s team has been in contact regularly with the Intelligence Committee since he last testified, so the subpoena was not a surprise, the source said.
Not all Republicans were critical of Burr on Thursday. Maine Sen. Susan Collins, a member of the Intelligence Committee, said Burr "has been a very good chairman, has done an excellent job of conducting this investigation, and has worked very closely with the ranking Democrat on the committee.
"I'm sure that the report that we produce is going to be comprehensive and fair," Collins added, referencing the Intelligence Committee's still-uncompleted report on its own Russia investigation. "Keep in mind that it focuses on the counterintelligence aspect of the issue."
Democrats on the Intelligence Committee have long said they wanted to bring Trump Jr. and other key witnesses — including Cohen and Jared Kushner, the president's son-in-law — back for additional questioning before senators on the committee, since committee staff performed the initial round of interviews. Cohen was questioned by senators in February, and Kushner was questioned in March.
Virginia Sen. Mark Warner, Burr's Democratic counterpart on the committee, declined to confirm that the committee had subpoenaed Trump Jr., but acknowledged that he and Burr have faced plenty of public scrutiny since they announced their investigation in January 2017.
Indeed, just weeks ago, Burr took some heat when Mueller's report was released, since it stated that Burr — who was an adviser to Trump's campaign — appeared to have provided the White House with information about the FBI's Russia investigation in early 2017.
Warner also publicly criticized Burr in February 2017 after the Washington Post reported that the White House had asked Burr to push back on reporting about the Trump campaign and Russia.
But both interactions took place when the committee's investigation was in its nascent days, and since then, Burr and Warner have mostly worked side by side, in sharp contrast to their House counterparts.
"[Burr's] been under enormous pressure at times from certain members to shut down the investigation; I've been under pressure to reach a conclusion before we're finished," Warner told reporters. "I think we've resisted that, and I think as you see the work product of this committee, the committee will be proud and, candidly, the American public will get to see how Congress is supposed to work, which is follow the facts, put those facts out for the American public, and make sure that we protect our system in 2020."
UPDATE
This story has been updated with additional comment from Sen. John Cornyn's office.