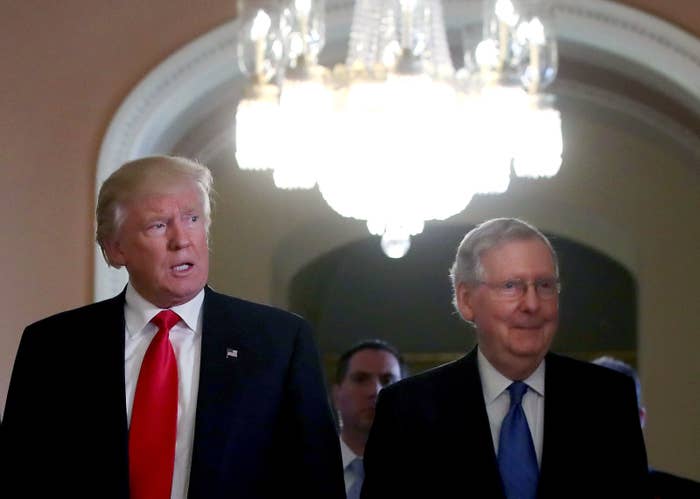 WASHINGTON — After a long campaign where they repeatedly criticized him and often flat-out refused to talk about him, Republican congressional leaders met with Donald Trump in Washington on Thursday, grinning as they showed the president-elect the Capitol Building and talked about their plans for the country.
"Let me just say how excited we are about these opportunities for the country," said House Speaker Paul Ryan, Trump seated to his right and Vice-president-elect Mike Pence to his left. "We had a fantastic, productive meeting about getting to work."
Ryan and Trump's relationship has previously been fraught. Ryan originally delayed endorsing the Republican nominee, saying, "I'm just not quite there yet," and occasionally spoke out against Trump during the election campaign.

Trump later used Ryan's words against him and also refused to immediately offer up an endorsement. In October, Trump went on a Twitter rant, calling Republicans "disloyal" and Ryan a "very weak and ineffective leader."

But Trump's win on Tuesday appears to have changed Ryan's — and Trump's — tune.
"Donald Trump had one of the most impressive victories we've ever seen," Ryan said after the meeting. "We're going to turn that victory into progress for the American people [...] and make sure we get this country turned around, and make America great again."
Trump, wife Melania by his side, said he and Ryan are "going to do some absolutely spectacular things for the American people."
"We look forward to starting, because truthfully, we can't get started fast enough," he said.
"Whether it's health care or immigration, so many different things, we'll be working on them very rapidly, and I think we're going to putting things up very quickly," Trump said, adding that they'll also lower taxes.

Ryan then showed Trump the speaker's balcony, where Ryan showed Trump where he'll be inaugurated in January. The pair occasionally pointed out across the National Mall, and were eventually joined by Melania. At one point, the press pool heard Ryan say, "that's it right there, that's the Old Post Office Building."
Trump recently opened a hotel in the building. Trump, according to the press pool, said the view was "absolutely beautiful."
Trump began the day with a meeting at the White House with President Barack Obama to discuss the transition. Trump, Pence, and Melania then had lunch with Ryan at the Capitol Hill Club, a Republican meeting place near the Capitol Building. Fans, media, and a handful of protestors — holding yellow anti-Trump signs from a group called Americans United for Change — waited outside.
As Trump's long convoy left for the Hill, the president-elect waved and gave the thumbs up to cameras and supporters along the street. The latter cheered, while one man excitedly said "Oh my god!" as Trump's black Suburban pulled away.

Trump ended his day on Capitol Hill with a meeting with Senate Majority Leader Mitch McConnell, who famously refused to talk about Trump during the campaign.
McConnell, who maintained his majority on election night, smiled as he walked in front of throngs of reporters with Trump by his side.
After the meeting, Trump stopped to talk to the media saying, "We're going to work very strongly on immigration, health care and we're looking at jobs, big league jobs."
Trump was asked about his proposed ban on allowing Muslims to enter the country. The president-elect then said "thank you" and walked away.