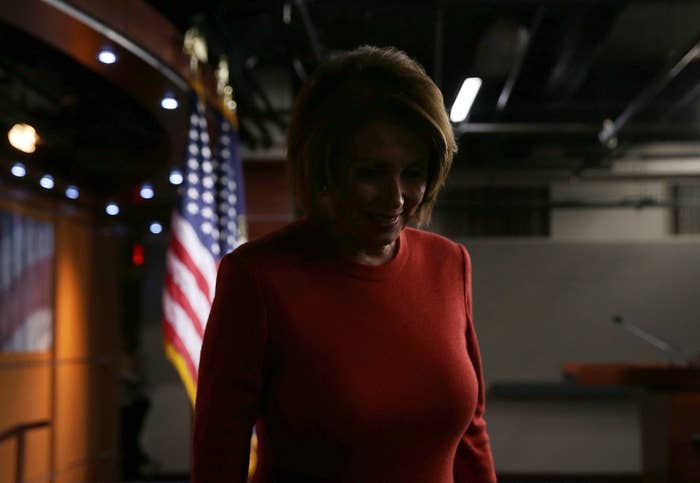 WASHINGTON — Nancy Pelosi will keep her job as the Democratic leader in the House.
House Democrats voted by secret ballot Wednesday morning to keep Pelosi, who has held the post for more than 12 years, following a disappointing defeat on election night.
Pelosi, who served as the first female speaker of the House from 2007 to 2011, had previously said she had secured more than two-thirds of the caucus' support and on Wednesday her vote count proved true. Pelosi beat her challenger, Ohio Rep. Tim Ryan, 134-63.
"I have a special spring in my step today because this opportunity is a special one to lead the House Democrats, bring everyone together as we go forward," Pelosi said after the vote.

While Ryan was considered a long shot, more than a dozen Pelosi supporters told BuzzFeed News they were considering turning against her.
"I'm not going to sit here and pretend like I'm not disappointed, but you get up the next day, you watch the game film, what you did right, what you did wrong," Ryan told reporters after the vote. "You get back up again."

"I felt like, from the very beginning, somebody needed to do something, you gotta have this conversation, and I hope that I, you know, went into the firing squad so to speak and tried to clear the way for others to be able to speak," he added.

Ryan, a rust belt native who represents a part of the country where Democrats lost working class voters to Donald Trump's economic message, was considered a new way forward for a party that failed to win back control of the House and Senate on Nov. 8. The support for Ryan was not insignificant. Pelosi's last challenger in 2010 only received 43 votes after Democrats lost the House.
Following the election night defeat, House Democrats postponed the leadership elections to "recalibrate."
Even though she's kept her job, there are challenges ahead for Pelosi, who must show she's willing to make the changes many younger Democrats feel are necessary to win the next election — and include them in the decision-making.
"I think there's a clear message in this challenge that we need to open opportunity for all members," Virginia Rep. Gerry Connolly told reporters before the vote.
Rep. Kyrsten Sinema, a younger member from Arizona, issued a scathing statement following the vote, saying the caucus had "decided to double down on its failed strategy of recent years."
"This should be a time of reflection and clear-eyed change," she said. "Not a time to rubber-stamp the failed strategy of the past."
Speaking to reporters after the vote, Ryan-backer Rep. Marcia Fudge called the vote a win because their message was heard.
Ryan echoed that sentiment: "We had an opinion and we wanted to make sure people heard it." He also professed confidence that Pelosi could turn things around for Democrats moving forward.

Another Ryan supporter, Oregon Rep. Kurt Schrader, was less convinced, however. "I'm very worried we just signed the Democratic party's death certificate for the next decade and a half unless we change and adopt what Tim's been talking about, which is really a working man and woman's agenda, regardless of who you are," he said.
"Right now we're a bunch of Liberal elite urbanists, except for a very few number of blue dog members," Schrader said.

"Nothing's going to change anytime soon," he said. "We're going to be in the minority for the next 15 years."
Alexis Levinson contributed to this report.