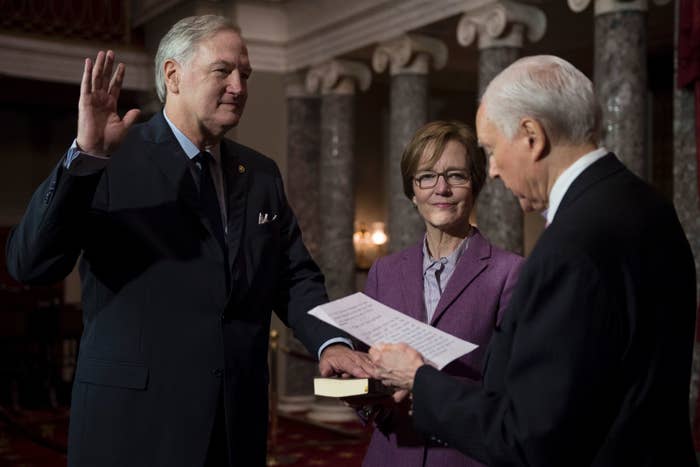 WASHINGTON — Sen. Luther Strange, who was sworn-in on Thursday, isn't quite sure yet what kind of lawmaker he would like to be.

"Let me get [back] with you," the freshly minted Republican senator from Alabama said as he left the Old Senate Chamber, shaking hands with smiling friends, family, and new colleagues.
Strange, 63, who had announced he would be running to replace new Attorney General Jeff Sessions in the Senate, found himself being sworn-in to fill the seat just hours after Sessions vacated it, following an appointment by Alabama Gov. Robert Bentley.
On Thursday afternoon, Sessions — as well as fellow Alabama Sen. Richard Shelby — flanked Strange as he approached Sen. Orrin Hatch on the Senate floor for the formal swearing-in. Strange, who leaves his previous job as Alabama's top prosecutor, raised his right hand, fingers slightly trembling, as Hatch delivered the oath.
"I do," Strange, wearing a navy tie and white pocket square, said in accepting the duties of his new office. Members of both the Republican and Democratic leadership teams rose to applaud the rookie senator.
The circumstances of Strange's sudden appointment to the Senate are, well, unusual. The appointment from a governor embroiled in controversy is being dubbed suspicious by some in Alabama. "The whole thing stinks," State Auditor Jim Zeigler told CNN.
As Alabama attorney general, Strange was an important figure in an unfolding sex scandal involving Bentley. Last year, Strange's office asked the state legislature to put a hold on an impeachment investigation into Bentley, while it finished an unnamed investigation of its own. While Strange never confirmed that Bentley was the target of that probe, state lawmakers believed Strange's office was investigating the case.
With Strange now in the Senate, some are worried that Bentley will appoint a new attorney general who will be more friendly in the case. "By the attorney general vacating the office, the governor gets to single-handedly choose a lawyer to investigate him and his girlfriend," Zeigler told CNN.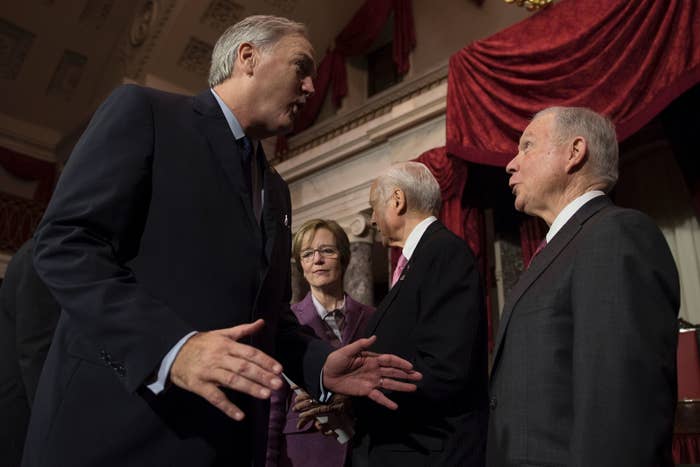 After his official swearing in on Thursday, Strange entered the Old Senate Chamber for an informal re-enactment and photo opportunity. His longtime wife Melissa joined him, fastening his new Senate pin to his suit lapel and grabbing him for a quick kiss before entering the semi-circle of cameras that had formed around the chamber's center. She held a brown Bible as he took the oath again — once with Hatch, then again when Vice-President Mike Pence arrived.

Strange, who stands at 6-foot-9 and has been dubbed "Big Luther," was joined by his pair of equally tall sons for photos as well as his young grandson, Luke. "Hey, baby boy," Strange said, smiling and patting Luke on the back as cameras flashed and clicked around them.

The hulking rookie senator has already gained notice among his new colleagues. "You won't have much trouble finding him. He'll be about the tallest guy around here," Senate Majority Leader Mitch McConnell said Thursday morning. "Senator [John] Thune and Senator [Tom] Cotton last night were somewhat distressed by the notion that they'd be replaced by an even taller Senator."
Strange, though new to the Senate, is no stranger to the political spotlight. Before getting the nod from Gov. Bentley, Strange had already run for lieutenant governor in 2006 (a race he lost) and was preparing a campaign for Sessions' seat. Bentley has announced that the election will take place in 2018.
"Based off of our similar experience and record, I believe that I am in the best position to continue the fine work of Sen. Jeff Sessions," Strange wrote in announcing his bid in a mid-January post on his official Facebook page, which already features a crisp, red and blue "Luther Strange: U.S. Senate" banner photo. "It would be a tremendous honor to follow the footsteps of the man I have called my friend for over 30 years."
After Thursday's ceremonies, Strange met with McConnell. When asked again as he left, however, Strange said he still wasn't ready to say what kind of senator he would like to be.
"Not yet," he said when asked what, in general, he might want to accomplish on Capitol Hill. "Once I've been here more than a couple hours I probably could," he playfully added.

"Let me get my feet on the ground and then we can talk."