Nancy Pelosi Calls On Republicans To Support Removing Confederate Statues From The Capitol
The states choose which statues to display in the Capitol building. Statues of Robert E. Lee, Jefferson Davis, and Alexander Hamilton Stephens are all currently on display.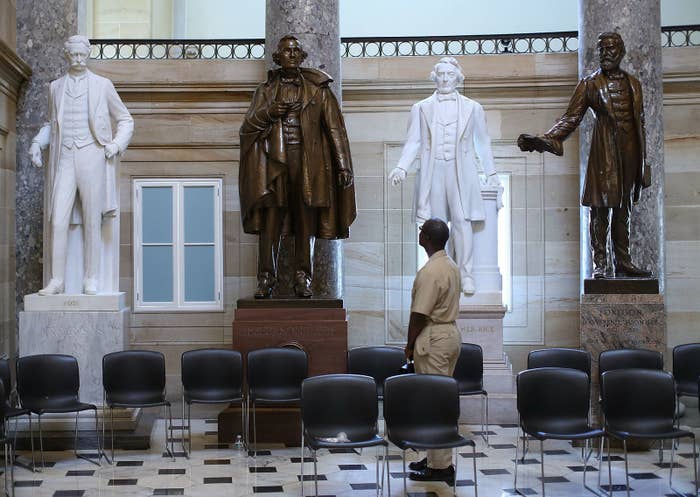 A handful of Democratic members of Congress, including House Minority Leader Nancy Pelosi, are calling for the removal of Confederate statues from the US Capitol building following the deadly white supremacist rally in Charlottesville, Virginia.

"The Confederate statues in the halls of Congress have always been reprehensible,"
Pelosi said in a statement Thursday. "If Republicans are serious about rejecting white supremacy, I call upon Speaker Ryan to join Democrats to remove the Confederate statues from the Capitol immediately."
Pelosi asked House Speaker Paul Ryan to join Democrats in supporting legislation to remove the statues.
Ryan's office deferred to the states, which are each allowed to place two statues of their choosing in the Capitol. "These are decisions for those states to make," said Doug Andres, a spokesperson for Ryan.

At least one Republican reportedly supports relocating the statues. Florida Rep. Tom Rooney told The Hill he doesn't want to erase history; rather, he wants to properly contextualize the statues as representative of slavery, and perhaps move them to "a museum or on a battlefield or something like that."
"When they're in the Capitol, they're almost in a place of reverence," he said. "And I don't think that we should revere what those guys stood for. I think the right side won the war."
Under current law, states, not Congress, make their own decisions about what statues they place in the US Capitol, with approval from the Joint Committee on the Library of Congress, which oversees the Capitol's National Statuary Hall collection. The Architect of the Capitol (AOC) is then "responsible for the placement and care of the statues." A 2000 law allows states to request that a statue be replaced if approved by the state legislature and governor, and if the statue has been on display for a minimum of 10 years. The 10-year requirement can be waived by the committee if there's cause, the AOC said in a statement to BuzzFeed News.

Congress could pass legislation to change those rules, however. New Jersey Sen. Cory Booker announced Wednesday that he also plans to introduce legislation in the Senate to remove the statues. Congress currently sits in recess and will return after Labor Day.