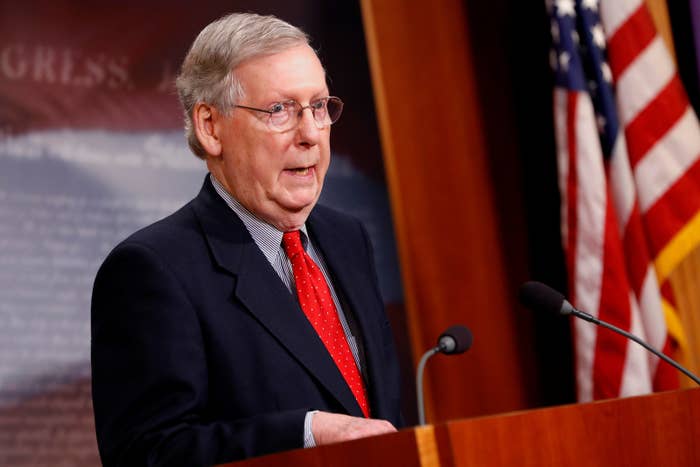 WASHINGTON — Senate Majority Leader Mitch McConnell took credit Thursday for keeping open the Supreme Court vacancy that allowed President Trump to nominate an "outstanding" conservative judge and, he said, played a key role in Republicans winning the White House.
"As you know, I played arguably the single biggest role in having the vacancy there," McConnell said during an interview with Politico at the Washington Court Hotel Thursday morning.
McConnell defended his controversial decision to block former President Obama's nomination to the Supreme Court during the interview, saying that he never really doubted his decision, despite blowback from Democratic voters and some outside groups.
"I was prepared to take the heat because I knew that we would have looked completely foolish to have allowed a vacancy to be filled on the way out the door," McConnell said. "So I was very comfortable with my decision. Fortunately, my colleagues backed me up, and now we have this opportunity with this great judge on the Supreme Court."

Obama nominated Judge Merrick Garland to fill the vacancy left after the death of the conservative Justice Antonin Scalia in early 2016. But McConnell never brought Garland's nomination up for a vote and it expired with the last Congress. Some Democrats have called it a "stolen seat," and pledged to filibuster any nominee that isn't Garland.

Trump nominated Judge Neil Gorsuch — whom McConnell termed "the single most outstanding circuit judge in America" — on January 31 to fill the Supreme Court vacancy.
In defending his choice, McConnell again referenced comments made by former Vice President Joe Biden in 1992, in which the then-senator argued against filling a Supreme Court vacancy during a presidential election. He also said that a former Obama White House counsel "confirmed that they wouldn't have done it" had the roles been reversed.
"So I thought I was on pretty firm footing," McConnell said. "A lot of people thought, 'Well, it's not going to make any difference, because Hillary Clinton's going to be making this appointment anyway.' Well, it didn't turn out that way."
McConnell said that from a political perspective, his decision "actually helped the president bring Republicans home," and that Trump "ended up getting 90% of Republican voters like Mitt Romney did." McConnell said said the Supreme Court nomination was "the single biggest issue."
"Now Trump, to his credit, didn't blow this opportunity," McConnell said. "He's picked a great candidate."
McConnell said the Senate will confirm Gorsuch before Congress recesses in April.

McConnell went on to call White House Counsel Don McGahn an "all-star," saying he "flawlessly" handled the Supreme Court nominee selection process that led to Gorsuch.

And he said that Trump's list of the 21 people he was considering for the Supreme Court nomination was part of what "reassured" Republicans about him.
During the wide-ranging interview on Thursday, McConnell also said "there's no evidence of" Trump's allegation over the weekend that Obama wiretapped Trump Tower. "But that's an appropriate subject for the Senate Intelligence committee."
McConnell was also asked about Trump's campaign pledge to build a wall along the southern border, which the president insists will be funded by Mexico. "Uh, no," McConnell said when asked if he believes Mexico will, in fact, pay for the wall.