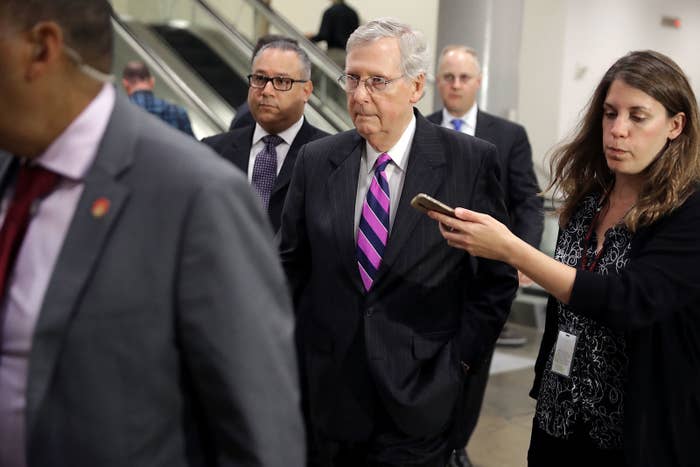 WASHINGTON — Senate Majority Leader Mitch McConnell said Thursday he doubts Congress will pass criminal justice reform in the lame duck period, saying it's a "very divisive" issue.
"I've got very, very smart, capable people, without regard to ideology, who have different views on that issue," McConnell said at a press conference on Capitol Hill. "Whether we can take up something that controversial [with] limited time available, I doubt."

"We've got about three weeks back here after the election," he said. "My own personal priorities are funding the government and the 21st Century Cures bill, which I think could end up being the most significant piece of legislation we pass in the whole Congress."

Last week, Republican Sen. Mike Lee called out McConnell and the rest of the senate leadership for not scheduling a vote on criminal justice reform.
"It hasn't come up for a vote because the people who are responsible for scheduling the votes have not scheduled the vote," Lee said at BuzzFeed Brews last week.

The proposed legislation — which has bipartisan support — would, among other things, lower mandatory minimum sentences for non-violent offenders. Lee said he thinks the bill would easily pass the House and Senate.
House Speaker Paul Ryan echoed that sentiment on Thursday. "It's very bi-partisan," he said, "and it's conservatives who are leading the charge on this."
Last week, Ryan said he wanted criminal justice reform to pass in the lame duck. "I'm trying to get criminal justice reform done this session of Congress," he told the Economic Club of New York.
"I obviously think that's a very important element," he said. "And we're looking at how we can get that done because those — we've gotten six bills out of the Judiciary Committee already."
On Thursday, though Ryan didn't explicitly disagree with McConnell's comments, he said the House has done more of the groundwork to push the bill forward.
"We're a little farther down the road than the Senate is on this."