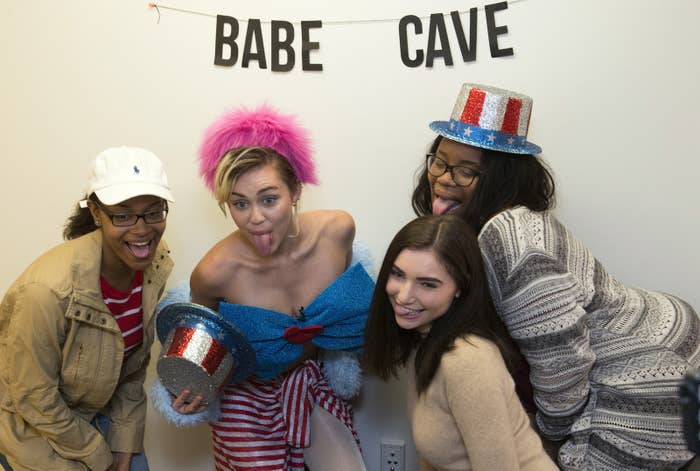 If such a thing were possible, the 2016 election got slightly weirder on Saturday as Miley Cyrus campaigned for Hillary Clinton at a Virginia university.
Cyrus knocked on random dorm-room doors dressed as something approaching an American flag, and as she met with students, she took selfies, sipped tea, and encouraged students at George Mason University to vote next month — a traditional sort of celebrity get-out-the-vote effort.
Though word had been circling that Cyrus would be visiting the Virginia school, the students weren't told exactly where she would be or that she would be roaming the halls.

"Open up! You're in big trouble," Cyrus said, banging on the door of the first room, surrounded by campaign staffers and reporters. "I'm just kidding, it's just me," she added.
No one answered.
"Jakey?" said Cyrus, clad in a sparkly blue bow bandeau, red-and-white striped skirt, and silver platform heels.
Slowly, the door opened. "Ah!" said a shocked Jake Zartman, 18, as he was joined by two male roommates.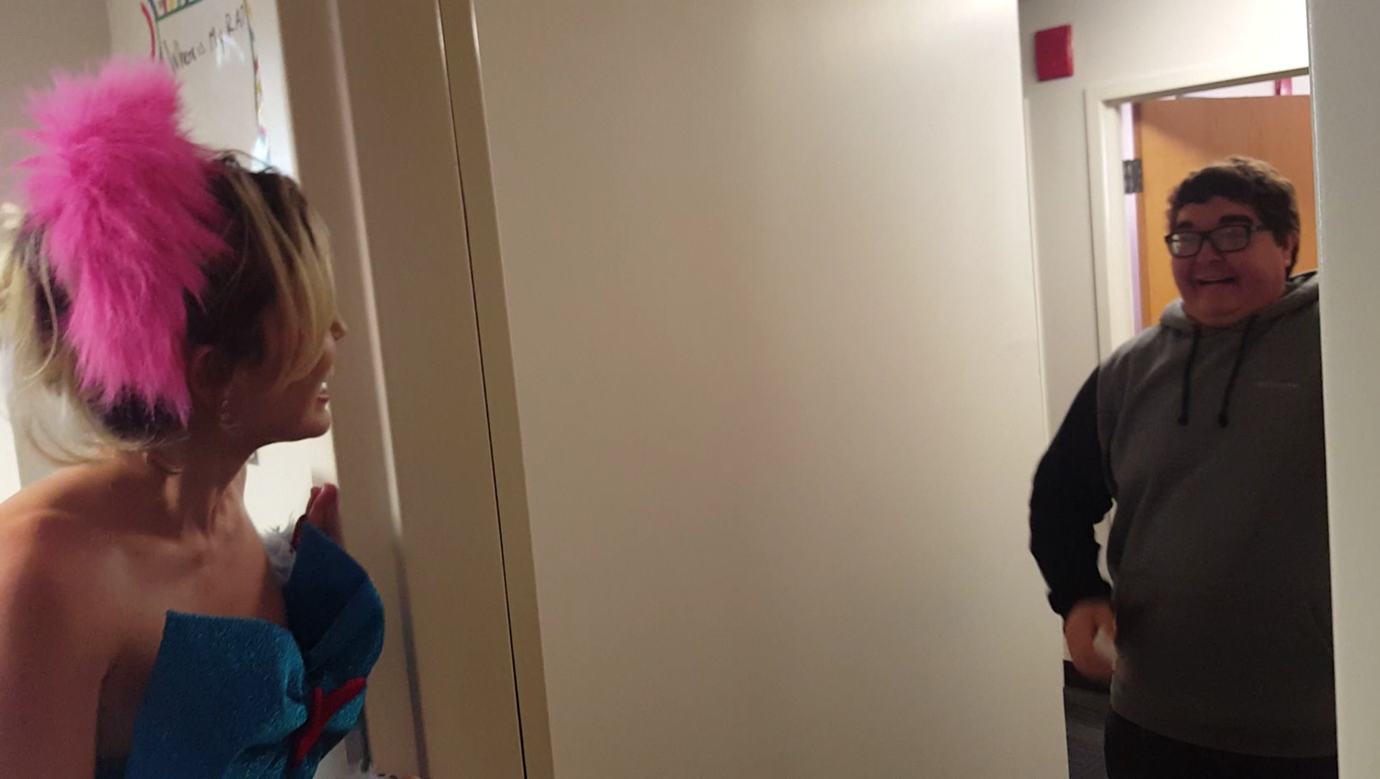 Cyrus shook their hands and introduced herself. "Do you have any idea why I'm here dressed like an American flag? Not just because I'm a freak."

"Oh, you're not a freak," Zartman reassured her.
"OK, cool!" she said. "I'm here supporting Hillary and Tim Kaine."
Zartman told her he had already voted for Clinton as an absentee voter in Ohio. She gave him a high five.

The surreal tour through the dorm, situated in Virginia's affluent and diverse Fairfax County, marks one of the more unusual efforts by the Clinton campaign to do voter outreach. It mixed a fair amount of anti-Trump talk in with the pro-Clinton material. Cyrus, a Planned Parenthood supporter, said she was "super offended" by the "totally brutal and visual and gnarly way he was talking about women's personal choices" at the last presidential debate, referring to the discussion of late-term abortions.
"Someone told me that I don't live in a reality," Cyrus told them of a recent trip to her native Nashville. "I think Hillary will make what today is the reality that we all want to live in."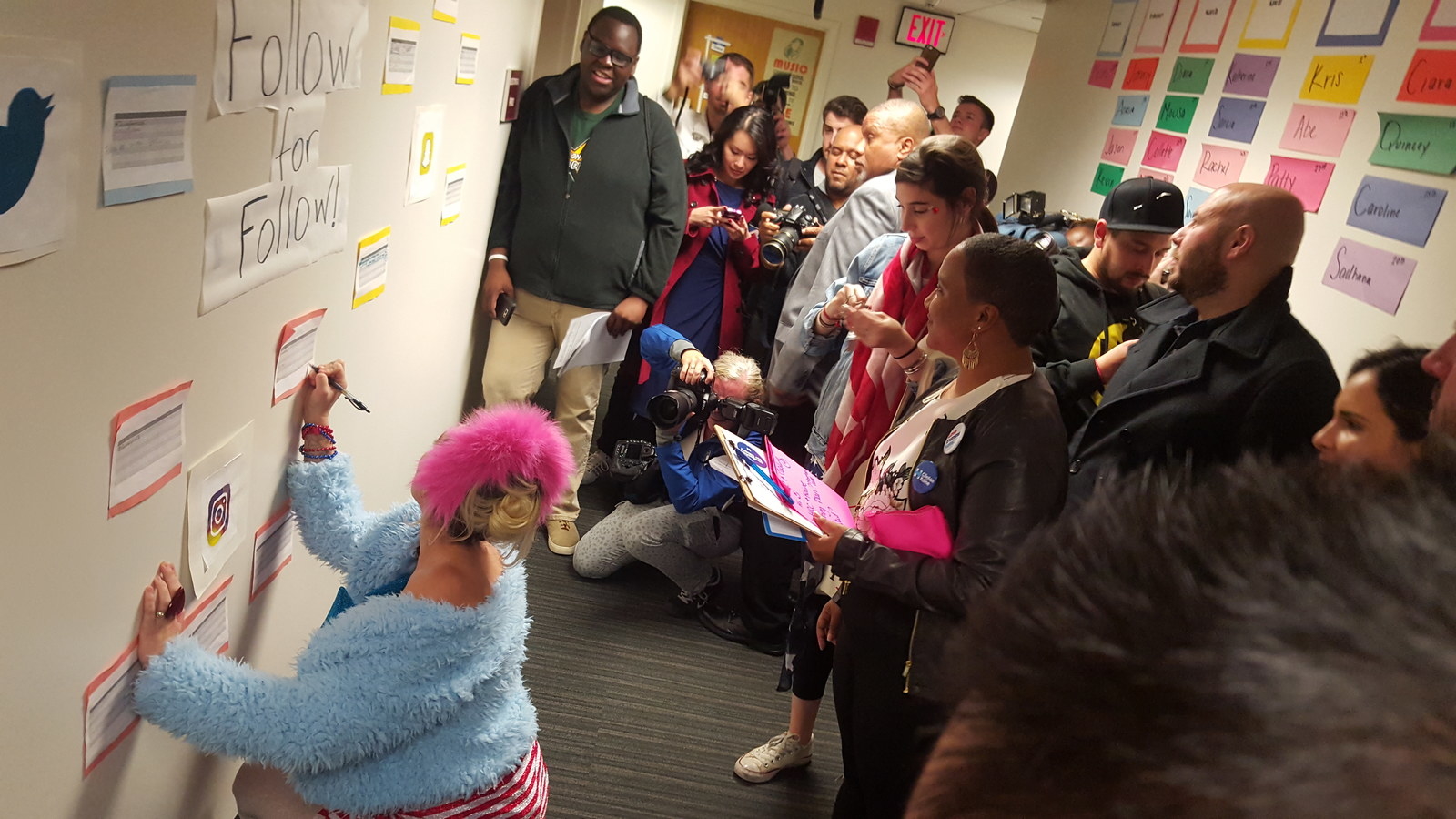 Farther down the fourth floor, Cyrus talked with 19-year-old Halimah "Mimi" Abusaif, who told Cyrus she was recently at a fraternity party where she started chatting with a "super cute" guy who revealed he was a Donald Trump supporter.

"I was like, 'skrrt'!" she said, imitating how she got away from the man. The 10-or-so people crammed into the dorm room burst into laughter.
Abusaif's brother, 20-year-old Mousa Abusaif, made Cyrus tea and revealed to her that he used to work at the Trump National Golf Club in Sterling, Virginia.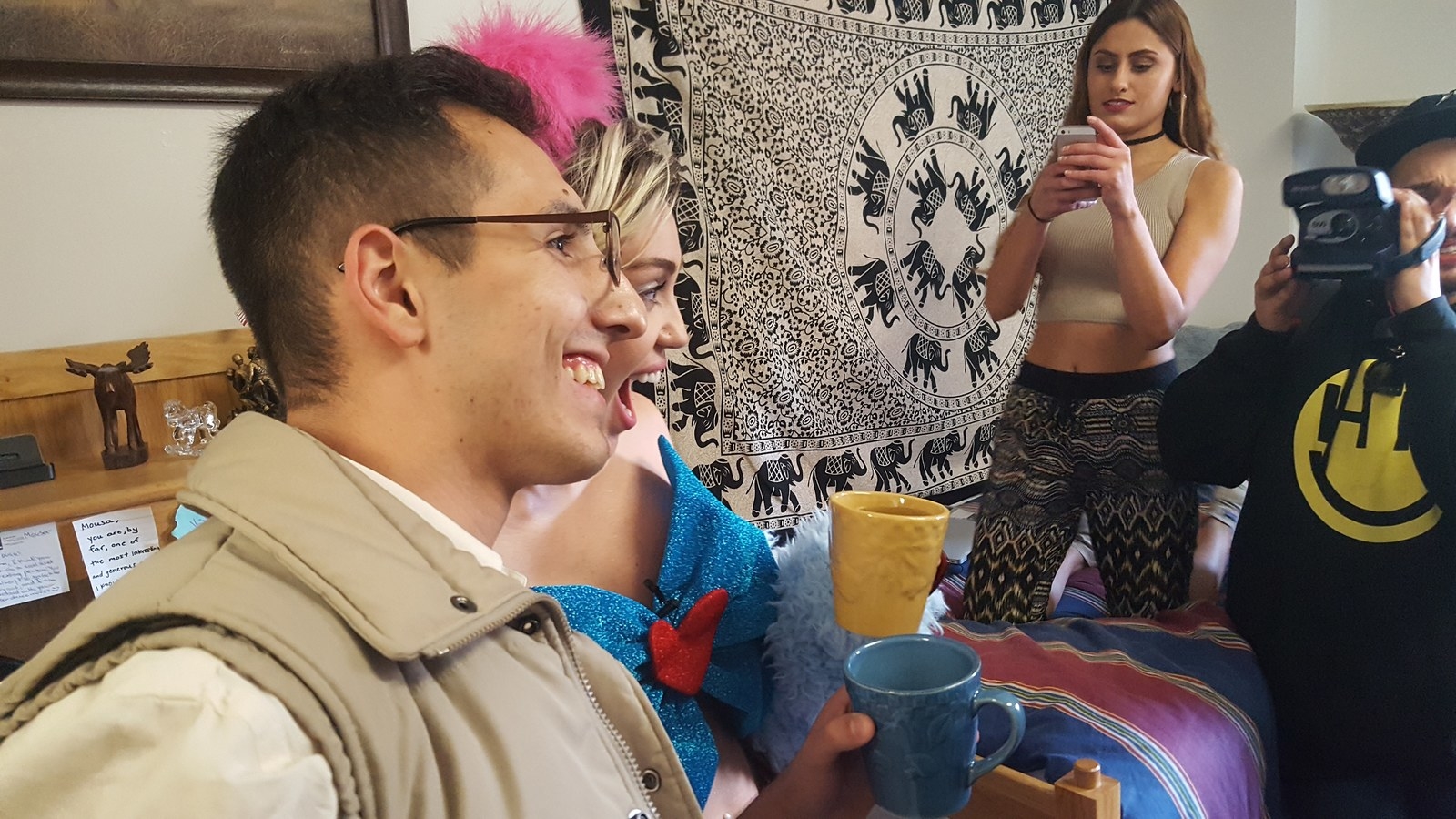 His family, he said, has been homeless in the past. He said that one day, when he "was at a really low place," he approached Trump at the country club.

"I am a hard worker," he says he told Trump. "I have a business acumen. I have an ambition. I have a record of good service. Is there a place for me to grow in your organization, is there maybe an internship I could take with you?"
"You know what he tried to do?" Abusaif asked Cyrus.
"I'm scared," she replied. Abusaif laughed.
"He tried to have me fired," Abusaif said. Cyrus shook her head.
"People's person, he calls himself," Abusaif said. "I'm a people."
"Right," Cyrus said. "I'm really sorry that happened."
In another room, Cyrus played Call of Duty: Infinite Warfare with 19-year-old Gabriel Saunders and 20-year-old Noah Shoates. They told her they, too, would be voting for Clinton.
"This is my kind of dorm," Cyrus said. "Video games, got the music bumping, voting for Hillary. This is the kind of space I like."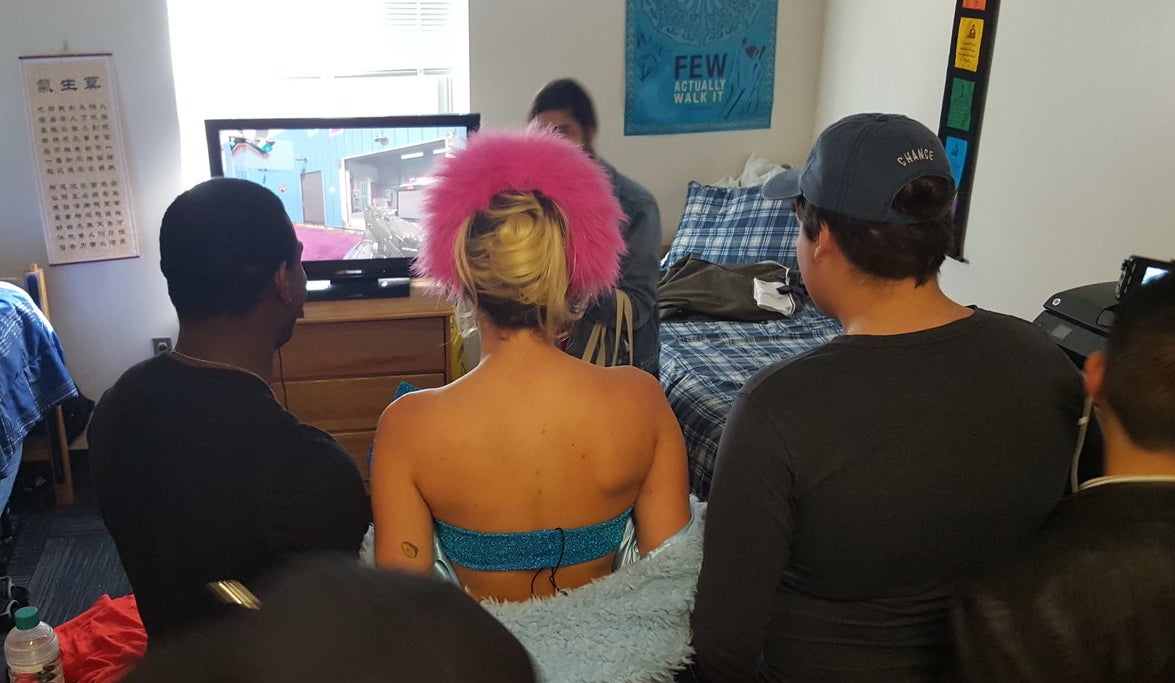 She told them she was initially a fan of Bernie Sanders, but can't understand his supporters who refuse to support Clinton or say they won't vote.
"This is something that's going to affect people after us," she said.
"Right, absolutely," Shoates said, nodding, as he signed one of the Clinton campaign's "commit to vote" cards.
Cyrus spent more than two hours in the dorm. By the time the visit was over, word had spread that she was there. The crowd of a few dozen students outside had grown to hundreds. They stood in the cold wind, chanting her name and singing songs like "Wrecking Ball" at the top of their lungs.
When the star finally emerged, she was swarmed by screaming fans armed with cell phones recording her exit. Security guards and campus police shoved a path clear to a black Chevy Suburban parked nearby.

Escorted by police cars with their sirens wailing, the Suburban drove off, surrounded by students waving at the convoy.

"That was real!" one man yelled to his friend as Cyrus got into the SUV.
"I touched her!" another girl said.