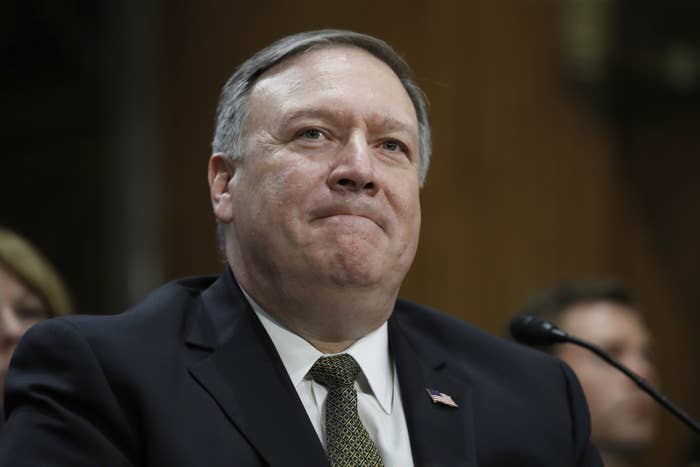 President Donald Trump's pick to be the next secretary of state has narrowly avoided a rare unfavorable committee recommendation after a Republican senator reversed his decision to oppose the nominee and a Democrat agreed to vote present.
The Senate Foreign Relations Committee, which vets State Department nominees, voted 11–9 along party lines — with Democratic Sen. Chris Coons voting present — Monday evening to return a favorable recommendation on the nomination of outgoing CIA Director Mike Pompeo to be the nation's next top diplomat. One Republican — Kentucky Sen. Rand Paul — initially opposed Pompeo's nomination, but announced he was reversing his decision just before the committee met to vote.
Paul said he changed his mind after speaking with the president "several times" Monday and receiving "assurances" from Trump and Pompeo that he shares Trump's views on the Iraq War.
"I have changed my mind," Paul said at the committee hearing, adding: "He's assured me that he's learned the lesson."

Trump had previously publicly pressured Paul to vote for Pompeo. "I will say this about Rand Paul," he said last week. "He's never let me down. Rand Paul is a very special guy, as far as I'm concerned. He's never let me down, and I don't think he'll let us down again. So let's see what happens."
Had Paul not changed his mind, the committee would have likely returned its first-ever unfavorable recommendation for a secretary of state nominee since at least 1925, when the committee started a public record of its business, according to the Senate historian. There is no record of committee business before that because meetings were held in private, CNN reported.
The committee faced further complications, however, due to the absence of Republican Sen. Johnny Isakson, who delivered his best friend's eulogy Monday and voted yes by proxy. Senate rules, Sen. Bob Corker explained, require a majority of members voting in favor to be present, meaning Isakson's vote would not have counted toward that majority, and the tally was tied 10–10.
Faced with the prospect of redoing the vote at 11 p.m. after Isakson's plane landed, Coons agreed to vote present instead of against the nomination. "That is what I would have expected," Corker said with emotion in his voice. Earlier in the meeting, Corker said the committee has historically "been an island in a sea of partisanship." After the meeting, Corker approached Coons and hugged him.
If confirmed on the Senate floor, Pompeo will replace former secretary of state Rex Tillerson, who held the job until last month, when President Donald Trump announced his firing on Twitter.

Senate Majority Leader Mitch McConnell is expected to bring the nomination to the Senate floor for a final confirmation vote later this week. But even with the support of Paul, who had originally taken issue with Pompeo's past views on torture, the final vote tally is likely to be tight — a rare occurrence for a secretary of state nominee. Democrats have largely panned Pompeo's nomination, Arizona Sen. John McCain is back home fighting brain cancer, and at least one other Republican, Arizona Sen. Jeff Flake, has yet to say whether he will support Pompeo's nomination.
Pompeo already has the support of at least three red-state Democrats, however. North Dakota Sen. Heidi Heitkamp announced her support last week, saying that Pompeo has shown "that he is committed to empowering the diplomats at the State Department so they can do their jobs in advancing American interests." West Virginia Sen. Joe Manchin and Indiana Sen. Joe Donnelly announced their support for Pompeo on Monday. All three are up for reelection this year in a state Trump overwhelmingly won in 2016.
At a confirmation hearing two weeks earlier, Pompeo faced a grilling from Democrats on the committee, who left expressing disappointment at what they said was a lack of candor from Pompeo, who has led the CIA since January 2017.

New Jersey Sen. Bob Menendez, the ranking member on the committee, said at the time that he was concerned about Pompeo because he wasn't "forthcoming and credible on critical issues," such as Russia. Pompeo had declined to discuss the subject of his interview with special counsel Robert Mueller, who is investigating potential collusion between the Trump campaign and Russia.
Menendez said Democrats also wanted to hear that Pompeo — who has a close relationship with the president — would be willing to stand up to Trump. "They're looking for a secretary of state who will not give in to the president's worst instincts and impulses ... and I don't know that they walked away feeling that Director Pompeo met that standard," Menendez said.
Moreover, Democrats said they were concerned about Pompeo's views on Islam and LGBT rights. Asked by New Jersey Sen. Cory Booker if gay sex was a "perversion," Pompeo responded: "My respect for every individual, regardless of their sexual orientation, is the same." Earlier, Pompeo had reiterated his opposition to same-sex marriage.
Democrats were split, however, on the revelation after his confirmation hearing that Pompeo secretly traveled to North Korea over the Easter weekend to meet with Kim Jong Un in preparation for a summit between the North Korean leader and Trump. Some, such as Virginia Sen. Mark Warner, the vice chair of the Intelligence Committee, called Pompeo's trip "a good sign that there's actually preparation going into this meeting." Menendez, however, expressed frustration that Pompeo didn't disclose the trip to him.
Meanwhile, Republicans have accused Democrats of partisan obstructionism on a nominee with a long list of congressional and military accomplishments, saying there is "no reason" for any senator to oppose Pompeo. During a press call last week with counselor to the president Kellyanne Conway, Arkansas Sen. Tom Cotton specifically took aim at both Paul and vulnerable red-state Democrats who might be on the fence about voting for Pompeo, calling Paul's views on foreign policy "unusual" and urging Heitkamp, Indiana Sen. Joe Donnelly, and West Virginia Sen. Joe Manchin to support the nomination. Cotton also called the Foreign Relations Committee "unrepresentative" of the entire Senate.
Asked if the call was evidence that Republicans and the White House were worried about Pompeo's nomination being successful, Cotton said, "I am not concerned. Mike Pompeo will be confirmed."