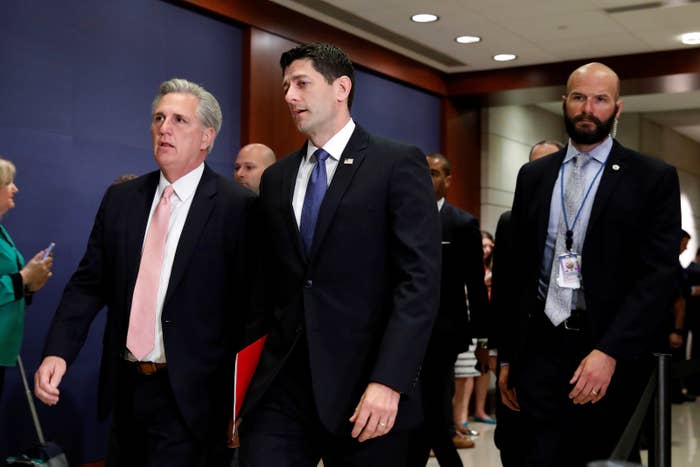 Though social media was charged with divisive, partisan rhetoric in the wake of Wednesday's shooting at a Republican baseball practice, most members of Congress responded with messages of unity, hesitant to re-open the contentious gun control debate or politicize the attack.

Republicans were holding an early morning practice for the annual charitable baseball game in Alexandria, Virginia, on Wednesday when a man opened fire, injuring GOP Rep. Steve Scalise, two Capitol Police officers, an aide, and a lobbyist.
Members described a harrowing scene in which those at the practice faced a barrage of bullets, taking shelter in the dugouts. They repeatedly thanked Capitol Police and suspected that had officers not been at the diamond, more could have been injured or killed.
"Everyone on that field is a public servant," President Donald Trump said later in the morning. "We may have our differences, but we do well in times like these to remember that everyone who serves in our nation's capitol is here because, above all, they love our country."

On Capitol Hill, lawmakers from both parties echoed Trump's sentiment. "We are united in our shock and anguish," Speaker Paul Ryan told House members who gathered in the chamber in the aftermath of the shooting. "An attack on one of us is an attack on all of us."
"Before this House returns to its business, let's just slow down and reflect, to think about how we're all being tested right now," Ryan said in conclusion. "Because we are being tested right now.
"I ask each of you to join me in resolving to come together, to lift each other up, and to show the country — to show the world — that we are one House. The people's House — united in our humanity," he said.
"It is that humanity which will win the day, and it always will."
Members from both sides of the aisle rose to give Ryan a standing ovation as House Minority Leader Nancy Pelosi took to the podium. "To my colleagues, you going to hear me say something you have never heard me say before: I identify myself with the remarks of the Speaker," she said, looking to Ryan with a smile.
Pelosi said she has always prayed for the happiness and cooperation of members of the House, but that in recent years, her prayers have also focused on their safety.
"And so I prayed for Barack Obama, and now I continue to pray for him. And I pray for Donald Trump, that his presidency will be successful and that his family will be safe," she said.
Rep. Mike Doyle, the manager of the Democratic baseball team, and Rep. Joe Barton, the Republican team manager, held a joint press conference Wednesday afternoon in which both talked about the importance of reaching across the aisle and the long friendships between the two teams.
Doyle announced that his team would invite the Republican players to have dinner with them at the National Democratic Club on Wednesday night, so the two teams could dine together before tomorrow's game.
"I'm going to order the most expensive steak on the menu," Barton joked.
Doyle went on to say that both parties should continue to work on their own agendas, but to "do it in a more civil way."
"It shouldn't take an incident like this to bring us together," he said.

House Democratic Whip Steny Hoyer, urged the public to come together following the shooting. "Rep. Scalise and I may stand on opposite sides of the aisle as our parties' whips, but at the end of the day we are friends, fellow Representatives, and fellow Americans," Hoyer said in a statement. "I hope everyone in our country will take time today to reflect on how our commonalities far outweigh our differences and that we all share in the work of this grand experiment in democracy."
The congressional baseball game, which is still set to take place on Thursday night, brings Republicans and Democrats together to face off in a friendly match for charity. They prepare in the weeks before by attending early morning practices with other members before heading to the Capitol for work. By its very nature, the game allows members — and their staff — to put partisan differences aside and get to know one another.
Republican Sen. Lindsey Graham said he was "grateful [the shooting] wasn't worse," but offered a reminder: "Maybe we should just knock it down a notch in terms of our rhetoric."

Illinois Sen. Dick Durbin, the Democratic Whip — who said he grew up not far from where the alleged shooter reportedly was from — acknowledged the high number of shootings in the US, but said members of Congress know they "at an impasse" when it comes to the gun control debate.
"I think there's a fatigue," he said. "We know each other's arguments, and we know nothing's going to happen."
Another Democrat, Virginia Sen. Tim Kaine — who represents the state where the shooting occurred — also shut down the idea of starting a new gun control debate on Wednesday. "We don't know the facts," he said. "We need to know the facts rather than speculate."