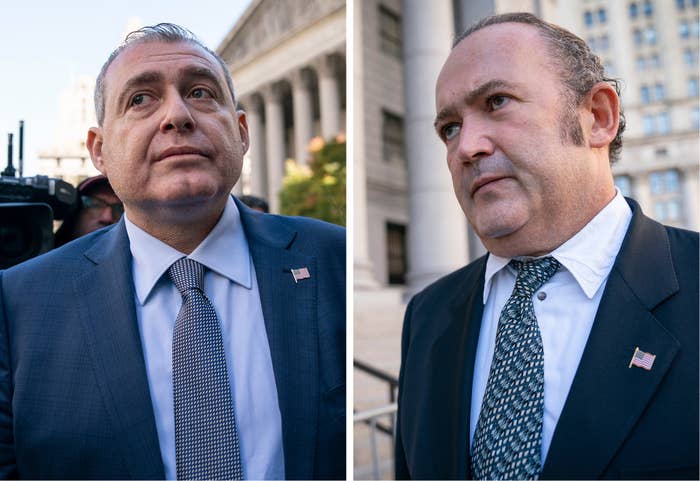 WASHINGTON — During their rise last year as major donors to the Republican party, Lev Parnas and Igor Fruman faced their first crisis.
The Soviet-born business partners had just made one of the largest contributions to America First Action, a pro-Trump super PAC, but a national news outlet and a watchdog group were now raising troubling questions about the source of the money.
With their backchannel campaign in Ukraine about to begin, Parnas and Fruman turned to the former director of Donald Trump's campaign war room to fight the allegations that threatened to derail their rapid ascent within Republican circles.
Their ability to quickly hire Belmont Strategies — a public relations firm run by former White House adviser Andy Surabian, an influential Republican operator who has advised both Donald Trump Jr. and Steve Bannon — demonstrates just how deeply connected they were to the upper echelon of the GOP as they challenged accusations that their donation was illegal.
They paid $25,000 to the firm last year to mount a defense, after meeting with top Republican lawmakers and pouring money into their campaigns.
Their arrests at a Washington-area airport last month on federal campaign violations signaled the end of that rise — one marked by chauffeured rides and charges to an exclusive Republican club in Washington.
The partners' financial activity is now under scrutiny by federal investigators, who have requested reams of records to trace the origins of the money that flowed into their accounts while Parnas and Fruman waged a shadow campaign with Rudy Giuliani to help President Donald Trump. A lawyer for Fruman declined to comment. Parnas's attorney did not respond to interview requests.
Their downfall has left the influential Republicans they courted reckoning with the consequences. A former member of Congress from Texas has been subpoenaed by the grand jury in New York. America First Action, the super PAC that received $325,000 from the men, wants to get rid of the money. A high-powered lobbying firm in Trump's Washington has had to explain why it paid Parnas $45,000 last year.
Now Surabian's communications firm, Belmont Strategies, is among them.
For his efforts, Surabian is still owed thousands of dollars for some of the work provided by his firm to act as spokespeople for Parnas and Fruman.
"We were contracted on two separate occasions — once in July of 2018 and again in December of 2018 — to respond to press inquiries," a spokesperson for Belmont Strategies said. "We ultimately ceased doing any further work for them after they failed to remit payment for the services we had provided in December of 2018."
The problems for Parnas and Fruman began just two months after they turned over the money to America First Action in May 2018.
The Daily Beast published a story in July that questioned the source of the $325,000 contribution to the super PAC. That same day, the Campaign Legal Center filed a complaint with federal elections officials, claiming the money was funneled through a company to conceal the true origin of the funds. Almost immediately, the super PAC's leaders appeared to rally around Parnas and Fruman.
Brian Walsh, the president of the group, fired off an email to its board members. "You likely have met Lev Parnas and Igor Fruman at one of our events or an RNC event (I believe they also contributed to [Florida Gov. Ron] DeSantis, [then-representative Pete] Sessions and others)," Walsh wrote in emails obtained by BuzzFeed News.
"Of note, they are both US Citizens and have been for years," he said. America First Action had "been in contact" with the duo, who were "not pleased" with the "flawed" claims against them.
One of those board members, Tommy Hicks Jr., was no stranger to Parnas and Fruman. He had previously joined the men for a breakfast along with Trump Jr., the president's eldest son, at the Polo Lounge in the Beverly Hills Hotel.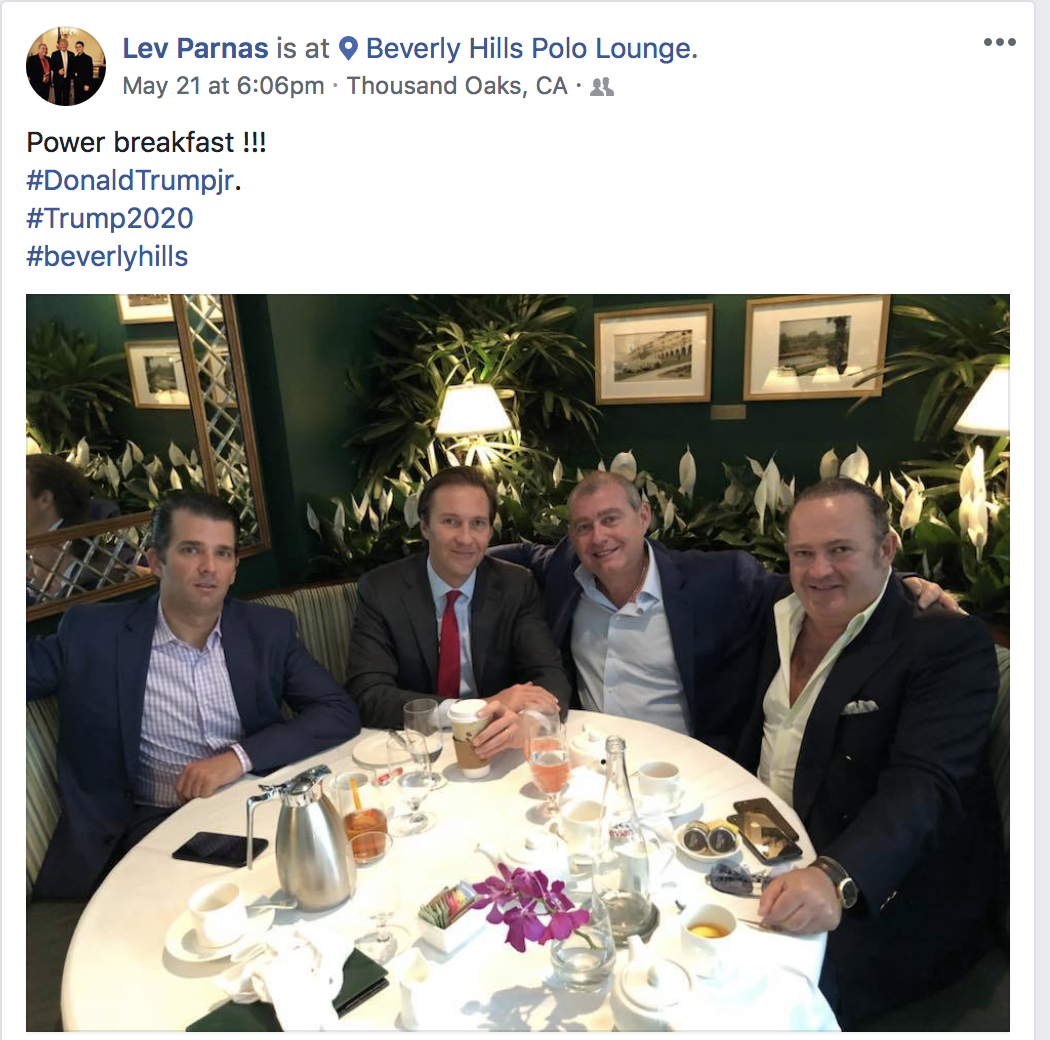 Two days after Walsh's email, Surabian got a text from a fellow operative whom he declined to identify publicly asking him to take the pair on as clients, according to communications reviewed by BuzzFeed News.
Shortly after agreeing, Surabian was told that their company, Global Energy Producers, was not a shell created solely for making political contributions, as alleged in the complaint by the Campaign Legal Center. In fact, the men had modeled the business around Trump's desire to export more resources, a company executive told Surabian.
That executive, David Correia, said the business would be a major supplier of natural gas and help fight Russia's energy dominance of the industry in Eastern Europe, the communications show. The contributions were perfectly legitimate, Correia said.
Surabian's firm immediately went to work. They contacted the reporter from the Daily Beast who had broken the story about the $325,000 donation and echoed Correia's concerns.
"The implication that GEP is some sort of shell company couldn't be further from the truth," Surabian's firm told the outlet. "The company is committed to a long-term plan to export American LNG [liquified natural gas] and is in the process of partnering with major industry leaders both domestically and internationally to achieve that end."
For that work, Parnas and Fruman paid Belmont Strategies $25,000, according to bank records obtained by BuzzFeed News — but only after Surabian spent more than two months chasing them for payment, the communications show.
For much of that time, Parnas and Fruman were struggling for cash, according to lawyers for at least two creditors, including one who loaned the men $100,000. By the end of September 2018, their company bank account showed more than $1,200 in overdraft, according to the bank records.
The next month, the two men managed to get a cash infusion when an unnamed Russian businessperson wired $500,000 to an account controlled by Fruman so they could make campaign contributions to candidates in Nevada, according to their grand jury indictment. At the time, they were planning to launch a marijuana business and needed political support, the indictment said.
On the same day Fruman allegedly received the money from the Russian national, he sent $263,000 to Global Energy Producers — which used the money to pay Surabian, the records show. The documents obtained by BuzzFeed News do not suggest that Surabian was aware of the money's possible origins.
In the ensuing days, Parnas spent more than $6,000 at Trump International Hotel in Washington, and withdrew thousands of dollars in cash from ATMs in New York and South Florida.
The pair's luxurious lifestyle last year also included charges to the Capitol Hill Club, an invite-only Republican institution frequented by members of Congress and party operatives. The high-end social club, which declined to comment, is next door to the Republican National Committee and just steps from the US Capitol. Both men racked up expenses at the club, along with hundreds of dollars in payments by Parnas to a luxury car service in Washington, records show.
Despite their financial challenges, Parnas and Fruman kept spending lavishly as the year came to a close and their shadow campaign with Giuliani gained momentum. In November, Parnas spent more than $7,100 at the Wynn Las Vegas, a five-star hotel formerly owned by Republican megadonor Steve Wynn, who resigned as the national party's finance chair last year after facing allegations of sexual misconduct.
The next month, the partners owed Surabian's firm again after it helped them respond to another news story. Correia assured Surabian he would be paid, but the $25,000 in October was the only payment his firm ever received from the men, according to the communications and bank records.
Despite the public relations effort, prosecutors charged that Parnas and Fruman's energy company was in fact part of a straw donor scheme to conceal political donations. Correia, Parnas, and Fruman have all pleaded not guilty to felony campaign violations.
For its part, Surabian's company says it was blindsided by the charges against the men.
"Belmont Strategies had no knowledge or insight into any of the very serious allegations recently made against GEP and its leadership," the firm said.