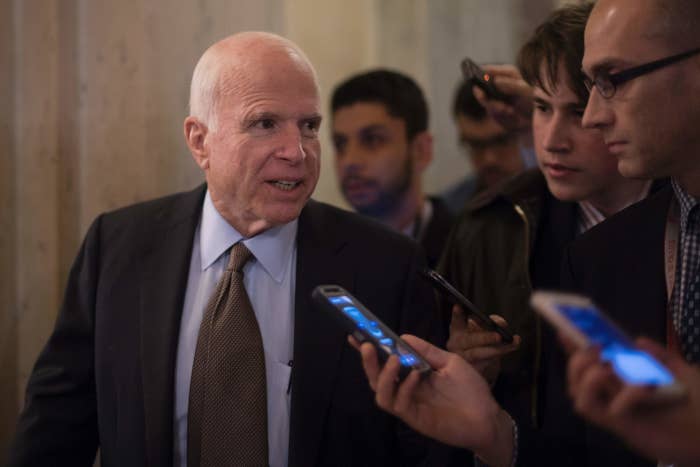 WASHINGTON — Members of Congress are phoning the ambassador of Australia, one of America's staunchest allies, to reassure him of the importance of the two countries' relationship after a reportedly fraught conversation between President Donald Trump and Prime Minister Malcolm Turnbull.
The Washington Post reported Wednesday night that Trump abruptly ended a phone call with Australia's Turnbull after a heated exchange over a refugee agreement between the two countries. Trump reportedly told Turnbull that it "was the worst call by far" for him that day. The New York Times has also confirmed the story, and Turnbull has not denied the details of the call.
On Thursday morning, Republican Sen. John McCain released a statement saying he had called Joe Hockey, Australia's ambassador to the US, "to express [his] unwavering support for the U.S.-Australia alliance."
"I asked Ambassador Hockey to convey to the people of Australia that their American brothers and sisters value our historic alliance, honor the sacrifice of the Australians who have served and are serving by our side, and remain committed to the safer, freer, and better world that Australia does far more than its fair share to protect and promote," McCain said.
McCain told BuzzFeed News later Thursday that he spoke with the ambassador about "our friendship and our long relationship and how much we appreciate everything that Australia does with us."
Asked whether the ambassador was concerned about the Trump call, McCain said: "Of course."
McCain's earlier statement listed the wars in which US and Australian troops "fought side-by-side," including both world wars, Korea, Vietnam, and Afghanistan.
McCain, a Vietnam veteran who was held and tortured as a prisoner of war for five years, added: "Those of us who took part in the conflict remember well the service of more than 50,000 Australians in the Vietnam War, including more than 500 that gave their lives."
Republican Sen. Bob Corker, chair of the Foreign Relations committee, said he was planning on reaching out to Hockey on Thursday afternoon.
Asked by BuzzFeed News what he would be telling the ambassador, Corker said: "Same thing I always say to him, how much I love him."
Republican Sen. Roger Wicker, a member — like McCain — of the Armed Services committee, didn't say whether he would be reaching out to any Australian counterparts, but said he believes the US has "a very strong relationship with Australia."

Democratic Sen. Tim Kaine said it was "odd" that Trump was quarreling with Australia. "You shouldn't be fighting with your allies publicly," he told reporters on Capitol Hill.
Like McCain, House Democratic Whip Steny Hoyer released a statement Thursday saying he had spoken with the Australian ambassador "to reiterate the importance of our nations' strong ties."
"Australia and Mexico are both key partners with whom we have abundant trade, maintain important people-to-people ties, and partner on a host of international efforts," Hoyer said, "including the war on drugs and limiting the growing influence of China in the Pacific."
But Hoyer went a step further, saying Trump should apologize to Turnbull "for his childish behavior, which embarrasses our country and hinders America's ability to lead in the world."
On Thursday afternoon, the office of Democratic Sen. Jack Reed — the ranking member of the Senate Armed Services Committee — stated that Reed had also spoken with the ambassador "to reiterate America's deep and abiding commitment to Australia after details were publicly released about President Trump's tense phone conversation with Australian Prime Minister Malcolm Turnbull."
Reed told Hockey "that he deeply values Australia as an ally" and has "deep respect for the Australian people," according to the readout of the conversation. Reed also told the ambassador that he believes the US should hold up its end of the refugee agreement.
"Through thick and thin, our countries have been there for each other and will continue that partnership in the future," the readout said, "because we are united by shared bonds and values."