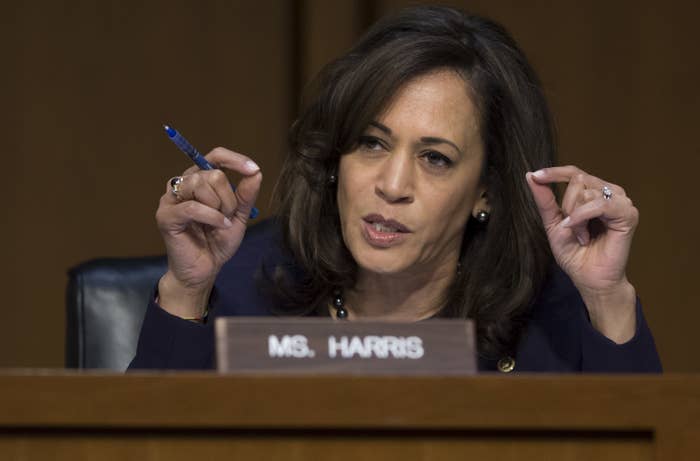 WASHINGTON — Kamala Harris, vying for the most powerful job in Washington, has already distinguished herself as a cunning operator on one of the most powerful and secretive bodies overseeing the government.
The two years Harris has spent on the Senate Intelligence Committee have earned her the praise of her colleagues — Republicans included. They also shed light on some of the qualities that might define her presidency.
Harris, who has used her skills as a prosecutor to climb the ranks of the establishment, has used those same skills to great effect on the committee, according to her Senate colleagues — setting herself apart as an incisive interrogator. Behind the closed doors of the committee, she is mostly a bipartisan actor, focused on information gathering rather than scoring political points, senators told BuzzFeed News.
Other Senate committees, whose hearings play out on national television more often, have given Harris more publicity before a presidential run. But serving on the Intelligence Committee — which oversees the nation's spy agencies and is privy to highly classified information — is not without its benefits for someone seeking a national role, said Virginia Sen. Mark Warner, the top Democrat on the committee.
"The things you learn in this committee — I can't think of a committee that potentially would better prepare you for a national role, because you get to see so much," he said.
Despite being a relative rookie, Harris has been influential at key times in the committee's high-profile investigation into Russian interference in the last presidential election. In one closed-door interview with a witness, Warner recalled, Harris captured the attention of the seasoned committee staff who were leading the questioning, offering pointers on how they should proceed. Not only did Democratic investigators turn to Harris for advice — Republicans did, too, he said.
"She's been able to give great guidance sometimes to the staff. She brings a level of experience — I've never been a prosecutor," said Warner, who recently described the interaction to BuzzFeed News.
"She was directing the staff," Warner said, adding that "both the majority and the minority staff are listening to kind of, 'Well, here's maybe how you've got to do it.'" He said the staff, who work on a mostly bipartisan basis, took the "suggestions" and "pointers" Harris provided into consideration. "They respected her background," he said.
Warner declined to provide any more details about the exchange because, like much of the committee's work, it took place in a secure space on Capitol Hill. Senators were generally present only for interviews with notable witnesses later in the committee's Russia investigation. A spokesperson for Republicans on the committee declined to comment on the interaction.
Harris has been, at times, a polarizing figure in the Senate, where she hasn't hesitated to tangle publicly with Trump administration officials, especially in televised hearings. But Republicans overwhelmingly praise her performance on the Intelligence Committee, which is charged in part with assessing the country's most sensitive covert operations abroad, authorizing government spending on intelligence activities, and taking powerful American officials to task when they disobey the law.
North Carolina Sen. Richard Burr, the committee chair, called Harris a "quick study" and commended her work. "She's very effective," he said.
At a moment when the race for the Democratic nomination is divided between people who want to respect Washington's institutions and those who would blow them up, Harris's comfort operating inside them could provide a look at how she might run the powerful agencies she currently helps oversee.
Since she announced her campaign in January, very little of Harris's decades as a public servant have gone unscrutinized; her record as a prosecutor and district attorney in San Francisco, and later as California's attorney general, has been aired and picked apart, sometimes case by case.
Yet little is known about the more than two years Harris has spent on the Senate Intelligence Committee, whose work is largely classified and involves regular, private briefings where senators can spend hours per week questioning senior officials from the intelligence community — everyone from the head of the CIA to top military brass.
BuzzFeed News spoke with more than a half dozen of the Intelligence Committee's 15 members to understand how Harris has conducted her work on the most tight-lipped committee in Congress — one that has in recent years investigated some of the country's biggest scandals, such as the CIA's post-9/11 torture program and the Benghazi attack.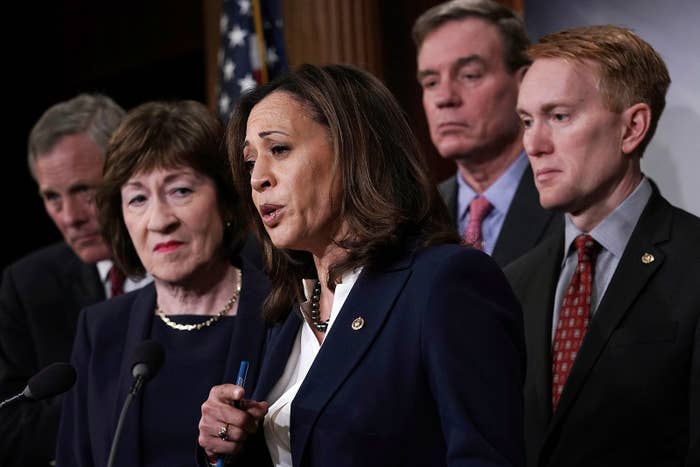 Senators from both parties say that Harris, who has shaped much of her presidential campaign around her image as a sharp-tongued prosecutor, is the same person behind closed doors as she is in front of the television cameras at public hearings. She is a smart colleague and a skilled questioner, they said, who largely steers away from partisan posturing during their private hearings.
Though the Intelligence Committee holds far fewer public hearings than other prominent Senate committees, Harris's sharp public questioning of Trump administration figures on the Intelligence, Judiciary, and Homeland Security committees has dramatically raised her national profile. Her Judiciary Committee interrogation of Brett Kavanaugh, Trump's Supreme Court pick, made her a celebrity in Iowa before she had even launched a White House run.
During the Intelligence Committee's weekly closed-door briefings, Harris and the other members must leave their cellphones and smartwatches behind. They frequently work out of a so-called SCIF, or sensitive compartmented information facility, tucked behind a set of glass doors in a long, second-floor hallway that overlooks the atrium in a Senate office building.
The Senate's Democratic leadership quickly named Harris to the committee after she won her seat in late 2016. She started on the committee in early 2017, just as it launched its Russia probe and began examining the actions of the Trump campaign during the election. (More recently, another Democratic presidential hopeful — Colorado Sen. Michael Bennet — has also joined the panel.)
Harris joined the Intelligence panel "because of the importance of this committee's work and of our intelligence community to America's national security," she said in a statement to BuzzFeed News last week.
She appreciates hearing from intelligence officials directly, she said. "I don't just want to read a memo about threats, I want to be able to ask questions and dig down deeper," Harris said. "I see part of my responsibility on the Committee as helping make sure no one is above the law."
It didn't take Harris long to get up to speed on the intricacies of the intelligence community — an often complex, insular world.
"She's been actively engaged since day one," said Warner, who has yet to endorse a Democratic presidential candidate. "There was no kind of warm-up period for her. She jumped right in." Republicans might disagree with her at times, Warner said, but "know she's whip smart."
Florida Sen. Marco Rubio, a Republican on the committee who ran for his party's presidential nomination in 2016, echoed Burr's comments about Harris's work ethic, saying she's "engaged and active," and "absolutely" comes to the briefings well-prepared.
"Generally, when you're on the Intelligence Committee, it's because you are interested in that work and understand its importance," Rubio said. "It's a lot of work."
Given the committee's secrecy, Rubio pointed out, "You don't get to be in front of the cameras ... you can't raise money on the committee. It's not that kind of committee."
Maine Sen. Angus King, an Independent member of the committee, said Harris "asks good questions" and has proven to be "diligent, capable," and "prepared."
"I'd give her a high rating as a member," King said, adding that he sits next to Harris in the SCIF. "So I'm in a position to know."
While the House Intelligence Committee's Russia probe was marred last Congress by partisan disputes, the Senate Intelligence Committee has mostly kept its investigation on the rails. Missouri Sen. Roy Blunt, another Republican member of the committee, complimented Harris's intellect and said she has mostly resisted bringing partisanship into the briefing room. "There were a couple of instances in the Russia investigation where members maybe on both sides had that rare, unusual moment for our committee of questions that sounded more political or appeared to be more political than they needed to be," Blunt said, "but very much contained on her part."
Harris's distinct approach to grilling Trump officials has at times thrown off officials who have come before the committee. In June 2017, she managed to unsettle Attorney General Jeff Sessions with her quick questions during an Intelligence Committee hearing about the Russia probe. "I'm not able to be rushed this fast," Sessions said. "It makes me nervous."
New Mexico Sen. Martin Heinrich, a Democrat on the committee, said hearings such as the one with Sessions "give a window into how she gets to the facts, which then leads you to where you should go next in terms of policy."
"Those public hearings are a very strong sort of one-to-one indication of how she operates all the time," Heinrich said.

Warner said Harris has "been tough but fair" with intelligence officials, who "don't mind tough questions but they want to be treated in a fair way."
"One of the things I've found earned a lot of points with me was when there have been a couple of times where she's clearly been questioning the policy, but she respects the job that the people ... are doing," he said. "She can disagree with folks on the policy but still respect the professionals."
Harris's campaign so far has steered away from foreign policy, focusing on domestic issues. Many of her signature plans on issues like gun control, abortion rights, and immigration lean heavily on executive power and the use of federal agencies — mostly the Justice Department.
But since joining the committee, Harris has pushed to increase requirements the government would need to meet to spy on Americans, traveled with Burr and another Republican member of the committee to Afghanistan to talk to officials on the ground, and helped introduce a bipartisan election security bill. Her Senate office said she has also made diversity in the intelligence community a priority, getting a provision into the most recent intelligence spending bill that would require more detailed diversity numbers.
"It's impossible to leave a briefing or return from an overseas trip without a profound appreciation for the sacrifice made by those serving in the intelligence community and our Armed Forces," Harris said in the statement to BuzzFeed News. "These are women and men whose entire lives are defined by their duty to their country, and so often their heroism happens in secret, with no expectation of public praise or recognition."
If elected, Harris would be the first president to have served on the committee, which was created in the 1970s.
"I think it's given her an appreciation for — as anybody would serving on that committee — for how hard that work is, how important it is. That's what I would hope," Rubio said. "You can never predict how someone will perform once they're in office, but that's my sense having interacted with her."