Joaquin Castro Says He's Considering Challenging Ted Cruz In 2018
In a BuzzFeed Brews interview, the Texas Democrat said he would make a decision by the spring.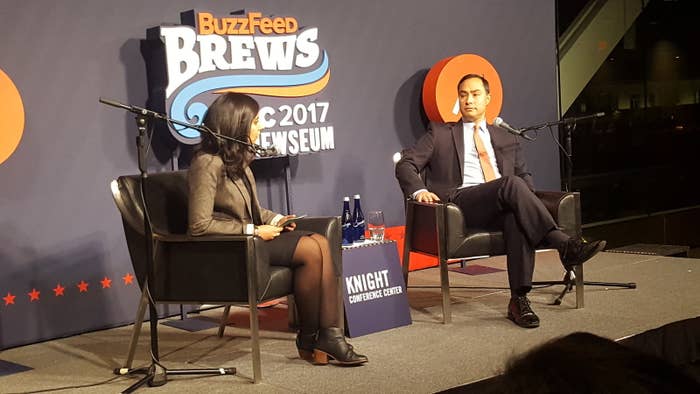 WASHINGTON — Democratic Rep. Joaquin Castro said Wednesday he's considering challenging Republican Ted Cruz in the 2018 Texas Senate race and that he will decide by this spring.
"I said that I'll take a look at it and I will," Castro said. "Obviously if you're going to run in Texas, it's a large state, you need a lot of money and a lot of time to mount a serious campaign."
"But I do think that there's going to be a real opportunity for Democrats in Texas and across the nation, really, because Donald Trump is leading the country in the wrong direction," Castro said during a BuzzFeed Brews interview series event at the Newseum. "And unfortunately, senators like Ted Cruz are following right along with him."
Castro also accused Cruz of not working for his constituents. "There's no question it would be a tough race and he would have a lot of money and he is really beloved by his base — you've gotta give him credit for that," Castro said, "but at the same time, he really has not done much for the people of Texas."
When asked about the potential of Texas turning blue in the next few years, Castro noted that two Texas districts currently held by Republicans went to Hillary Clinton in 2016. "I do think it's possible," Castro said of a Democrat winning statewide office in the near future. "It has been very tough. And it's a large state, so once you get in a hole, it's tough to climb out of because it costs a lot of money to run campaigns in that state. But I do believe we're moving closer."

"I think in the coming years, especially because you've got Donald Trump in the White House, I think you're going to see a lot of gains in state legislative races for Democrats," Castro said. "I think it's possible to win in the next few years a state-wide race."

Castro was one of many Democratic members of Congress who skipped Trump's inauguration on Friday. "Nobody did it with any animus," he said, adding: "Winning an election doesn't necessarily earn you any respect."
Castro hails from San Antonio, Texas, and represents the state's 20th district. He's a member of the House Foreign Affairs and Intelligence committees.
His twin brother, Julián Castro, was the last housing secretary under President Barack Obama. Both Castros have been considered rising stars in the Democratic party, which is trying to recalibrate following devastating election losses in 2016.