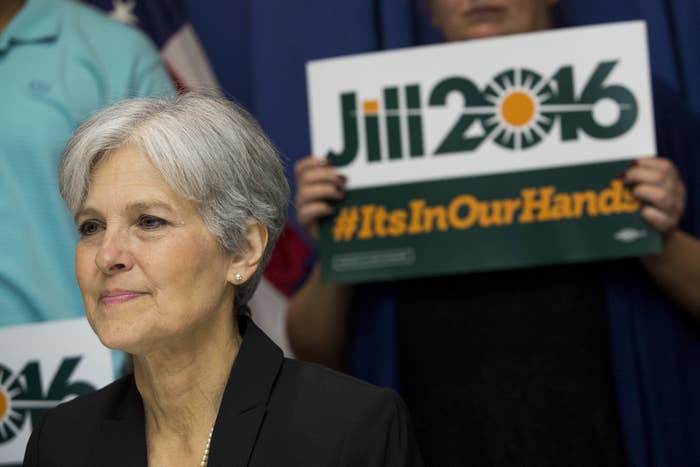 Former Green Party presidential candidate Jill Stein says she and her campaign have finished turning over hundreds of documents to the top congressional committee investigating Russian election interference in 2016 — but she is refusing to hand over some documents that she argues are protected by the Constitution.

In a telephone interview with BuzzFeed News, Stein said many of the documents she and her campaign recently sent to the Senate Intelligence Committee were emails with RT, a Russian state-funded media network that US intelligence agencies have dubbed a Kremlin propaganda outlet. Stein, who made several appearances on RT during the 2016 presidential race, said the emails were largely about setting up interviews.
"I doubt it reached a thousand documents, but it was certainly hundreds of basically emails, mostly communicating with RT producers about when we were going to show up and what time we needed to be where," Stein said.
Stein, however, has refused to hand over some documents from two of the six categories about which the committee inquired. One of those categories, according to a March letter from Stein's lawyer to the committee's bipartisan leadership, was for communications with "Russian persons," while the other asked for "all communications related to the campaign's policy discussions regarding Russia." Both categories asked for documents dated from Feb. 6, 2015, when Stein announced her interest in making her second presidential bid, to present.
Stein — who announced last week that she had finished turning over documents to the committee — says she did turn over materials related to her 2015 trip to Moscow to attend a conference, where she was photographed sitting at the same dinner table as Russian President Vladimir Putin and future White House national security adviser Michael Flynn. "The materials include records of the campaign's payment for my trip to Russia as well as longstanding Green Party policy objectives of promoting dialogue and diplomacy as essential alternatives to war, nuclear confrontation, and climate catastrophe," Stein said in the statement on Thursday.
"The dinner was a real nonentity," Stein told BuzzFeed News Friday. "Although the Russians, I'm told, are capable of speaking English, they did not, and we were not acknowledged, we were not introduced; there was absolutely nothing that went on at that table," Stein said, adding that "there were about four words translated between" Flynn and Putin. Stein said that conversation was along the lines of "How are you?" "Okay."
Both North Carolina Sen. Richard Burr and Virginia Sen. Mark Warner, the committee's respective chair and vice chair, have referenced Stein's trip to Russia while speaking about their interest in her campaign. Flynn, who was ousted from the White House just 24 days into the presidency, has pleaded guilty to lying to the FBI about communications with the Russian ambassador and agreed to cooperate with special counsel Robert Mueller, who is leading a criminal investigation into potential collusion between the Kremlin and the Trump campaign.
BuzzFeed News reported first in December that the committee had taken an interest in Stein. Earlier in April, BuzzFeed News reported that she had turned over documents in response to the committee's request late last year.
"Can I point out that when I was in Russia, they actually refused to identify me as a candidate?" Stein said. "So even though my campaign had requested that I be introduced and listed in the program and so on as a candidate, although I was not the nominee at the time, Russia refused to do that."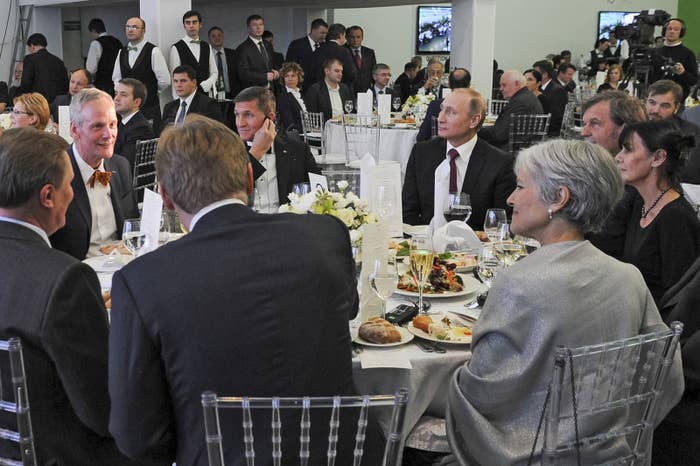 Stein said the two categories of documents she did not turn over "were overbroad" and "basically requested constitutionally protected material" — a sentiment echoed by her lawyer, who cited Stein's First Amendment rights in declining to provide documents about internal policy discussions.

"So we did not look for them, to tell you the truth," Stein said. "It's not as though there were these special documents that we thought were sensitive and therefore couldn't turn over. Truth to tell, I don't think we had anything sensitive and we did not go looking for our internal dialogue about our policy positions."
In her letter, Stein's lawyer argued that the committee's request for "all communications with Russian persons [was] so undefined and overbroad as to be untethered from any legitimate investigative or legislative purpose." However, Stein said she and her campaign provided communications "with persons known to be representatives of the Russian government, media, or business interests" as part of the other categories of documents the committee requested.
The committee also asked for any communications with WikiLeaks or DCLeaks, both of which published the hacked DNC emails, about "plans to disseminate information relating to the 2016 elections." And they sought any communications between the Stein campaign and former British spy Christopher Steele, who authored a dossier alleging years of Trump-Kremlin links. The dossier was first published by BuzzFeed News in January 2017, after security officials had briefed then-president Barack Obama and then-president-elect Trump about it. Stein's lawyer said they found no documents responding to either of those categories.
Stein, who was initially expected to make the documents she turned over to the committee public, told BuzzFeed News she is "not planning" to do so.
Burr and Warner have not ruled out using their subpoena power to compel Stein to provide the documents she refused to hand over. "I'll figure out where exactly we are and we'll take the appropriate steps," Burr said Thursday.
Asked whether they will ask Stein for an interview, Burr said: "I don't think that we've seen a need to have her in, but it seems like people are offended when we don't invite them now."
Stein told BuzzFeed News Friday she would be willing to be interviewed by the committee but added she is "really not at all" worried about a subpoena. "If they would like to go to battle on the constitutional protections, we think that the battle is worth fighting," she said. "Am I worried that there are documents here that are potentially dangerous? I'm not worried about that at all, so I feel like I have absolutely nothing to hide and nothing at risk. On the other hand, what's at risk here are our constitutional liberties, which should be protected."