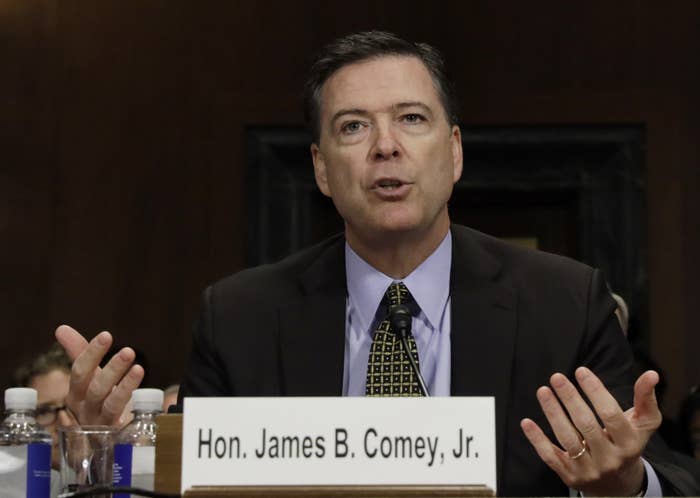 FBI Director James Comey told Congress Wednesday that he feels "mildly nauseous" that the FBI might have affected the outcome of the presidential election.
In a hearing before the Senate Judiciary Committee, Comey defended his decision to announce 11 days before the election that the FBI had found new emails related to the closed Hillary Clinton investigation.
"Look, this was terrible," Comey told the committee, which was holding a hearing on FBI oversight. "It makes me mildly nauseous to think that we might have had some impact on the election."
Comey was asked by Sen. Dianne Feinstein, the ranking Democrat on the committee, why he told Congress the FBI had new information in the Clinton case, but stayed silent on its investigation of links between Russia and the Donald Trump campaign until just recently. (Comey confirmed for the first time in March that the FBI had been investigating those since July of last year).
Comey said that on October 27, the FBI team that had previously investigated Clinton's use of a private email server while serving as secretary of state came to him with metadata they could see on a laptop belonging to former Rep. Anthony Weiner. Weiner was married to Huma Abedin, one of Clinton's top aides.
Comey said they could see "thousands of Secretary Clinton's emails on that device, including what they thought might be the missing emails from her first three months as secretary of state."
Comey said "if there was evidence she was acting with bad intent, that's where it would be."
"But they weren't there," Feinstein interjected.
"Can I just finish my answer, senator?" Comey said.
He continued, saying he authorized investigators to seek a search warrant. "And then I faced a choice," Comey said. "And I've lived my entire career by the tradition that if you can possibly avoid it, you avoid any action in the run-up to an election that might have an impact."
"But I sat there that morning and I could not see a door labelled 'No action here'. I could see two doors, and they were both actions: One was labelled 'speak', the other was labelled 'conceal'," Comey said.
He says he felt that, because he had already told Congress there was nothing in the Clinton investigation to prosecute, "to restart in a hugely significant way, potentially finding the emails that would reflect on her intent from the beginning and not speak about it, would require an act of concealment."
"So I stared at 'speak' and 'conceal,'" he said. "Speak would be really bad; there's an election in 11 days, lordy, that would be really bad. Concealing, in my view, would be catastrophic — not just to the FBI, but well beyond." So, he said, he went with the "really bad" option.
Comey says the FBI spent days pouring over the information and found classified information on Weiner's computer, who was under a separate investigation for communications with an underage girl. Comey said he believed Abedin would send thousands of emails — some containing classified information — to Weiner so he could print them off for her.
Republican senators on the committee, including Sens. Ted Cruz and John Kennedy, pressed Comey to explain why Abedin wasn't charged for sharing classified information with her husband. Comey said they determined that Abedin did not have criminal intent, meaning she wasn't aware that what she was doing was unlawful.
In reviewing the emails on Weiner's computer, Comey said FBI investigators did not find anything that changed their assessment of Clinton's intent.
"Everybody who disagrees with me has to come back to October 28th with me and stare at this, and tell me what you would do," Comey said. "Would you speak or would you conceal?"
"Even in hindsight — this has been one of the world's most painful experiences — I would make the same decision."