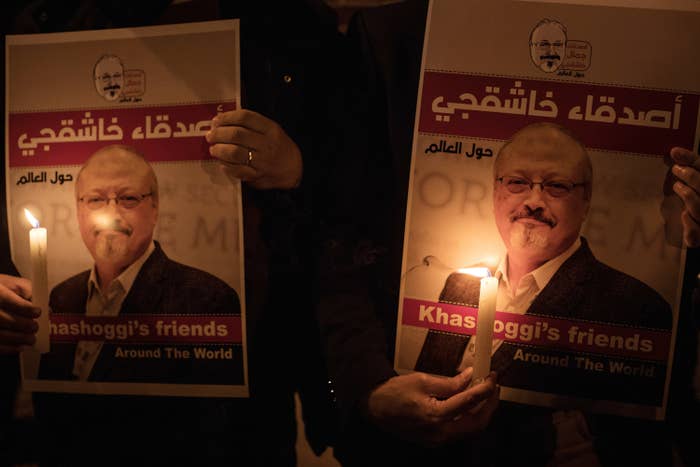 WASHINGTON — Oregon Sen. Ron Wyden said he will seek to make public the secret information about the murder of Washington Post columnist Jamal Khashoggi if the Trump administration continues to refuse to turn over a report on the issue.
Earlier this week, the director of national intelligence was required by law to provide an unclassified report to Congress on Khashoggi's brutal killing at a Saudi Consulate in 2018. However, the DNI missed the deadline, as BuzzFeed News first reported Thursday, prompting inquiries from lawmakers.
On Friday, Wyden told reporters that if the DNI fails to produce the report by the end of President Donald Trump's ongoing impeachment trial, he will trigger a process that would allow the Senate to "unilaterally" release information itself.
"It has been more than a year since agents of the Saudi government murdered Jamal Khashoggi in the Saudi Embassy in Turkey, and yet the Trump administration refuses to publicly acknowledge who ordered that assassination, and instead the Trump administration is basically running interference for an authoritarian government," Wyden said.
Wyden, a member of the Senate Intelligence Committee, declined to say what the panel knows about Khashoggi's death, citing its strict rules around secrecy. The CIA has reportedly concluded that Saudi Crown Prince Mohammed bin Salman ordered the killing, and senators have said they had little doubt he was involved following a briefing from CIA Director Gina Haspel in December 2018.
"If there isn't a new DNI report, I can work to declassify information that would go into it," Wyden said of the information he would seek to have released through the Senate process.
That process, outlined in the Senate resolution that formed the committee in 1974, states that the panel may disclose any information in its possession if it would serve the public interest. The process would require a committee vote and could end in a full vote on the Senate floor, which would take weeks.
Wyden said the process has been triggered before but never reached its conclusion; lawmakers and the administration have been able to eventually come to an agreement in those cases.
Asked if the move would garner enough support to be approved by the Republican-controlled committee and Senate, Wyden said there isn't much appetite among Senate Republicans for covering for the Saudis. In December 2018, the Senate voted to end US aid to the Saudi war in Yemen in response to Khashoggi's death — a move that contrasted Trump's refusal to publicly call out Saudi leadership for the killing.
A spokesperson for North Carolina Sen. Richard Burr, the committee chair, declined to comment.