Illinois Senator Mark Kirk Made A Racist Remark About His Opponent's Heritage
"I had forgotten that your parents came all the way from Thailand to serve George Washington." After not doing so following the debate, Kirk apologized for the remark on Friday afternoon.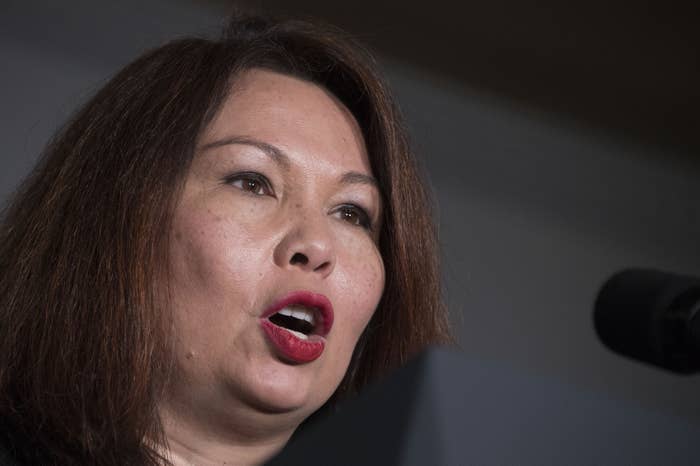 WASHINGTON — Illinois Sen. Mark Kirk questioned the military service of his Democratic opponent's family by attacking her mixed heritage at a debate Thursday night.
Tammy Duckworth, an Illinois congresswoman of Thai and American descent, had been speaking about the need to carefully evaluate the costs of war before rushing into combat.
"I'm a daughter of the American Revolution. I've bled for this nation," Duckworth said at the University of Illinois in Springfield. "But I still want to be there in the Senate when the drums of war sound, because people are quick to sound the drums of war and I want to be there to say, 'This is what it costs, this is what you're asking us to do'. Let's make sure the American people understand what we are engaging in."
Kirk responded, "I had forgotten that your parents came all the way from Thailand to serve George Washington."
After a moment of awkward silence, the moderators moved on to the next question.
Duckworth's mother is Thai and her father is an American who served in the US Army. Duckworth was a helicopter pilot in the army and lost both her legs during the Iraq War. Her family traces their military roots back to Revolutionary War.
Through a spokesperson, Kirk did not apologize for the remark.
"Senator Kirk has consistently called Rep. Duckworth a war hero and honors her family's service to this country," a spokesperson said in a statement. "But that's not what this debate was about. Rep. Duckworth lied about her legal troubles, was unable to defend her failures at the VA and then falsely attacked Senator Kirk over his record on supporting gay rights."
Kirk has tried to portray himself as a moderate Republican and has distanced himself from GOP nominee Donald Trump, un-endorsing him in June. He has consistently trailed in the polls to Duckworth.
Update: Kirk apologized to Duckworth on Twitter Friday afternoon.