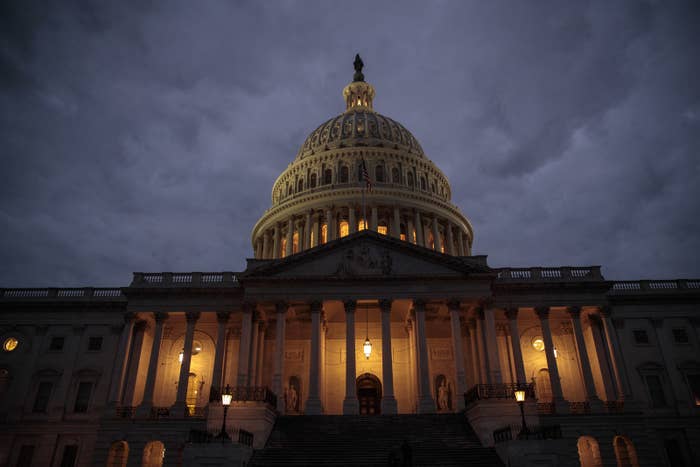 Senate leaders said Sunday evening they have still not reached a deal to end the government shutdown that began Friday night at midnight, but they did give some hope for a potential deal by scheduling a key vote Monday at noon.
The Senate will vote to move forward with a bill to keep the government open through Feb. 8, but scheduling it in the afternoon means that only essential federal employees will be able to report to most agencies in the morning and many government services will be closed.

The plan to keep the government funded for three weeks failed to gain sufficient support to move forward on Friday night, just after the government shutdown.
But, for the first time Sunday night, Senate Majority Leader Mitch McConnell publicly promised a vote on a deal to save the Deferred Action for Childhood Arrivals program, which President Donald Trump has set to expire in March. It may be an empty gesture given that House Republicans have made no commitment to vote on such a bill. Still, that Democrats and Republicans agreed on a noon vote Monday shows that the two sides are talking again after spending much of the week without making progress.
Democrats have insisted that any bill to reopen the government must include a deal on DACA, the Obama-era program that protects roughly 700,000 children of undocumented immigrants from deportation.

Senate Majority Whip John Cornyn told reporters Sunday night that House Speaker Paul Ryan was aware of McConnell's plan on DACA. "I think they're an independent body and they'll do what they want to do," he said of the House.

Several senators who opposed prior plans to keep the government open said Sunday they would support a bill to reopen it in exchange for such a promise from McConnell. When the Republican leader pushed for a vote at 10 p.m., however, Senate Minority Leader Chuck Schumer objected, saying that members still have not come to a deal that works for both sides.
The Senate then adjourned just before 9:30 p.m.

"I think [Schumer] wants to just give everybody a chance to chew on it and sort of understand it, so that's why he didn't want to have the vote tonight," Cornyn told reporters.
Earlier Sunday, at least some members were trying to work toward an agreement on their own. More than 20 senators from both parties spent more than an hour in the office of Maine Sen. Susan Collins, a moderate Republican, in the afternoon, working on a plan.

The group of senators was coalescing around the three-week bill, which would keep the government open until Feb. 8 and provide six years of funding for the Children's Health Insurance Program, which offers medical coverage for the children of low-income families.
McConnell and Schumer reportedly met Sunday evening to discuss the plan.
South Carolina Sen. Lindsey Graham, one of four Republicans who voted against the short-term bill that would have kept the government open for a month on Friday, emerged from the meeting saying he would support the three-week deal.

"I think Mitch McConnell has provided a pathway forward that makes sense to me," Graham told reporters, dressed in a Sunday casual style of running shoes and an orange Clemson baseball cap. "He said on the floor about 10 times that February 8 is enough time for us to do our business, and that business now includes immigration."
Arizona Sen. Jeff Flake, another Republican who opposed the previous spending bill, said after McConnell promised a DACA vote that he, too, would support the three-week plan.
Several Democrats leaving the meeting Sunday afternoon also said they would vote in favor of the plan if McConnell made a commitment to deal with DACA and immigration.

Democratic Sen. Chris Coons told reporters that members were now focused largely on procedural issues regarding the deal, agreeing that their focus on logistics at this point meant they were in agreement on the broader issues.
"We've had a lot of procedural conversations; we're going to go take it to our respective leadership," he said.
New Hampshire Sen. Jeanne Shaheen, a Democrat, said that "there is a very high level of trust" between those engaged in the bipartisan discussions, in part because they've worked together before.

"The unknown is the president," she told reporters. "And it's not at all clear what he wants or what he's going to say."
Asked if it would be helpful for Trump to weigh in on a deal, Flake, a frequent Republican critic of the president, told reporters, "I just don't think it helps at all for him to be involved right now."
Graham, who coauthored a bipartisan bill to protect DACA that was abandoned by leadership last week after the White House panned it, had urged McConnell earlier in the day to promise members who are still on the fence that if the Senate doesn't deal with DACA by that time, the chamber would take it up as a standalone bill. That would give members three weeks to work it out before the DACA deadline in early March. "That will get a lot of votes," Graham said.
"I'm not asking anybody to trust anybody," Graham said. "I'm asking people to grow up and realize that we're in charge of the House and the Senate, and that we have an obligation to work across the aisle."
Asked about doubts that McConnell would stick to his plan to hold a vote on DACA in February, Flake told reporters, "I simply think that given the high-profile nature of this debate right now and representations that have been made, I think that he'll need to."

Senate Majority Whip Cornyn warned Sunday afternoon, however, that Democrats will not get a vote on DACA before Feb. 8, calling the idea "ridiculous" at this point.
"We're more than happy to have a vote on it, well before the deadline — we've committed to that. But you know, turning the agenda over to Democrats who've just shut down the government makes no sense to me. It seems like it just encourages bad behavior," he said.
Cornyn said he was personally confident the issue would be dealt with sometime in February.
"I'm asking people to grow up and realize that we're in charge of the House and the Senate, and that we have an obligation to work across the aisle."
On the other side of the Capitol, House Republicans were at loose ends, waiting on the Senate to make a decision. Members arrived on the Hill for a House Republican conference meeting Sunday afternoon, many of them in jeans and casualwear. Maine Rep. Bruce Poliquin walked toward the meeting holding a shopping bag with a box of Fiber One cereal. Nebraska Rep. Jeff Fortenberry strategically positioned himself next to another person to hide his casualwear from the cameras. Others, like Nevada Rep. Mark Amodei, entered unselfconsciously in a T-shirt and faded jeans.

"I'm five minutes away from changing. I'm 48 — is that so wrong?" said a mock-indignant Rep. Mark Walker, when reporters questioned his blue jeans.
The meeting was over almost as soon as it began. Nothing had changed; there wasn't much to say.
Leadership's brief message, said Arizona Rep. David Schweikert, was that there wasn't much to do until Senate Democrats budged. "They ran it into the rocks," he said. "Let them pull it off."
Schweikert, a member of the Freedom Caucus, a conservative bloc that has often been responsible for moments of legislative gridlock, found that particular aspect rather entertaining. "We were just joking — it's sort of amusing having something like this that's not my fault," he said.
With all the waiting, members were unsure how to use their time. Rep. Richard Hudson put up bunny ears over fellow North Carolina Rep. Mark Meadows' head as he recounted his discussions with the administration. "I saw that," shouted Meadows. Hudson cackled.
Nebraska Rep. Jeff Fortenberry and his wife saw a Vermeer exhibit at the National Gallery, but were disappointed to discover that the Botanical Gardens were closed on this unseasonably warm day. Those and other Smithsonian properties in Washington, DC, are expected to be open on Monday, according to an email sent to staff over the weekend, but could close if the shutdown continues.
On the Senate side, Sen. Patrick Leahy gave reporters a photography lesson, showing off a particularly great shot he got of the moon last night, before flagging down Graham to take a shot of him in his weekend wear, which included running shoes and a golf windbreaker. Graham posed with two thumbs up. Then the two moved about 10 feet away to whisper among themselves out of earshot of reporters.
Asked whether he thinks the shutdown will continue into Monday, Cornyn told reporters, "Right now, yeah. Yeah, I do."

Shaheen emphasized, however, that both sides do want to find a deal. "Everyone I've talked to thinks that it's very important to get the government open as quickly as possible," Shaheen told reporters, as she walked into the elevator outside the Senate chamber.
A reporter asked how optimistic she was that that would happen.
"I don't know," Shaheen replied, as the elevator doors closed.