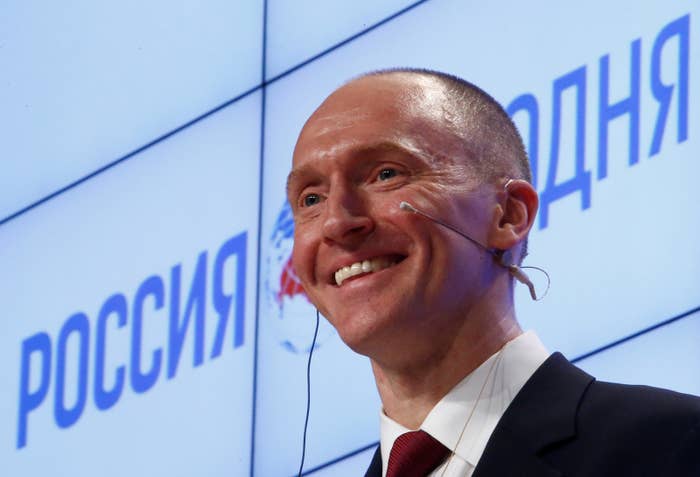 Trump associates caught up in various congressional Russia investigations and special counsel Robert Mueller's probe have often communicated with the public and investigators through their lawyers. Carter Page, a former foreign policy adviser to Donald Trump's campaign, has been going it alone recently.

Page, who joined Trump's foreign policy team in March 2016 and has faced scrutiny for a trip he made to Moscow in July of that year, has instead embraced the spotlight, making high-profile media appearances and testifying, without legal counsel, to the House Intelligence Committee for more than six hours last week.
While Page told BuzzFeed News on Tuesday that he's taking a public approach to the investigation in part to clear his name, his decision to testify without a lawyer came down to financial constraints. "I have over $10 million of legal work that I'm now engaged in," he said. "From a budgeting standpoint, it's more efficient and interesting to handle this work myself." Page said the $10 million in legal work is a cost estimate related to his his defamation case against the parent company of Yahoo and the Huffington Post.
The committee released a transcript of the interview, which Page requested be made public, on Monday night, capping off a week of public appearances that also included television interviews with CNN and MSNBC — leaving many to wonder exactly what Page was doing. Those appearances came the same week news broke that Mueller had indicted former Trump chairman Paul Manafort and Rick Gates, his business partner, and that George Papadopoulos, another former foreign policy adviser, had pled guilty to lying to the FBI.
"You can tell by the interview that he's an offbeat character and he's definitely been more talkative than just about anybody else, perhaps with the exception of Michael Caputo, I think," Texas Rep. Joaquin Castro, a Democrat on the Intelligence Committee, told BuzzFeed News on Tuesday.
In past correspondence with committee leadership, as well as during last week's interview, Page spoke at length about what he views as attacks on him by the Obama administration and Hillary Clinton's campaign, including "illegitimate FISA warrants." The Washington Post reported in April, citing US officials, that the FBI had obtained a warrant to spy on Page's communications "after convincing a Foreign Intelligence Surveillance Court judge that there was probable cause to believe Page was acting as an agent of a foreign power, in this case Russia."
Texas Rep. Mike Conaway, who took committee chairman Devin Nunes' place leading the Russia investigation after Nunes stepped aside, said Tuesday he believes Page is "trying to redeem his name," noting that Page "would talk a lot" during the interview.
"No shortage of conversation with Mr. Page," Conaway told reporters, smiling.
"I think he felt like he got maligned from previous stuff that's going on and he wanted an opportunity to tell his side of the story, and we gave him plenty of opportunity to tell his side of the story," Conaway added.
Page has long wanted his interview with the committee to serve as a public platform for his message. In a May 2017 letter to committee leadership, included in the transcript, Page made a pitch for "some form of live public access" of his testimony, "either live-streamed via the internet, on public-access television or perhaps C-SPAN-8."
"It is important that the American public have an opportunity to hear the truth following the outrageous allegations that have been made against me on behalf of the Clinton campaign," Page said.
Indeed, Page used every opportunity he could during his lengthy testimony and media appearances last week to push back against allegations about him contained in what he repeatedly called the "dodgy" dossier compiled by former British spy Christopher Steele. BuzzFeed News first published the dossier, after security officials had briefed President Barack Obama and then-president-elect Donald Trump about it.
Page's decision to appear before the committee without a lawyer surprised members, including Conaway. Castro said Page's decision to testify without a lawyer was "a first" for the committee. "You know, as an attorney myself, I certainly would think that somebody would want to have a lawyer with them, but there's also a high cost financially for somebody to be able to afford a lawyer."
And despite Page's efforts to make his testimony about the alleged attacks on him by Democrats, he ultimately revealed new information related to the investigation into the Trump campaign's connections to Russia, including that he informed Trump campaign officials Corey Lewandowski, Hope Hicks, and J.D. Gordon of his trip to Moscow in 2016. Rep. Adam Schiff, the top Democrat on the committee, was also able to poke holes in Page's claims that he only met one Russian government official during the trip and that the interaction was a very brief greeting rather than a substantive discussion, using an email from Page to campaign officials after the trip suggesting otherwise.
There had been early signs that Page was approaching the investigations unorthodoxly, such as when he showed up at the offices of the Senate Intelligence Committee telling the panel to investigate whether Clinton and Obama had infringed on his "civil rights." But not only did last week's testimony take longer than most, it also delved into the absurd at times, with Gowdy having to distinguish with Page what constituted "a meeting, a greeting, a conversation, and you hearing a speech." Gowdy performed a similar exercise with Page regarding the words "collusion, coordination, and conspiracy," words that Page said he hears "a lot and it's quite confusing."
Gowdy also seemed to express frustration when Page claimed he couldn't recall how many times the FBI had interviewed him in 2016. Page said he's "always very cautious, for confidentiality reasons, to not take notes." Gowdy retorted, "I try to be cautious too, Dr. Page, but it is not difficult for me to remember the number of times the FBI has interviewed me in 2016 because the answer would be zero."
Page previously said the FBI had interviewed him four to five times in 2017, and that the agents' questions centered around allegations in the Steele dossier.
In another instance, Page mentioned his frequent flyer status with Delta Airlines. He also struggled to explain to Schiff why he was invoking the Fifth Amendment if, as he claimed, the documents the committee has requested from him wouldn't incriminate him.
One member of Congress, speaking on background, said the way Page hedged his answers suggested he was not telling the whole story. "You could tell from the way that he was qualifying his answers, for example, [he] insisted that he never lies, that he's always telling the truth — those are usually signs of somebody that has something to hide."
The Senate Intelligence Committee, for its part, appears to be less interested in what Page told House investigators. Sen. Mark Warner, the vice chairman of the committee, smiled wide when asked about Page's strategy and testimony. "I haven't read it yet, but that may be giving too much credit [to him]," he said.
Page has said he won't testify before the Senate Intelligence Committee and is pleading the Fifth, Politico reported last month.
Sen. Richard Burr, Warner's Republican counterpart, said Tuesday that the committee has "a rich history of people being willing to do things publicly and all of a sudden go through contortions, claiming that they can't even interview with us."
"Carter Page is a poster child [of that]," Burr said.