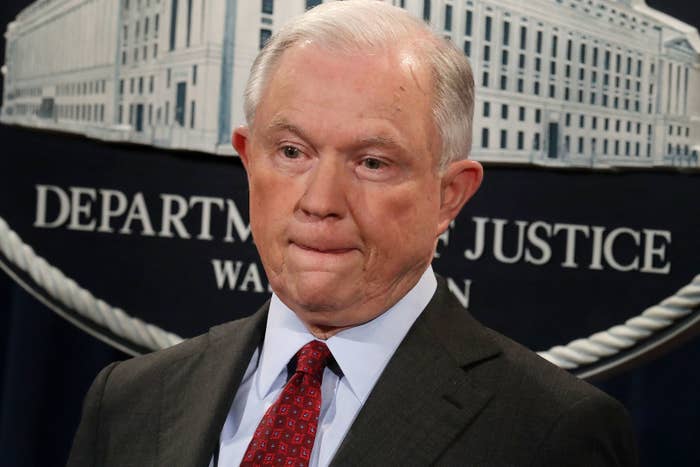 Six months into the Trump presidency, Republican senators are more than used to facing questions about whatever controversial thing the president has tweeted most recently. Many have tired of this pattern and perfected boilerplate responses to deflect calls to either denounce or defend the president's latest social media musings.

But over the last week, Republican senators have provided an unusually forceful response to the president's attacks on their friend and former colleague, Attorney General Jeff Sessions, as he faces open and repeated criticism from the president over his decision to recuse himself from the Russia investigation.
A broad spectrum of Republican senators have spoken out against the president in recent days, delivering stark warnings against firing their friend and laying out, for the first time, consequences for targeting the historically independent Department of Justice.
"It's the president's prerogative [to fire Sessions], but he's then going to jeopardize potentially his ability to get anything else done here," Senate Majority Whip John Cornyn, the number-two Republican in the Senate who has typically deferred on questions about Trump's circle and Russia, told reporters last week.
Republicans have found themselves at odds with Trump before, notably when the White House and their allies threatened retribution against Sens. Dean Heller and Lisa Murkowski over their positions on health care. A handful of Republican senators were also deeply critical of Trump's tweeted announcement that transgender Americans would no longer be allowed to serve in the military. And many Republican members of Congress have repeatedly expressed concern that personal feuds and general upheaval at the White House could jeopardize the GOP agenda.
But senators have typically been hesitant to weigh in on Trump's comments on Russia, often deferring to the Senate Intelligence Committee which is investigating Russian interference in the 2016 election. But the rumors of Sessions' imminent departure — because he recused himself in the Russia investigation — have senators going much further in their critiques of the president.
"This effort to basically marginalize and humiliate the attorney general is not going over well in the Senate," South Carolina Sen. Lindsey Graham told reporters on Capitol Hill. "I don't think it's going over well in the conservative world. If you believe Jeff Sessions should be fired, use the power you have, and accept the consequences. I hope it stops."
"If Jeff Sessions is fired, there will be holy hell to pay," Graham said.

Graham added that "any effort" to go beyond firing Sessions and push for the ouster of special counsel Robert Mueller, who is leading the FBI's investigation into potential collusion between Russia and the Trump campaign, "could be the beginning of the end of the Trump presidency — unless Mueller did something wrong."
Many Republican senators cited their personal relationships with Sessions — who spent 20 years in the Senate and was the first senator to endorse Trump — in their unusual defiance of the president.
"I served with Jeff for six years, really enjoyed serving with him and, you know, like him a lot," Wisconsin Sen. Ron Johnson said on Thursday. "I know he's a person of integrity, just completely honest, and so you probably see more of a reaction to that because we know who Jeff is. […] There's more of a basis for us to react and obviously we like our friend and, you know, we respect him."
Sen. Richard Shelby, who served as Sessions' fellow senator from Alabama for the latter's entire Senate career, told CNN last week that Sessions was "obviously being brutalized when he shouldn't be," repeatedly saying that the attorney general "didn't deserve" the treatment he was getting from Trump. "We don't have to sit around and say we like what's going on," Shelby said.
The full-throated response from Republican senators, however, wasn't just about defending an old friend. Reports that the president is considering firing Sessions when Congress takes its August recess — in an attempt to bypass Senate consideration of his replacement — have some Republicans particularly on-edge.
Nebraska Sen. Ben Sasse took to the Senate floor to firmly warn Trump against replacing the attorney general when Congress leaves town, arguing that doing so would be a major overstep. "If you're thinking of making a recess appointment to push out the attorney general, forget about it," Sasse said in the speech. "The presidency isn't a bull and this country isn't a china shop. Mr. President, you're a public servant in a system of limited government with a duty to uphold and to defend and to teach to our kids the constitution's system of checks and balances."
An aide from Sasse's office said the senator is worried that Trump will try to replace Sessions during the August recess "with an eye toward" removing Mueller. Sasse wants to protect the independence of Mueller's investigation, hoping it will "be thorough and comprehensive," the aide said.

Sen. Chuck Grassley, chair of the Senate Judiciary Committee — which vets judicial nominations — warned Trump in a tweet that there was "no way" his committee would approve of a new attorney general if he fires Sessions, citing a full schedule.
Graham called the tweet "chilling."
The more aggressive responses came during the same week that both the House and Senate overwhelmingly passed legislation that would prevent the president from rolling back Russia sanctions without congressional approval.

Going forward, Graham said he plans on introducing legislation soon to prevent a president from firing a special counsel investigating the president without judicial review.
One Senate GOP aide said Sessions' friendship with members accounts for much of the support he's received on Capitol Hill. "That and the general ridiculousness of Trump's desire to see Sessions end the Russia investigation," the aide said.
The aide, speaking on background, said congressional Republicans aren't necessarily frustrated with Trump. "By now everyone knows he is what he is," the aide said. "Resigned may be better."