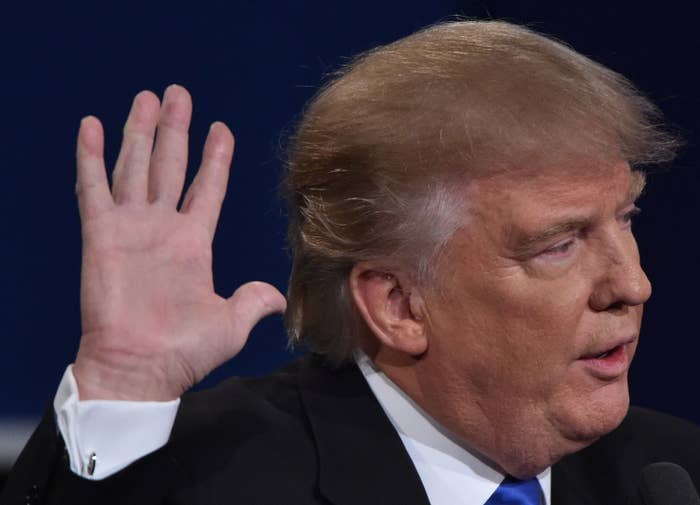 House Democrats say they were happy to hear Republican nominee Donald Trump agree with Democratic candidate Hillary Clinton on gun control at the first presidential debate, but question whether he was just angling for votes.
"He's trying to win an election," Rep. Keith Ellison said Tuesday morning. "He might say anything if it might help him."
"Nothing he says surprises me. He would literally claim anything."

At Monday night's debate, Clinton said Congress needed to pass legislation banning anyone on the terrorist watch list from buying guns. "If you're too dangerous to fly, you are too dangerous to buy a gun," she said.
Trump, who has the support of the NRA, said he agreed "quite strongly" with Clinton. "A lot of people even within my own party want to give certain rights to people on watch lists and no-fly lists," he said. "But I think we have to look very strongly at no-fly lists and watch lists."
In June, House Democrats held a sit-in to try to force Republicans to schedule a vote on gun control legislation that included banning people on the terror watch list from buying guns.
"We've been urging that that bill be brought to the floor, and I was pleased to see that Trump apparently agrees with that," said Democratic Whip Steny Hoyer. "And the sad thing is that 90% of the American public holds that position, which is why probably Trump took that position."

"Notwithstanding he has the NRA support, so you don't know whether he really means it or not," Hoyer said, adding that the NRA opposes the legislation.

Democratic Caucus Chairman Xavier Becerra said he'll "take [Trump] at his word," and that he hopes his Republican colleagues "will understand that the nominee and leader of their party is saying that it's time for us to act on sensible gun safety measures."
"Unfortunately, I don't think they will," he said.
But Republican Rep. Jeff Fortenberry said the idea of banning people suspected of being terrorists from buying guns "is generally acceptable."
He said Trump was talking about a narrower version of the bill. That bill has Republican support but is opposed by Democrats.

He said a ban that targets a narrower subset of the broader no-fly list and ensures people don't mistakenly have their rights taken away could pass — but he isn't making any predictions. "I think that one has a possibility [of passing], but yeah, it's all controversial," he said.