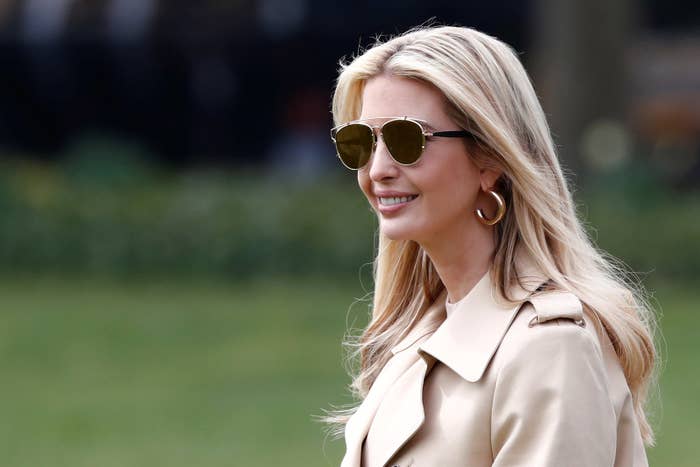 Editor's note: On April 18, 2019, special counsel Robert Mueller's report from his investigation into Russian meddling in the 2016 election revealed new information about this article. The report said that the Russian who told Michael Cohen he could put Donald Trump in touch with Vladimir Putin during negotiations over Trump Tower Moscow was not the former Olympic weightlifter Dmitry Klokov, as Cohen believed him to be throughout their communications, but a former government official with the same name. References to the weightlifter have been removed from the subhead, but the main text of the story has not been edited since its initial publication.

Multiple Democrats on the committee leading the congressional investigations into Russian election interference say they want to interview Ivanka Trump as part of the probe.
Calls for the Senate Intelligence Committee to interview Ivanka Trump, who has largely avoided scrutiny as part of the congressional and FBI investigations into Russian meddling in the last presidential election, follow an exclusive report from BuzzFeed News that found that in the midst of the presidential campaign, she was in contact with a Russian weightlifter who offered to connect her father to Russian President Vladimir Putin in order to facilitate building a Trump tower in Moscow.
Oregon Sen. Ron Wyden, a Democrat on the panel, said he would like staff on the committee to interview Ivanka Trump about "two separate national security questions." First, Wyden said investigators should ask about BuzzFeed News' reporting that Ivanka Trump connected the weightlifter, Dmitry Klokov, with her father's longtime personal lawyer Michael Cohen, who was working on the Trump tower project, "and what her role might have been in that."
The second issue, he said, is China's recent decision to grant Ivanka Trump trademarks around the same time her father promised to help Chinese telecommunications equipment manufacturer ZTE, despite the US government having fined the company just last year for breaking sanctions and citing it as a threat to national security.
"I would like to have the staff look at both of those issues," Wyden said.
Democrats on the committee "have wanted to bring her in for a while," a source familiar with the matter said. However, Ivanka Trump is still not considered a central figure in the investigation, the source said, so the committee has focused instead on scheduling interviews for other, more essential witnesses. "It's just a debate about priorities that we haven't sorted out yet," the source told BuzzFeed News.
Republicans on the committee "obviously aren't wild about" bringing the president's daughter in for an interview, the source said.
Texas Sen. John Cornyn, a member of the committee and the number-two Republican in the Senate, didn't rule out the need to have Ivanka Trump come before the committee, saying he would need to consult staff before deciding whether it was necessary. He noted, however, that there does not appear to be anything illegal about her actions.
A spokesperson for North Carolina Sen. Richard Burr, the committee chair, declined to comment. Virginia Sen. Mark Warner, the vice chair of the committee, also declined to say whether he wants the panel to interview Ivanka Trump.
Committee staff have thus far interviewed more than 100 witnesses, including Cohen and members of Ivanka Trump's immediate family, such as her brother Donald Trump Jr., and her husband, Jared Kushner.
In November 2015, as the Republican primaries were well underway, Ivanka Trump — then an executive vice president of development and acquisitions at the Trump Organization — instructed Cohen to speak with Klokov, four sources familiar with the matter told BuzzFeed News.
Cohen and Klokov exchanged emails and had at least one phone call, and the weightlifter said he could set up a meeting between Donald Trump and Putin to help expedite the development of a Trump tower in the Russian capital. Those emails are now in the hands of the committee, as well as special counsel Robert Mueller.
Cohen would later refuse the offer and say he was cutting off further contact with Klokov, prompting the weightlifter to copy Ivanka Trump on a final frustrated email to Cohen. Ivanka Trump then questioned Cohen's decision to end communications with Klokov, according to a source.
Through a spokesperson for her attorney, Ivanka Trump acknowledged having passed on information about Klokov to Cohen. The spokesperson said that Ivanka Trump "did not know and never spoke" to the weightlifter. "She received an unsolicited email from his wife (who she also did not know) and passed it on to Michael Cohen who she understood was working on any possible projects in Russia. She did no more than that."
In text messages with BuzzFeed News, Klokov claimed he never emailed Cohen. Two days after BuzzFeed News published its story, the weightlifter posted a statement to his Instagram account, saying he was "very surprised to see [his] name in the news in America this week."
"I have never communicated with anyone in the Trump organization, including Trump's family or legal representatives, and specifically the Mr. Cohen who is in the news story," Klokov wrote to his nearly 350,000 followers. "I was very proud to be a part of many Russian national weightlifting teams, but I do not have any inside connections to the Russian government. No part of the story of my involvement with these people is true."
Anthony Cormier and Jason Leopold contributed to this report.