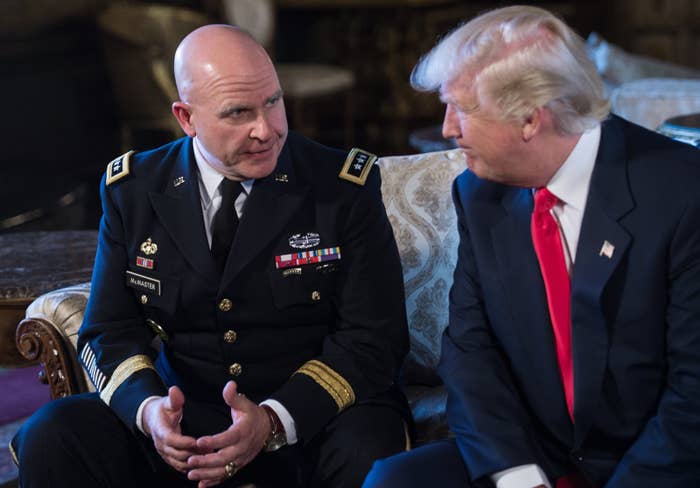 WASHINGTON — Democrats on the Senate Armed Services committee, which voted Tuesday on Trump's pick to replace Michael Flynn as the White House national security adviser, say they are comforted and relieved by Lt. Gen. H.R. McMaster's appointment to the postion.
Sen. Claire McCaskill said McMaster, who got the nod from Trump after Flynn's resignation in mid-February, is "a sane, informed voice in the area of national security that is needed in this administration."
"I think he is grounded, I think he is non-partisan, I think he is really knowledgeable about the importance of our alliance," McCaskill said.
McMaster replaces Flynn, who resigned in February after it was revealed that he failed to tell the vice-president about contacts with the Russian ambassador after the election. Flynn, a retired three-star general and Trump campaign surrogate, was viewed by many as an ideologue who at times expressed islamophobic views.

McMaster, who holds a doctorate in history, is an accomplished military officer who earned the Silver Star for his service in the Gulf War. He also wrote a book criticizing the US military for its handling of the Vietnam War.

"I think he can speak truth to power," said Democratic Sen. Richard Blumenthal, who voted in favor of McMaster. "He can also speak sanity to tumult."
"I feel vastly comforted that someone with his intellect and integrity, as well as his stability and balance and character, is close enough to the [...] hand and mind who are able to get us into conflict," Blumenthal said.
Sen. Tim Kaine said McMaster, who "made his reputation as the guy who did not mind speaking truth to superiors," is "about a 100 [times] trade-up" on Flynn.
"You've got to have more mature people in there to counter people like [Steve] Bannon who don't know what they're doing and are very dangerous people," Kaine said.
Appointments to the White House National Security Council don't require Senate confirmation. However, McMaster remains on active duty and must be reappointed by the Senate in his current military grade if he wants to maintain it in his new role.

Senators on the Armed Services committee voted 23 to 2, with 2 abstentions, on Tuesday morning in favor of reappointing McMaster at the three-star level.
But Democrats aren't completely on-board yet. Kaine said some of his colleagues tried unsuccessfully to delay Tuesday's vote.
McCaskill said she abstained from voting because she wants to review the records on McMaster's history of dealing with sexual assault allegations within his ranks.
McMaster was disciplined in 2015 for allowing two officers to attend a training program despite being under investigation for sexual assault, the New York Times reported.
Still, McCaskill and other Democrats on the committee appeared impressed by the new national security adviser.
"In fact, he spoke this morning about how wrong it is to denigrate an entire religion instead of people who distort a religion for criminal and terror purposes," McCaskill said. "I want that voice in this Oval Office."
"I do think he is a good choice for the American people if we want to avoid irrational, impetuous behavior by the president," McCaskill added.

Sen. John McCain, the Republican chair of the Armed Services committee, is also a fan of McMaster, calling him "an outstanding choice for national security adviser."
"I have had the honor of knowing him for many years, and he is a man of genuine intellect, character, and ability," McCain said in a statement after Trump appointed McMaster to the position.
McCain said Tuesday he believes the final vote on McMaster will take place on the Senate floor next week.