Democrats Put Pressure On Michigan For Flint Money
Congress passed funding to help Flint fix its water system, but the money falls short of state estimates of what's needed to solve the problem. Now, Democrats are calling on Michigan to step up, saying "the state did this to Flint."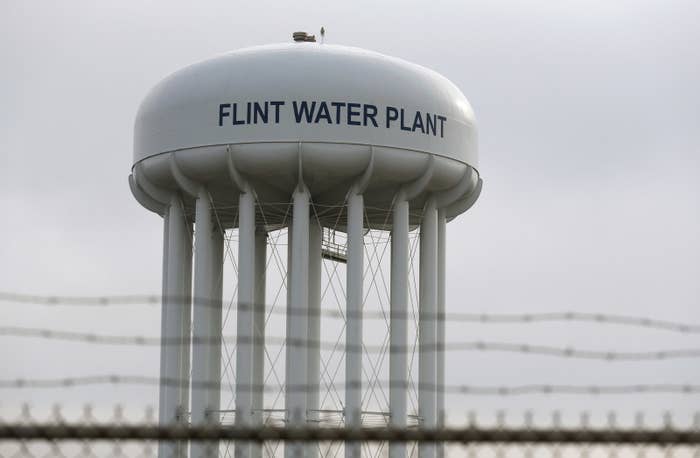 WASHINGTON — Almost a year after President Obama declared a state of emergency in Flint, Michigan, over contaminated water, Congress passed legislation last week granting funding to help fix the city's lead-contaminated water system. Now, Democratic members of Congress are urging the state of Michigan to come through and provide the rest of the money needed to help the city.

"It's absolutely critical that the state put up the other half of the funds quickly so that people can once again be able to turn on their faucets and have the dignity and the confidence that we all take for granted, that they are going to have safe, clean water," Michigan Sen. Debbie Stabenow told BuzzFeed News on Thursday.
"People are still drinking bottled water and it's very cold here today in Flint," she said, adding that there are many people without cars who are forced to haul bottles of water home by foot or bus.
"Many of us are clearly taking the position that the state of Michigan needs to step up and do so much more," Rep. Dan Kildee told BuzzFeed News earlier this week.
Kildee, Stabenow, and Michigan Sen. Gary Peters held a press conference in Flint with the city's mayor on Thursday to explain the breakdown of the $170 million funding package Congress passed last Friday.

The legislation, which had bipartisan support, included $100 million to fix water infrastructure, $20 million for loans, and additional funding to monitor residents' health.

"It's really a ray of hope for the community," Stabenow said. "The Mayor said she views this as an early Christmas present."
The water crisis in the city of about 100,000 people — many living in poverty — began in 2014, when state-appointed emergency managers decided to temporarily switch Flint's water intake from the Detroit River to the Flint River. The water, which was not treated properly, eventually caused the pipes to corrode, which led to high levels of lead contamination. The water contamination made people sick and has been linked to an outbreak of Legionnaire's disease.
"The state did this to Flint," said Kildee, a Flint native. "The state's accountable for what happened. They need to do more to fix the problem that they, more than anybody else, created."

The Michigan legislature passed a budget this year that included $25 million to replace the rotting pipes. But a previous engineering report produced for the state determined that the total cost to fix Flint's water infrastructure would be about $214 million. If that figure remains the same, the state of Michigan would need to provide the difference between the total cost and the $100 million passed by Congress.
But Flint can't begin to work with the money passed by Congress just yet either. Local government must now draft and submit a proposal to the federal government in order to get access to the funding passed by Congress. Peters and Stabenow said they hope the request will be submitted in the months to come and that shovels can hit the ground in Flint as soon as the spring thaw.

Peters, Stabenow, and Kildee also want the Republican-controlled state government to provide long-term funding to expand health services for people, especially children, who were exposed to high levels of lead.
"They have a responsibility to care for these folks, not just like, right now, not just until the governor leaves office, but for as long as these folks need help they should be funding that support," Kildee said. "And that's not a small amount of money."
Despite the work ahead, Kildee said people in Flint are relieved to finally have the federal funding in place to fix the pipes — but that the effect has been psychological as well.
"In places like Flint, there's often this sense that we come second," he said. "That other priorities are always more important than helping these older communities that have high concentrations of poverty, that have lost population, that are the struggling old industrial cities of America."
"So it's not just the fact that we're getting the pipes fixed," Kildee said. "The fact that the federal government and the Congress of the United States was willing to step up for Flint sends a strong message that we are not alone."
Emma Loop is a political reporter for BuzzFeed News and is based in Washington, DC. PGP fingerprint: BB2A EF65 4444 A4AC 6F30 760B 9C22 13B3 0938 1A00.

Contact Emma Loop at emma.loop@buzzfeed.com.

Got a confidential tip? Submit it here.