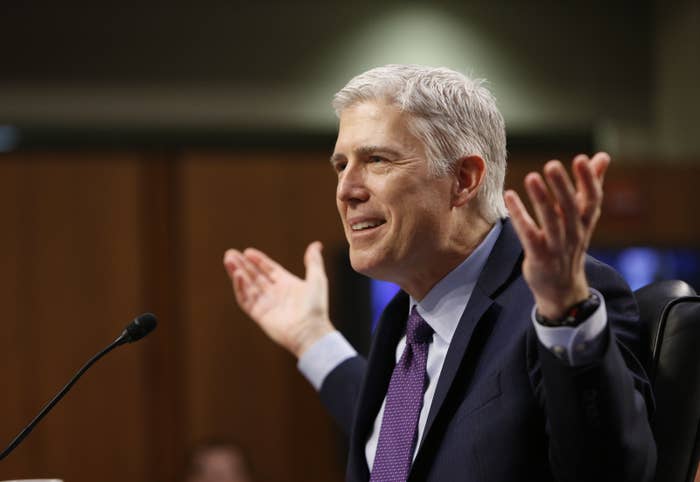 WASHINGTON — There was early hope among Republicans, and at least one Democrat, that Judge Neil Gorsuch, President Donald Trump's pick for the Supreme Court, could garner enough bipartisan support to get confirmed without too much drama.

Many of the Democratic senators who face reelection in 2018 come from states that voted for Trump in 2016, the thinking went, and Gorsuch's nomination would be an easy way to present themselves as middle-of-the-road legislators, willing to work with the president on important issues.
"I always believe there's eight, 10, 12, 15 [senators who are] moderate, responsible, in the middle — basically not going to be ideologically pushed to one side or the other," West Virginia Sen. Joe Manchin said in February, the day after Trump nominated Gorsuch to fill the high court vacancy.
But it didn't happen.
On Thursday, the Democratic filibuster of Gorsuch — led by Minority Leader Chuck Schumer — was successful, thanks in part to the participation of most of those red-state Democrats. Not only did they not support Gorsuch's nomination to the court, they helped their party try to prevent the Senate from even voting on him.
Just three Democrats are supporting Gorsuch and voted to end debate — or "cloture," in Senate parlance — on his nomination: Manchin, North Dakota Sen. Heidi Heitkamp, and Indiana Sen. Joe Donnelly. All are up for reelection next year in states Trump won easily and have argued Gorsuch is well-qualified for the job.
But Democrats were also facing pressure from a vocal portion of the political left who have mobilized since Trump took office to oppose the entirety of his agenda, as well as those still livid over the refusal by Republican leadership last year to allow a vote on former president Barack Obama's pick for the Supreme Court, Judge Merrick Garland.
The degree to which that pressure affected red-state Democrats — whose potential losses in 2018 could give their party even less sway in a Republican-dominated government — is unclear. But in the end, many among those up for reelection next year sided with the left, arguing that Gorsuch's positions on labor and health care issues were untenable.

"I cannot support a nominee who refuses to answer important questions," Montana Sen. Jon Tester said in a statement, echoing Schumer's criticisms of Gorsuch's performance during his confirmation hearings. Tester also agreed with the argument from Democratic leaders that having Gorsuch on the bench will mean more "dark money" in politics, less access to health care, and preferential treatment for corporations.
Chris Hayden, a former aide to Missouri Sen. Claire McCaskill, who similarly faces reelection in a red state next year, said that from a strategy perspective, what's important is that red state Democratic senators came to a decision they could convincingly explain to their voters — whether those voters liked it or not. (Hayden is now the communications director for the Center for American Progress's advocacy branch).
"People may disagree with you, but as long as you can confidently talk about your decision and it fits with who you are, they will respect you," Hayden said. For that reason, he said, a tape of McCaskill privately weighing her choices on Gorsuch leaked to the media by Republicans might not be damaging, since it shows her thought process and reflects the public decision to which she ultimately came.
Tester and McCaskill, like other Democrats, cited Gorsuch's written decisions on contraception in the infamous Hobby Lobby and labor rights in the Trans Am case, commonly known as the "frozen trucker" case, to support their concerns.
McCaskill voted no on cloture Thursday and has said she will oppose Gorsuch's confirmation as well, arguing that "a study of his opinions reveal a rigid ideology that always puts the little guy under the boot of corporations."

Pennsylvania Sen. Bob Casey, another red-state Democrat up for reelection, also plans to vote against Gorsuch, saying the judge's writings "often reflect a commitment to satisfy his judicial philosophy more than to grapple with the complex circumstances faced by ordinary Americans.

"Disproportionately, powerful interests are the beneficiaries [of Gorsuch's decisions] while workers, consumers and those with disabilities are the losers of this approach," Casey said in a statement.
Colorado Sen. Michael Bennet, who represents Gorsuch's home state in the Senate, took a slightly different approach. After keeping quiet for weeks about how he would vote on the nomination, Bennet initially voted with Republicans to keep his own party from dragging out the nomination any further.
"I am proud Judge Gorsuch is from Colorado. He is a qualified judge who deserves an up-or-down vote. That is the tradition of the Senate, and it is why I opposed a filibuster before the rule change," Bennet said in a statement.
But when Republicans changed the rules to allow Gorsuch to get through, however, Bennet opposed them. The senator said he had no intention of voting for Gorsuch's nomination, arguing both that he "is a very conservative judge" and that he could be the first in a long line of far-right judges appointed by Trump.
"President Trump may have several more opportunities to transform the Court with a partisan majority," Bennet said. "For all these reasons, I will vote no on the nomination."
Moderate Democrats from bluer states, such as Virginia Sen. Tim Kaine, presented similar reasons for opposing Gorsuch.
Red state Democrats are aware that their decision to vote against Gorsuch could have political consequences, but are hopeful that their reasoning will resonate with their constituents.
Casey told reporters on Capitol Hill earlier this week that he "can't predict" whether his decision on Gorsuch will affect his reelection campaign. But he said he's been asked about the Supreme Court at recent town halls in Philadelphia and Scranton, Pennsylvania.
"It's on people's minds, it's a major issue," he said. "You're appointing the potentially tie-breaking justice on what I think is the most important court in the world."
McCaskill said she knows she'll never win over every one of her constituents. "The thing about being from a state like Missouri, no matter how [I] decide anything, half the people are mad," she said with a laugh.
"My decision was based on fact, and some people in my town liked it, some people didn't like it," Tester said. "But the truth is, I had a reason for what I did."